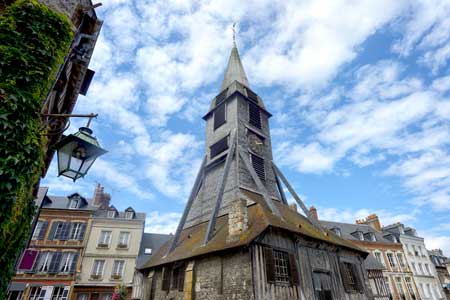 Honfleur was first occupied by the Vikings when they invaded the north of Gaul in the 9th century and established a colony which became known as the land of the North Men, or Normandy. In the following centuries the town was a prosperous trading and fishing port, from which French navigators set out to explore the New World - notably Champlain, who in 1608 set out on an expedition to North America, during which he founded the French settlement in Quebec.
Honfleur's fortunes declined in the 19th century due to the Napoleonic wars. Although shipping activities continued on a small scale, the town never grew in size, and consequently was bypassed as a quiet backwater, leaving much of its historic heritage intact. The town's beauty has long attracted artists, with works of art to be found in the town's many museums and galleries. Honfleur takes particular pride in its Impressionist roots – Claude Monet's mentor Eugène Boudin was born in the town, and Monet and his contemporaries would often set up their easels at the Ferme Saint-Siméon on the hill above Honfleur, to capture the beautiful light of the Seine estuary.
Top Experiences
Bayeux Tapestry
Just over an hour away from Honfleur, the town of Bayeux – specifically the Bayeux Tapestry Museum – is home to the Bayeux Tapestry. The legendary embroided cloth is nearly 70 metres in length and depicts the events leading up to the Norman conquest of England, culminating in the Battle of Hastings.
Art
Honfleur is known for its impressionist painters, the most well-known being Monet.
Churches
Saint Catherine's church is made entirely of wood and is in fact France's largest timber-built church. The previous stone church was destroyed during the hundred years' war and was replaced with the new wooden church in the late 15th century. Opposite the church is a separate bell tower made of oak.
Honfleur is home to many other churches, including the Chapel of Notre Dame de Grace. The Chapel was re-built in 1615 by sailors and local people, and is a pilgrimage site to Our Lady of Grace. The chapel is dedicated to protecting sailors and fishermen. It sits on a hill and is surrounded by trees, providing spectacular views.