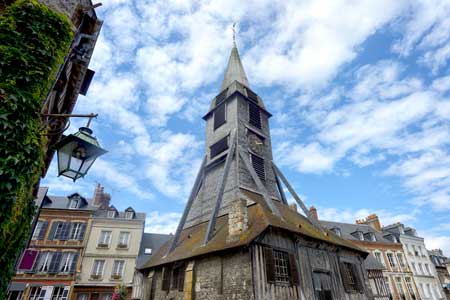 Historic Honfleur in northern France's Lower Normandy region is a quaint little port with a rich cultural and artistic heritage. One of France's most visited towns, Honfleur – with its beautiful 15th and 16th century architecture and distinctive harbour – was the inspiration for Impressionist painters and poets.

Vieux-Bassin, Honfleur's colourful old harbour, is lined with 16th to 18th-century lofty slate-and-timber fronted houses. Its sloping cobbled streets have long been a subject for artists including Claude Monet and native son, Eugène Boudin.

A visit to the 15th century St. Catherine's Church, a vaulted timber structure erected by shipbuilders, is a must, as is the maritime museum and Notre Dame de Grâce – a 17th century chapel containing various paintings and models. The chapel also offers fabulous views of the town, the Seine estuary and the impressively-engineered Normandy Bridge that crosses it.
Destination Highlights
Vieux Bassin
Honfleur's greatest attraction is arguably the Vieux Bassin (Old Harbour). Located in the heart of the town, visitors descend upon the Bassin to discover the lofty slate and timber fronted houses that overlook the colourful yacht and fishing harbour, and sloping cobbled streets that serve as a reminder of 16th century Honfleur. It is a must see when in Honfleur, the best way to appreciate the Vieux Bassin is by sitting in one of the many harbour front cafés or bars, watching the world go by.
Saint Catherine's Church
Be sure to visit Saint Catherine's Church – a church constructed entirely of wood and dating back to the 15th century. A simple but quaint church, it has beautiful decoration and is well worth a look inside if you have time.