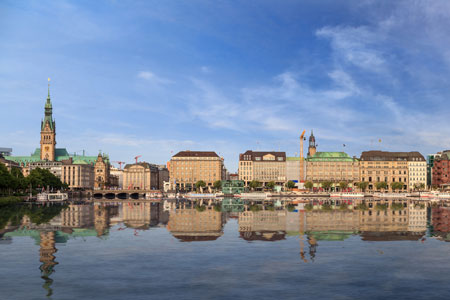 Located on the River Elbe, Hamburg is the country's largest port and regarded as Germany's gateway to the world.
A vibrant, historic city boasting an impressive Hanseatic League heritage that harks back over 700 years, Hamburg's maritime soul permeates the city. From its architecture to its cuisine, water is ever present in Germany's principal port. The city is crossed by hundreds of canals, and spanned by 1,000 bridges. Near its centre, the charming Inner Alster Lake is dotted with boats and surrounded by divine cafes.[ReadMoreMob]
Hamburg is awash with historic buildings and monuments typical of Hanseatic culture. The steeple of St. Nikolai – a church almost destroyed in World War II, the 17th century Zollenbrücke Bridge and Hamburg Rathaus are must-visit sites. The central Jungfernstieg Boulevard connects the Neustadt (new town) with the Altstadt (old town), home to the impressive 18th century St. Michael's Church. [ReadMore]
In the city centre, the amazing Miniatur Wunderland museum is highly recommended, as is the ocean-liner-shaped Chilehaus, the crowning glory of the UNESCO-listed Kontorhaus District. The flourishing swathe of stylish shops, excellent restaurants and legendary nightlife – a celebration of cosmopolitan Hamburg – add more exciting dimensions to this city.
Hamburg's waterfront district offers much to enjoy. Visit the popular Fischmarkt, discover an array of lively bars and restaurants at the harbour, watch Europe's second largest port in action or head to Hafen City, a newly developed urban quarter.
Top Experiences
Nazi Germany
Before the war, Hamburg had the largest Jewish community in Germany and this community suffered the same fate as elsewhere in Germany under the Nazi regime.The Constitution of Hamburg was suppressed and Hamburg's large Jewish population was deported and murdered almost entirely. Today, the many Stolpersteine (commemorative cobblestones) around the city are reminders of the victims of the Nazi oppression. Some buildings preserved from the concentration camp that was based at Neuengamme now serve as a memorial.
Miniature Wonderland
Home to the largest model railway in the world, a small scale Hamburg awaits you at this popular attraction. Miniatur Wunderland is a must when visiting Hamburg, simply because it is so unique and fascinating – marvel at the 930 trains with nearly 14,450 railway carriages, 228,000 trees, 215,000 figures, 8,850 cars, 13,000 metres (eight miles) of track and 3,660 buildings and bridges.