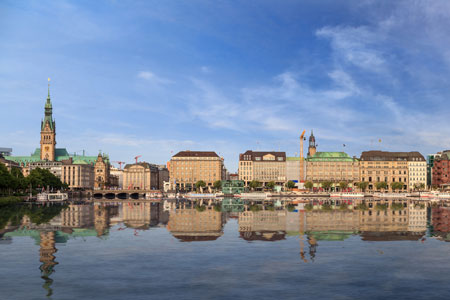 Located on the River Elbe, Hamburg is the country's largest port and regarded as Germany's gateway to the world.
A vibrant, historic city boasting an impressive Hanseatic League heritage that harks back over 700 years, Hamburg's maritime soul permeates the city. From its architecture to its cuisine, water is ever present in Germany's principal port. The city is crossed by hundreds of canals, and spanned by 1,000 bridges. Near its centre, the charming Inner Alster Lake is dotted with boats and surrounded by divine cafes.[ReadMoreMob]
Hamburg is awash with historic buildings and monuments typical of Hanseatic culture. The steeple of St. Nikolai – a church almost destroyed in World War II, the 17th century Zollenbrücke Bridge and Hamburg Rathaus are must-visit sites. The central Jungfernstieg Boulevard connects the Neustadt (new town) with the Altstadt (old town), home to the impressive 18th century St. Michael's Church. [ReadMore]
In the city centre, the amazing Miniatur Wunderland museum is highly recommended, as is the ocean-liner-shaped Chilehaus, the crowning glory of the UNESCO-listed Kontorhaus District. The flourishing swathe of stylish shops, excellent restaurants and legendary nightlife – a celebration of cosmopolitan Hamburg – add more exciting dimensions to this city.
Hamburg's waterfront district offers much to enjoy. Visit the popular Fischmarkt, discover an array of lively bars and restaurants at the harbour, watch Europe's second largest port in action or head to Hafen City, a newly developed urban quarter.
Top Experiences
Uncover Hamburg's wartime history
Before the war, Hamburg had the largest Jewish community in Germany, which suffered a devastating fate under the Nazi regime. An art project of commemorative cobblestones (Stolpersteine) honours the victims, while buildings preserved from the concentration camp at Neuengamme serve as a memorial.
World's largest model railway
Miniature Wonderland is a fun and fascinating attraction featuring theme worlds designed on a tiny scale, with over 1,000 trains, 260,000 figures and 4,110 buildings. Along with a miniature version of Hamburg, you can admire the Austrian Alps, the canals of Venice, the city lights of Venice and more.
Cruises to Hamburg
Departs: Dover, United Kingdom • Thu 17 Sep 2020
7 nights • Balmoral • L2024
Sorry, this cruise has been cancelled.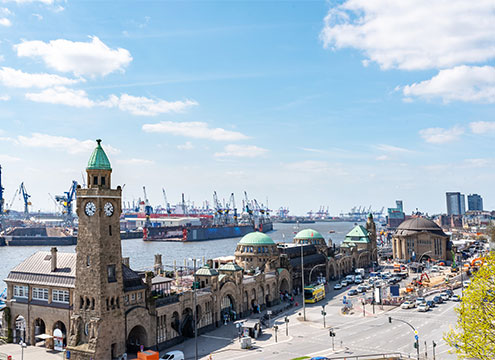 Departs: Southampton • Tue 01 Dec 2020
8 nights • Balmoral • L2030
As the festive season begins, start your celebrations in style with a cruise to four enticing cities In Germany, Belgium, Norway and Denmark that really come to life at the 'most wonderful time of the year'.
At every destination, you'll have ample time to immerse yourself in the seasonal splendour, spicy scents and cosy atmosphere of magical Christmas markets, including Hamburg's famous Roncalli Market.
You could pick up gifts from Bruges' authentic Belgian chocolate shops; visit Oslo's National Gallery; stop-by Copenhagen's legendary Tivoli Gardens; and enjoy a memorable winter stroll along the River Elbe in Hamburg too.
From £849pp
Fares Explained
|
What's Included
Departs: Dover • Sat 17 Apr 2021
7 nights • Boudicca • D2108
Cruising picturesque German waterways is always deeply rewarding, though you're in for an even more memorable experience with journeys through the countryside scenes of size-restricted routes.
Aboard Boudicca, you'll sail the narrow Kiel Canal and winding River Elbe en route to Hamburg, where an impressive mix of historical and contemporary attractions awaits your discovery.
There's also visits to the seaside resort of Warnemünde, gateway to the historic Hanseatic city of Rostock, and Bremen, a delight to explore with its diverse districts and architectural gems.
From £899pp
Fares Explained
|
What's Included