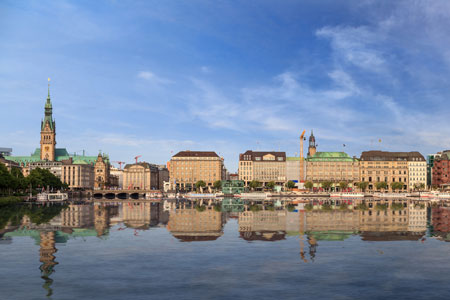 Located on the River Elbe, Hamburg is the country's largest port and regarded as Germany's gateway to the world.
A vibrant, historic city boasting an impressive Hanseatic League heritage that harks back over 700 years, Hamburg's maritime soul permeates the city. From its architecture to its cuisine, water is ever present in Germany's principal port. The city is crossed by hundreds of canals, and spanned by 1,000 bridges. Near its centre, the charming Inner Alster Lake is dotted with boats and surrounded by divine cafes.[ReadMoreMob]
Hamburg is awash with historic buildings and monuments typical of Hanseatic culture. The steeple of St. Nikolai – a church almost destroyed in World War II, the 17th century Zollenbrücke Bridge and Hamburg Rathaus are must-visit sites. The central Jungfernstieg Boulevard connects the Neustadt (new town) with the Altstadt (old town), home to the impressive 18th century St. Michael's Church. [ReadMore]
In the city centre, the amazing Miniatur Wunderland museum is highly recommended, as is the ocean-liner-shaped Chilehaus, the crowning glory of the UNESCO-listed Kontorhaus District. The flourishing swathe of stylish shops, excellent restaurants and legendary nightlife – a celebration of cosmopolitan Hamburg – add more exciting dimensions to this city.
Hamburg's waterfront district offers much to enjoy. Visit the popular Fischmarkt, discover an array of lively bars and restaurants at the harbour, watch Europe's second largest port in action or head to Hafen City, a newly developed urban quarter.
Top Experiences
Uncover Hamburg's wartime history
Before the war, Hamburg had the largest Jewish community in Germany, which suffered a devastating fate under the Nazi regime. An art project of commemorative cobblestones (Stolpersteine) honours the victims, while buildings preserved from the concentration camp at Neuengamme serve as a memorial.
World's largest model railway
Miniature Wonderland is a fun and fascinating attraction featuring theme worlds designed on a tiny scale, with over 1,000 trains, 260,000 figures and 4,110 buildings. Along with a miniature version of Hamburg, you can admire the Austrian Alps, the canals of Venice, the city lights of Venice and more.
Cruises to Hamburg
Departs: Dover • Wed 23 Jun 2021
9 nights • Bolette • T2116
A very special few days in Germany includes an unmissable opportunity to experience the Kieler Woche extravaganza, and enjoy scenic cruising through gorgeous countryside scenes.
Kiel will be alive with the excitement of Kieler Woche, with its spectacular Windjammer parade of historic tall ships and traditional German festivities.
Elsewhere in Germany, the picturesque River Elbe is your route to the attraction-packed city of Hamburg, while there are also visits to Danish, Dutch and Belgian delights of Antwerp, Amsterdam and Copenhagen too.
From £1,199pp
Fares Explained
|
What's Included
Departs: Portsmouth • Tue 30 Nov 2021
6 nights • Balmoral • L2137
Immerse yourself in the famous yuletide spirit of Germany with visits to two enchanting cities that really come to life at 'the most wonderful time of year'.
Experience the magic of dreamland-esque German Christmas markets draped in twinkling lights and decorations, and packed with wooden huts offering traditional gifts, glühwein and lebkuchen.
There are plenty of other attractions to discover too, such as Bremen's historic, UNESCO-listed centre; and Hamburg's impressive architectural landmarks, beautiful Alster Lake and the unique Miniatur Wunderland.
From £699pp
Fares Explained
|
What's Included