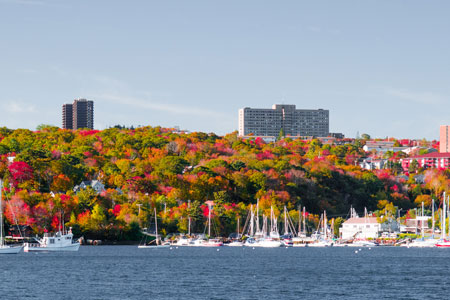 The Eastern Canadian port of Halifax is the provincial capital of Nova Scotia with a rich maritime history. A vital part of Canada's infrastructure, Halifax is a major economic centre with many government and public sector companies based here, including the Department of National Defence. Praised for its quality of life, Halifax is a proud, vibrant city that represents modern Canada.

The urban city centre is home to a number of landmark buildings, and Halifax's architecture will suit all tastes. Its Old Fort, Maritime Museum, Central Library and Art Gallery are all worth visiting and exploring. The city has a thriving arts, theatre and culinary scene, and Halifax pubs, with their craft beer culture, add to the whole experience.

Point Pleasant Park is particularly popular due to its seaside location, as is a stroll through the tiny Peggy's Cove, with its bustling fishing harbour and lobster fishery.
Destination Highlights
Halifax Citadel National Historic Site
Built in 1856, the Citadel was built originally as a military fortification to protect the Empire from enemies, despite it never actually seeing any battle. Today the 19th century British fort, with its distinctive star shape to give the garrison sweeping arcs of fire, is officially called Fort George. It watches over the city and port and offers breathtaking panoramic views.
The Titanic Connection
The city played an important role following the sinking of the ill-fated Titanic. Three Halifax ships were given the grim task of recovering victims, and many of them were laid to rest in the city's cemeteries. 150 passengers were buried in the Fairview Lawn Cemetery, 19 at the Mount Olivet Catholic Cemetery and Baron de Hirsch Jewish Cemetery.
Immigration
Discover the stories of over one million immigrants who landed in Halifax at Pier 21, it is the last surviving seaport immigration facility in Canada. The Canadian Museum of Immigration is located at Pier 21.