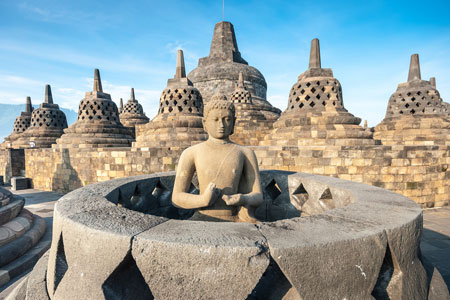 A volcanic nation of 'ten thousand islands', archipelagic Indonesia is renowned for its pristine white-sand beaches, verdant terraced hillsides and valleys, huge Komodo Dragons and lush, flora-rich rainforests providing the perfect habitat for wonderful wildlife such as elephants, orangutans and tigers. Rich in cultures and customs, animals and plants, sights and flavours; Indonesia is like the best of the world thrown together to create one incredible country. [ReadMoreMob]
For sea lovers, Indonesia's waters are home to a kaleidoscope of manta rays, porpoises, turtles and colourful tropical fish that populate the stunning coral beds. As for food, freshness is the order of the day with plenty of seafood, salads and vegetable dishes on offer. But be warned, Indonesians like it hot, so watch out for the fiery red and green peppers. Arak, the local palm-sap wine, also packs a mighty punch.
From natural delights of picture perfect Bali and Komodo Island, the native habitat of the world's largest lizards, to architectural and spiritual treasures such as Borobudur Temple, Indonesia is a wealth of wonders awaiting your discovery.
Top Experiences
Ambon, Maluku, Indonesia
See an authentic Ambonese dance performance
The islands of Maluku have many forms of dance, including the cheerful, colourful saureka-reka dance and the 'crazy bamboo dance'. This mystical ritual involving a piece of bamboo that's apparently possessed is a fascinating performance to witness.
Benoa, Bali
Discover the spiritual town of Ubud
With its palace, art galleries and yoga studios, Ubud is steeped in Balinese culture. You can barter for handcrafted wares at the bustling market, or stroll the moss-coated pathways of Ubud Monkey Forest in search of ancient temples and long-tailed macaques.
Explore awe-inspiring rice terraces
The most distinctive features of Bali's landscape are the rice terraces. Part of a centuries-old heritage, these scenic, emerald-green fields blanket the island's steep hillsides and deep gorges. Those at Jatiluwih are a fine example and well worth a visit.
Visit Bali's iconic temples
No visit to Bali would be complete without visiting at least one of the island's beautiful temples. Among the most iconic are the cliff-top temple of Uluwatu, believed to be one of Bali's six spiritual pillars, and the ancient sea temple of Tanah Lot.