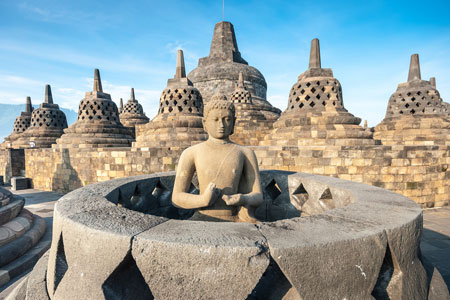 A volcanic nation of 'ten thousand islands', archipelagic Indonesia is renowned for its pristine white-sand beaches, verdant terraced hillsides and valleys, huge Komodo Dragons and lush, flora-rich rainforests providing the perfect habitat for wonderful wildlife such as elephants, orangutans and tigers. Rich in cultures and customs, animals and plants, sights and flavours; Indonesia is like the best of the world thrown together to create one incredible country. [ReadMoreMob]
For sea lovers, Indonesia's waters are home to a kaleidoscope of manta rays, porpoises, turtles and colourful tropical fish that populate the stunning coral beds. As for food, freshness is the order of the day with plenty of seafood, salads and vegetable dishes on offer. But be warned, Indonesians like it hot, so watch out for the fiery red and green peppers. Arak, the local palm-sap wine, also packs a mighty punch.
From natural delights of picture perfect Bali and Komodo Island, the native habitat of the world's largest lizards, to architectural and spiritual treasures such as Borobudur Temple, Indonesia is a wealth of wonders awaiting your discovery.