Your cruise at a glance
The Olsen Way Highlights
This voyage on board Borealis takes you off the beaten track to remote destinations, where you can gain an insight into the local way of life while capturing unspoilt scenery and elusive wildlife. Your cruise has been timed to encounter the world's largest population of humpback whales off the coast of Newfoundland, which you can search for with the help of wildlife charity ORCA. You may also be lucky enough to spot a polar bear climbing the rocky islands of Nunavut. Geological wonders await your discovery, too, from Iceland's geysers and waterfalls to Greenland's glaciers and icebergs. As part of the journey, our guests will learn more about L'Anse aux Meadows in Newfoundland. Known as the only confirmed Norse settlement in North America, it holds a special significance to the Olsen family.
Learn more about L'Anse aux Meadows
Explore the Itinerary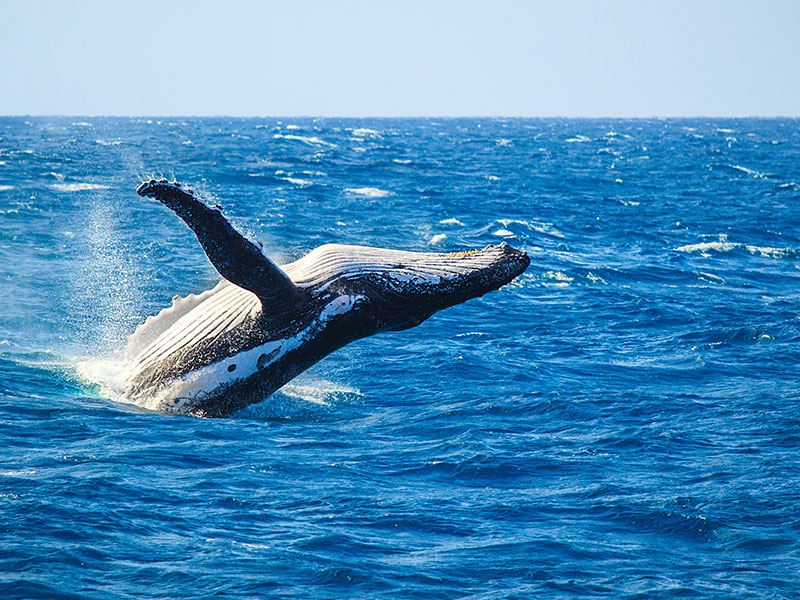 Marine mammals of the Arctic Waters with ORCA
Join your on board ORCA team on deck as they go in search of whales and other marine mammals, as they provide assistance on how to spot different cetacean species. Grab your binoculars and look out for pilot whales as you cross the Atlantic, or as you near Newfoundland & Labrador, you may have the opportunity to see humpback whales as the area is known to have the world's largest population.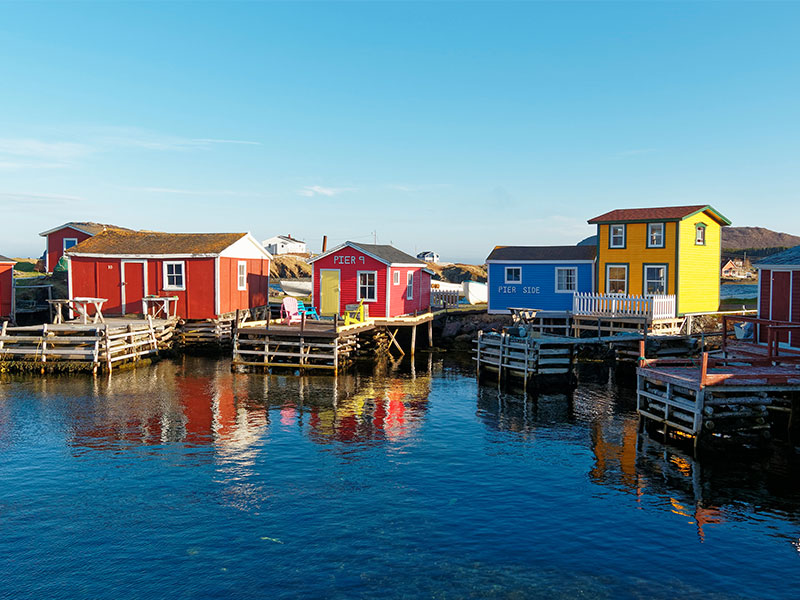 Irish heritage in Newfoundland

In the early 1800's, thousands of immigrants from the southeast of Ireland settled in Newfoundland and Labrador. Spend time with local multi-award winning fiddler Kelly Russell as he plays, and tells stories of his life; before taking a tour to Logy-Bay-Middle Cove-Outer Cove – a town just ten minutes from St. John's, to learn the famous story of Irish emigrant fisherman Luke Ryan who wanted to build a fishing room in 1818.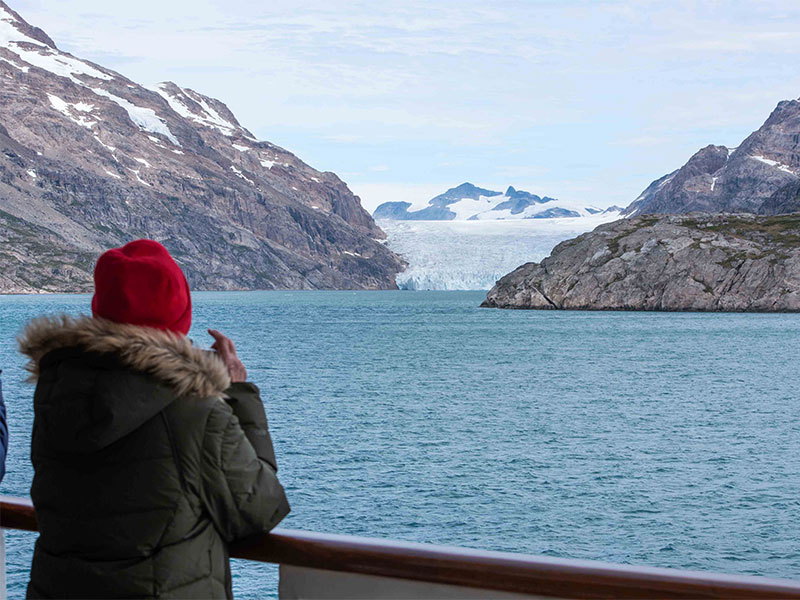 Glacial Landscapes
Bolette will sail along Prins Christiansund on this cruise, which is a passage in southern Greenland flanked by rugged mountains, and punctuated by blue-white glaciers. Here you will also have the opportunity to walk on the Earth's exposed mantle at Gros Morne National Park, one of the very few places in the world where it's visible. The barren landscape here has rocks from the middle layer of the Earth – pushed into place as the continents collided billions of years ago.
Life On Board
Introducing Bolette
With just 690 cabins Bolette fits perfectly in our fleet of smaller ships. With her warm, welcoming atmosphere, timeless style, and classic open deck spaces providing a place to fully immerse yourself in the magic of ocean cruising.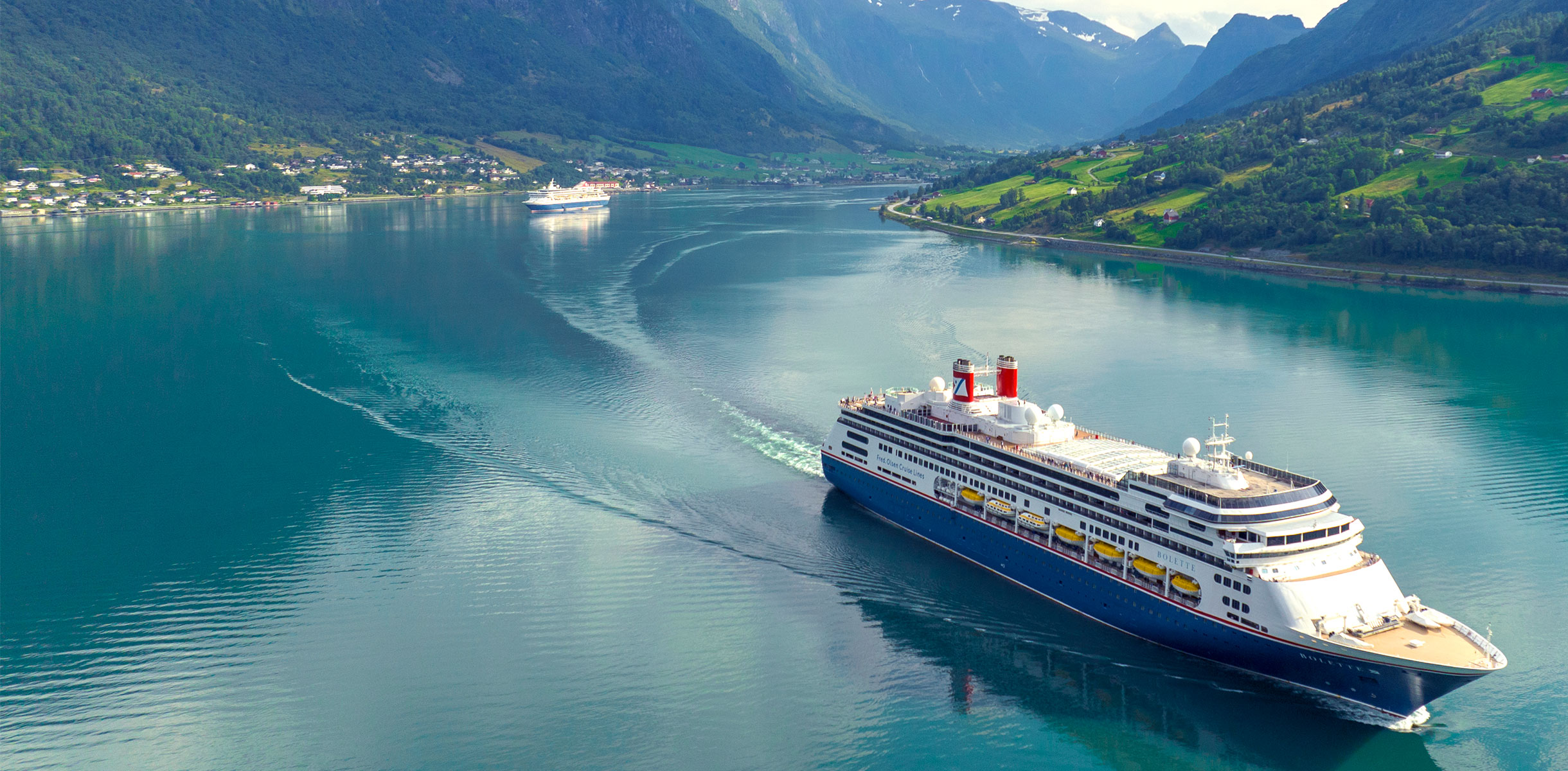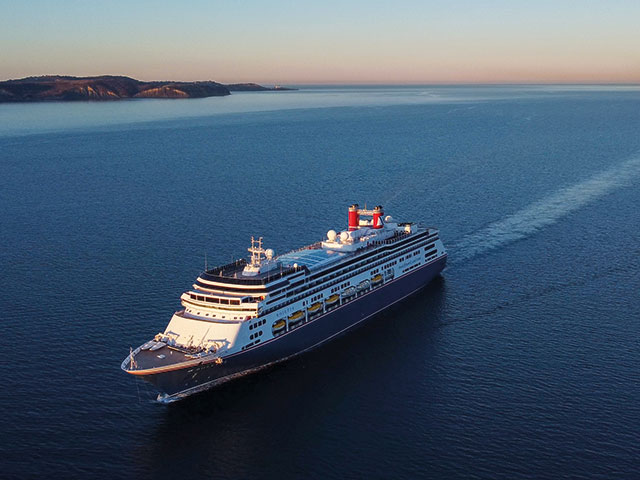 Bolette
Bolette is one of the largest ships, by overall size, in our fleet. With its warm, welcoming atmosphere and timeless style, and classic open deck spaces providing a place to fully immerse yourself in the magic of ocean cruising, Bolette is very much in keeping with what our guests have come to expect from a Fred. Olsen ship.
Explore Bolette
Our Signature Experiences
To make your experience even more special, our Journey Planners have designed a unique programme of Signature Experiences which will allow you to discover real insights about the culture and nature of the places we are visiting, so you can arrive in each destination fully prepared to get the most out of your visit.
Itinerary Insights
We have carefully curated a programme of events to give you a deeper understanding of each of the destinations you will be visiting
Scenic Discoveries
Our Scenic Discoveries are designed to allow you to enjoy seeing the world from the unique perspective of our ships
The Ship and the Sea
Maritime is in our DNA - our history in shipping goes back almost 200 years
The Sky at Sea
There's very little in the natural world more beautiful than a clear night sky, sunrise or sunset seen at sea
Treats of the Region
We love to bring a taste of the region's food, drink, local tastes and culinary traditions to life on board
Your Guest Speakers
We've arranged for some wonderful guest speakers to join us for this cruise. They will be delivering a programme of insightful talks and activities to deepen your cultural, artistic and historical understanding of the destinations we will be exploring, well as helping you to enjoy the natural beauty of the places we visit.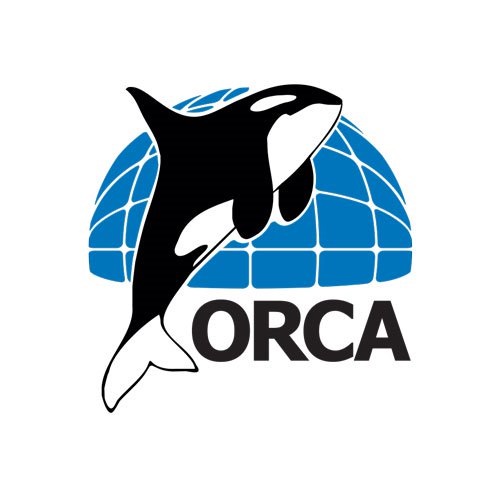 Ocean Wildlife
Orca
Founded in 2001, ORCA is a group of Ocean Conservationists. Join them out on deck to search the seas for marine life.
Adventurer/Geographer
Penny Goodman
Arctic enthusiast and Polar Geographer, Penny Goodman, has led expeditions all over the Arctic. As we explore Iceland, Greenland and Canada together, Penny will be joining us on board delivering a series of insightful talks.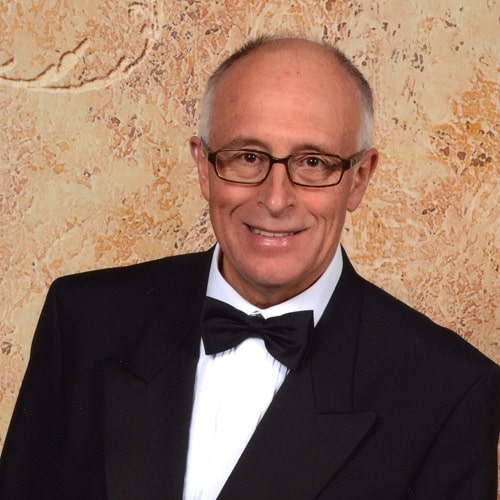 Astronomy
Professor Glenn Patrick
Physicist Glenn Patrick has spent most of his career working at the CERN laboratory in Geneva. He will be on hand delivering a series of talks on earth and science subjects as well as leading stargazing sessions out on deck.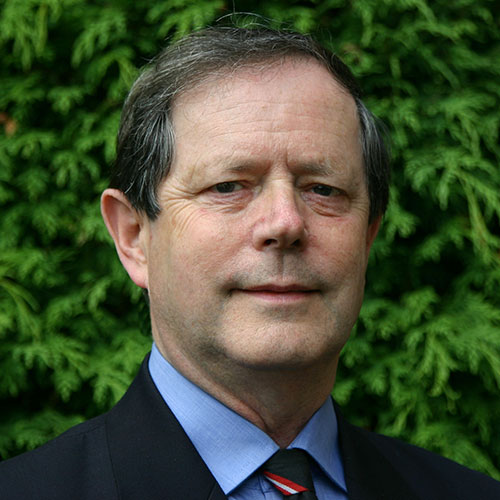 Geology
Professor James Floyd
Geologist and Natural Historian James Floyd has conducted field work along the Eastern Canadian coastline. During this time on board, he will be delivering a series of insightful talks on the geology of Newfoundland, Nova Scotia and Labrador.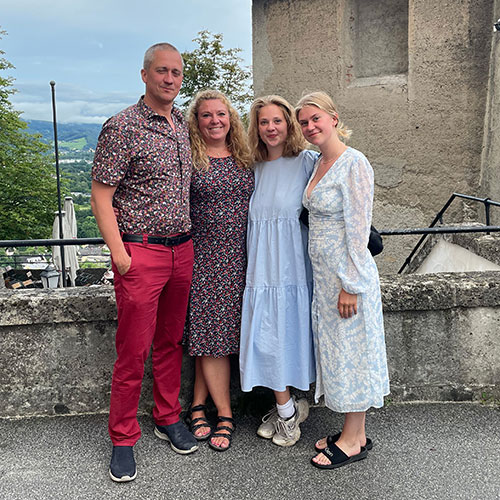 Nuuk Locals
The Iversen Family
Join the Iversens family who moved to Greenland in 2008 and now reside in Nuuk, having opened their own hotel to learn about local Greenlandic life.
Treats & Pastimes
In addition to our Signature Experiences, we have a selection of lovely Treats & Pastimes for you to enjoy when on board. Just check your Daily Times each day for full details.
Discover our Treats & Pastimes
Cabins, Prices & Offers
Cabin Options On Your Cruise
* Prices correct as of 22:00 01/12/2023, based on the lowest available Cruise Only fare, and on two people sharing a twin cabin. Please call +441473746175 for live availability & prices.
* Prices correct as of 22:00 01/12/2023, based on the lowest available Cruise Only fare, and on sole occupancy. Please call +441473746175 for live availability & prices.
Cruise Offers
FREE drinks or FREE on board spend
Freedom Fare
What's Included
SO MUCH ALREADY INCLUDED
As well as our Signature Experiences, there is a host of other treats to enjoy on board our ships.
À la carte breakfast, lunch & dinner

Daily buffet dining options

Late night Supper Club

Afternoon tea

Self-service tea & coffee

In-cabin dining & snacks
Evening shows

Live music & dancing

Dance classes

Lectures & talks

Cookery demonstrations

Traditional deck games

Daily games & quizzes
Swimming Pools

Jacuzzis

Fitness Centre

Fitness Classes
Enhance your cruise
Each of our cruises has been carefully designed for you to get the very best out of your time on board; and now you can enhance your cruise to make it even more special.
Explore all extras