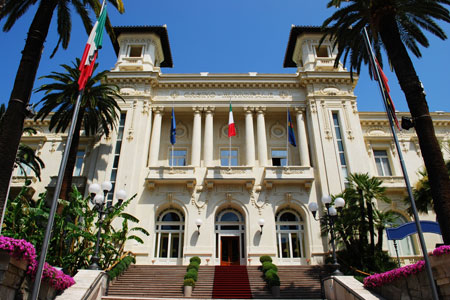 Situated on Italy's Riviera dei Flori – the Riviera of Flowers – shadowed by magnificent mountain peaks, the sun-kissed Mediterranean seaside resort of Sanremo is simply stunning. Known affectionately as 'Italy's Monte Carlo', Sanremo is a glitzy and glamourous resort experience.
Beautiful beaches, grand villas, an impressive yacht-filled harbour and the iconic, elegant Art Nouveau building of the Casinò di Sanremo have attracted the rich and famous to the town's glorious shores for centuries. Even European nobility has been unable to resist Sanremo over the years; Empress Elisabeth of Austria and Tsar Nicola of Russia are among many exiles that came to enjoy the city's warm winters, while revered Swedish inventor Alfred Nobel had a villa here too.
Sanremo has plenty of high-end stores and designer boutiques, a number of excellent restaurants and bars, plus a hectic, local market. The striking Russian Orthodox Church, with its five onion domes, resembles Moscow's incredible St Basil's Cathedral, and is an unmissable sight. The park of Villa Ormond, with a Japanese garden and ancient olive groves is also worthy of a stroll.
Dig deeper, and the lovely Old Town district, where narrow alleys packed with traditional terracotta-topped houses offer fantastic views over the city and the Med, awaits discovery.
Destination Highlights
Sanremo Casino
Sanremo is known as Italy's Monte Carlo, so what better way to experience the city than to visit the luxurious casino. The building itself boasts a beautiful Liberty Deco architectural style. There are several game rooms as well as a theatre, which is home to the Sanremo Symphony Orchestra, who play 100 concerts a year. The theatre has received a medal of representation from the President of the Republic. Whether you gamble or not, the Sanremo Casino is an experience not to be missed.
City of Flowers
Sanremo is also known as the City of Flowers, due to its perfect climate for growing flowers, especially carnations and roses. Take a visit to the Mercato dei Fiori, Italy's most famous flower market, where you can take in the smells and colours of fresh flowers grown in the areas surrounding the city. These flowers are exported all over the world.
Alfred Nobel
The acclaimed scientist and inventor, after whom the Nobel Prize was named, spent his final years here in Sanremo. In his former residence, now a museum, you can see where he lived and worked, including his laboratory where there are pictures and descriptions of his most well-known experiments. Nobel described the house as, 'my nest'.