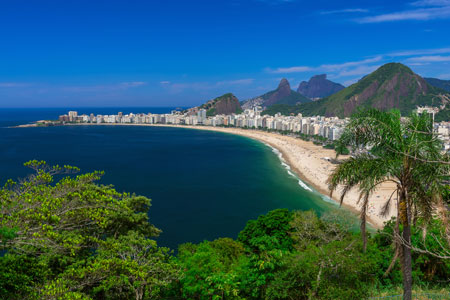 Planted between lush, forest-covered mountains and breath-taking beaches, Rio de Janeiro – the Cidade Maravilhosa (Marvellous City) – has many charms at her disposal, and is a rich melting pot of cultures.
Famed for its Carnival and Copacabana and Ipanema beaches, the samba-fuelled nightlife and raucous football matches of this huge, iconic Brazilian seaside city more than delivers on its romantic promise.[ReadMoreMob]
Home to the glorious 38-metre Christ the Redeemer statue atop Mount Corcovado and the stunning Sugarloaf Mountain, a remarkable granite peak with cable cars to its summit, truly make Rio a place like no other. Music is the city's heartbeat; a soundtrack that blends rock, bossa nova, funk and, of course, samba – the African influenced beat that's synonymous with Rio.
Carnival means parade floats, flamboyant costumes and samba dancers, and Rio's festival is considered the world's largest. Other occasions for partying around town include funk parties in the favelas (shanty towns) and boat parties on the bay. Food is a treasured part of local life, with its dishes roots deep in African and European traditions. Cuisine options vary from meaty churrascarias, tasty feijoadas, vibrant street food and gourmet restaurant selections.
Rio is far more than just a frantic seaside resort, and the area offers access to some outstanding outdoor adventures: hiking in the Tijuca rainforest, cycling alongside the lake and beaches and sailing across Baía de Guanabara.
Top Experiences
Christ the Redeemer
One of the New Seven Wonders of the World, this monumental statue towers over the city from Corcovado Mountain in the Tijuca Forest National Park. It's traditionally reached via train. From this vantage point, visitors can enjoy spectacular views.
Samba in Rio de Janeiro
The iconic samba genre and dance style known and loved today derives from the 'samba de roda' (dance circle), an Afro-Brazilian dance developed in Bahia and drawing heavily on the cultural traditions of the state's African immigrants.
Common marmosets
These small, playful monkeys are a common sight in parts of Brazil, mainly in forested areas but also in cities such as Rio de Janeiro. Distinguished by their white fur-tufted ears and long tails, common marmosets are easily identifiable in the wild.
Carioca
Residents of Rio de Janeiro are known as 'Cariocas', and are a warm, friendly people who embody the unique, vibrant spirit of the city. Cariocas are credited for having invented the sport of 'footvolley' and the 'bossa nova' style of music.
Cruises to Rio de Janeiro
Departs: Southampton • Tue 04 Jan 2022
79 nights • Bolette • T2201
Immerse yourself in an intoxicating blend of history, culture and beauty as you discover iconic destinations and unforgettable highlights on an epic, in-depth exploration of Latin America.
You can have a private mass at Rio's legendary Christ the Redeemer; dance the tango in Buenos Aires; tour to magnificent Machu Picchu; and much more.
Scenic cruising by Cape Horn; through the Chilean Fjords spectacular mountains and glaciers; and navigating the Panama Canal will create everlasting memories.
From £8,299pp
Fares Explained
|
What's Included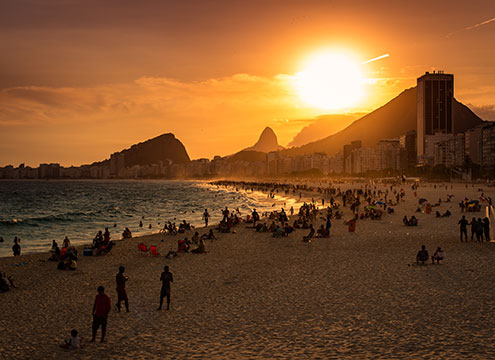 Departs: Southampton • Tue 04 Jan 2022
25 nights • Bolette • T2202
Seek out some of Brazil's most iconic attractions, from the world famous landmarks of Rio de Janeiro to legendary rainforests, on this epic voyage.
You can revel in unrivalled views from Sugarloaf Mountain, watch the sunset from Copacabana Beach, have a private mass at mighty Christ the Redeemer, and much more.
Explore historic Salvador and uncover gorgeous natural treasures at Ilhabela, plus visit attraction-packed Montevideo in Uruguay and a trio of beautiful Atlantic Ocean islands – Tenerife, Madeira and São Vicente.
From £3,599pp
Fares Explained
|
What's Included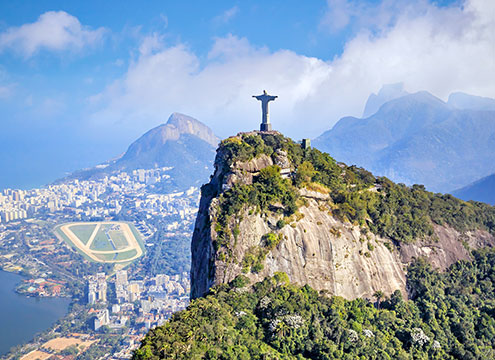 Departs: Southampton • Tue 04 Jan 2022
49 nights • Bolette • T220203
Experience the very best that one of the world's most intoxication regions has to offer, on this extensive, in-depth exploration of South America packed with countless highlights throughout.
After crossing the Atlantic, discover authentic Brazil, from the iconic sights and sounds of Rio de Janeiro to golden beaches and Atlantic rainforests within reach of Ilhabela.
Experience the contrasts of Patagonia in Argentina and Chile; discover arid frontiers and wonderlands of snow-capped peaks, plus experience scenic cruising of astonishing Chilean Fjords.
From £6,699pp
Fares Explained
|
What's Included