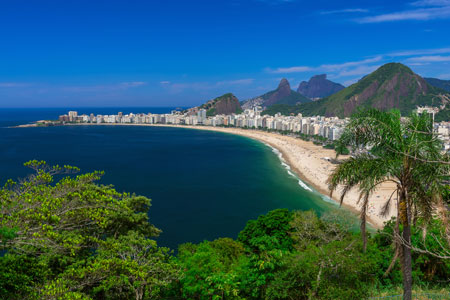 Planted between lush, forest-covered mountains and breath-taking beaches, Rio de Janeiro – the Cidade Maravilhosa (Marvellous City) – has many charms at her disposal, and is a rich melting pot of cultures.
Famed for its Carnival and Copacabana and Ipanema beaches, the samba-fuelled nightlife and raucous football matches of this huge, iconic Brazilian seaside city more than delivers on its romantic promise.[ReadMoreMob]
Home to the glorious 38-metre Christ the Redeemer statue atop Mount Corcovado and the stunning Sugarloaf Mountain, a remarkable granite peak with cable cars to its summit, truly make Rio a place like no other. Music is the city's heartbeat; a soundtrack that blends rock, bossa nova, funk and, of course, samba – the African influenced beat that's synonymous with Rio.
Carnival means parade floats, flamboyant costumes and samba dancers, and Rio's festival is considered the world's largest. Other occasions for partying around town include funk parties in the favelas (shanty towns) and boat parties on the bay. Food is a treasured part of local life, with its dishes roots deep in African and European traditions. Cuisine options vary from meaty churrascarias, tasty feijoadas, vibrant street food and gourmet restaurant selections.
Rio is far more than just a frantic seaside resort, and the area offers access to some outstanding outdoor adventures: hiking in the Tijuca rainforest, cycling alongside the lake and beaches and sailing across Baía de Guanabara.
Top Experiences
Rio Carnival
The world's most famous party. Rio Carnival, a national holiday in Brazil, is a five day celebration that occurs every year 40 days before Easter. It officially starts on Friday and finishes on Fat Tuesday with the beginning of Lent and Ash Wednesday. There are carnival celebrations on virtually every corner of Brazil. The highlight of the carnival is the Samba parade, which is not to be missed.
Christ the Redeemer
No visit to Rio would be complete without getting up close to the magnificent statue of Christ the Redeemer. Crowning Corcovado Mountain, the effigy, which was built between 1922 and 1931, is the second largest statue of Christ in the world, measuring 38 metres (124 feet) tall, and depicts Christ with his arms wide open in a welcoming gesture. Its stunning location enables visitors to admire spectacular views over the city of Rio de Janeiro. Voted one of the New Seven Wonders of the World in 2007.
Sugarloaf Mountain
One of Rio's most famous sights, the imposing Sugarloaf Mountain stands proudly over Guanabara Bay. Rising 396 metres (1,299 feet) above sea level, the summit of the mountain — that is also known as, Pão de Açúcar — is a Registered Natural Landmark, and can be reached by two cable car journeys. From the top, it is possible – on a clear day – to admire impressive views over the city of Rio, its beaches, forested mountains, and, in the distance, the iconic statue of Christ the Redeemer. Named Sugarloaf due to its resemblance to blocks of refined sugar.