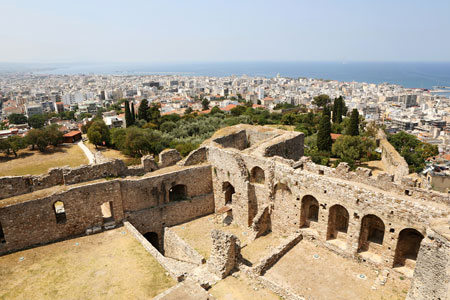 The history of Patras – named after King Patreas who ruled Achaïa in around 1100BC – dates back over 3000 years. The city was once a major part of both of the Mycenaean and Roman civilisations, however there is little left here to remind you of Patras' ancient past.
What was formerly a thriving trade centre is now a bustling university city, a place where modern architecture stands alongside a few surviving ancient treasures, and trendy bars, shops and restaurants line the busy pedestrianised streets and thoroughfares.[ReadMoreMob]
It is recommended to start your exploration of Patras at the famous street of Aghiou Nikolaou, which leads you into the Old City quarter. Here you can marvel at the ancient Medieval Castle, which was built in the late 6th century on the site of the old acropolis and offers fantastic views of the city, as well as the gorgeous surrounding scenery. The cobbled streets of the Old City offer a little glimpse into Patras' past too, with their grand neoclassical mansions.
Elsewhere it is worth heading west of the acropolis to Ano Poli – the 'upper city' – to visit the Roman Odeum, which in fact pre-dates the famous Athens Odeum. In Ano Poli you will also find fascinating archaeological sites and the Patras Lighthouse. In the centre of the city, two fine historical monuments are sure to capture your attention: St Andrew Church, one of the biggest Balkan churches, and the Municipal Theatre, one of the first Opera houses in Europe.
Top Experiences
Ancient Archaeological Sites
Patras and its surroundings are home to a beautiful array of archaeological sites. Highlights include the odeon, which predates the one in Athens, the Mycenaean Wall of Dymaeans and an aqueduct from the early days of Patras's Roman colonisation.
National Park of Kotychi and Strofylia
Comprised of 14,300 hectares of wetlands, sand dunes, hills and the majestic umbrella pine forest, the latter being one of the most extensive of its kind in Europe. The park boasts a variety of flora and fauna, including the Mediterranean House Gecko.
Achaia Clauss Winery
This winery was founded by the Bavarian Gustav Clauss in 1861. Clauss is considered the inventor of the concept of wine tourism and while the wine is now produced by modern methods, the stone-built Wine Castle affords visitors a glimpse into older traditions.