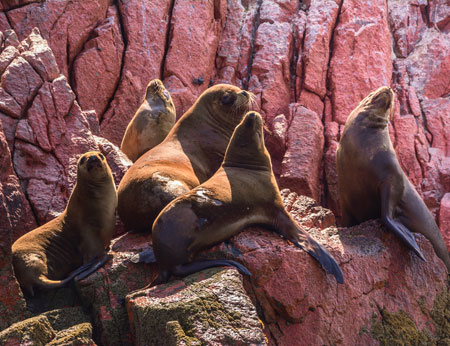 The small port town of Paracas on Peru's west coast, has a reputation for wonderful beaches, and is a destination point for the uninhabited Ballestas Islands, home to sea lions, pelicans and Humboldt penguins.
Much more than a thriving deep water port, Paracas is perfectly placed for tours to many of Peru's most spectacular natural wonders.[ReadMoreMob] Close by is the rugged, wildlife-rich Paracas National Reserve that spans desert, ocean, islands and the Paracas Peninsula. This designated UNESCO World Heritage Site is a sanctuary for seals, penguins, flamingos and dozens of seabird species – and home to the glorious Athens Beach.
The Islas Ballestas – affectionately known as the Peruvian Galapagos, are volcanic islands that boast spectacular scenery and are home to countless cormorants and Inca terns, as well as breeding sea lions. The Paracas Candelabra, also called the Candelabra of the Andes, is a well-known prehistoric geoglyph found on the northern face of the peninsula, and is a must to witness and capture on camera.
Top Experiences
Ballestas Islands
This group of islands is known for its superb wildlife populations and rocky landscapes. Although they are protected, meaning tourists are not allowed ashore, visitors can catch sight of the islands' impressive array of wildlife from a boat tour.
Sample Pisco and Ica Wine
Peru's national drink, Pisco is a grape brandy which was first created by Spanish settlers in the 1600s. When the Spanish people first started distilling, they baptised the grape brandy with the name of 'Pisco', along with the port from where it was shipped out. The brandy is made from grapes grown south of Lima in the region of Ica.
Sea Wolves and Penguins
Large numbers of sea wolves (South American sea lions) and Humboldt penguins can be found on and around the Islas Ballestas, along with many other types of wildlife and birdlife. The mighty sea wolves are often seen playing in the water near tourist boats.
Nazca Lines
Mystery surrounds these ancient desert drawings, including straight lines, shapes, figures, animals and plants, which can only be seen from above. Hundreds of these geoglyphs can be found in the Nazca Desert, some up to a staggering 30 miles in length.
Cruises to Paracas
Departs: Buenos Aires • Wed 29 Jan 2020
20 nights • Balmoral • L2001B
Experience a Patagonian exploration of epic proportions on board Balmoral, taking in breathtaking waterways, awe-inspiring ice fields and a string of unforgettable destinations along the way.
After a visit to glamourous Punta del Este, enjoy two rare calls to the Falkland Islands to unearth the fascinating history, picturesque scenery and endemic wildlife of this famously disputed archipelago.
A Chilean adventure includes visits to four diverse ports, including Puerto Chacabuco, gateway to the mountains of Lower Patagonia and the Andres; and scenic cruising of spectacular snow-capped Chilean fjords.
Please call our Reservations Team for latest pricing and availability.
Departs: Buenos Aires • Wed 29 Jan 2020
47 nights • Balmoral • L2001BC
With scenic cruising of incredible waterways and visits to stunning South and Central American destinations, topped off with time in the Caribbean, you're in for an expedition packed with highlights.
There's two rare calls in the Falklands; chances to marvel at the spectacular scenes of Lower Patagonia, the Andes and Chilean Fjords; and three days in Peru, with time to tour to magical Machu Picchu.
You'll also experience a navigation of the remarkable Panama Canal, and visit two historic cities in Costa Rica and Colombia, before enjoying a taste of paradise in Curacao, Bonaire, Barbados, Antigua and St Kitts.
Please call our Reservations Team for latest pricing and availability.