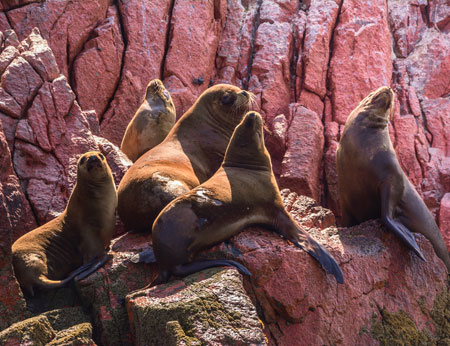 The small port town of Paracas on Peru's west coast, has a reputation for wonderful beaches, and is a destination point for the uninhabited Ballestas Islands, home to sea lions, pelicans and Humboldt penguins.
Much more than a thriving deep water port, Paracas is perfectly placed for tours to many of Peru's most spectacular natural wonders. Close by is the rugged, wildlife-rich Paracas National Reserve that spans desert, ocean, islands and the Paracas Peninsula. This designated UNESCO World Heritage Site is a sanctuary for seals, penguins, flamingos and dozens of seabird species – and home to the glorious Athens Beach.
The Islas Ballestas – affectionately known as the Peruvian Galapagos, are volcanic islands that boast spectacular scenery and are home to countless cormorants and Inca terns, as well as breeding sea lions. The Paracas Candelabra, also called the Candelabra of the Andes, is a well-known prehistoric geoglyph found on the northern face of the peninsula, and is a must to witness and capture on camera.