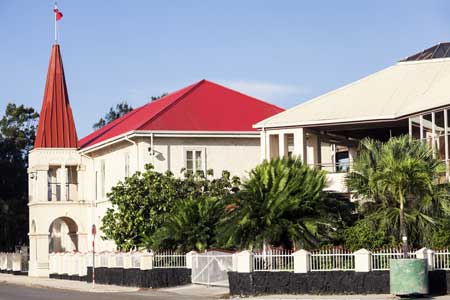 Located on the north coast of the island of Tongatapu, Nukuʻalofa, the capital of Tonga, lies just west of the International Date Line. Nukuʻalofa has a hidden charm that includes a vibrant main street, a broad waterfront, and impressive views across the bay to neighbouring coral islands.
Tonga is a collection of 171 islands that are truly unique given they're the first place on earth to greet each new day. Nuku'alofa - one of only 45 inhabited Tongan islands - is the capital of Tonga and home to the Talamahu Market and the Royal Palace - the historical residence of the King.
Talamahu Market is a buzzing, fresh-produce hub where bananas and other coloured fruits are piled into handmade woven-frond baskets. It has a few cooked-food stalls, plus some excellent (and affordable) Tongan arts and crafts on sale.