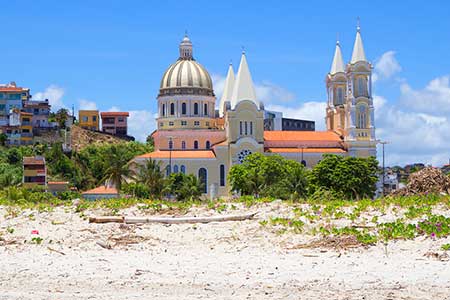 The Brazilian city of Ilhéus sits on the banks of the Cachoeira and Almada Rivers, and is known for its fine colonial architecture and beaches, like the palm-tree-lined Millionaires Beach, with its parade of delicious food stalls.

Ilhéus' beaches each have their own unique landscape and history: the enormous waves of Back Door Beach attract surfers and other water sports enthusiasts; the stunning white sands of Acuipe Beach, is ideal for walkers and sun bathers; a statue of Christ watches over central Christ Beach; and Praia da Avenida Beach offers views toward the imposing spires of St. Sebastian Cathedral.

Birthplace to the famous Brazilian novelist, Jorge Amado, Ilhéus is one of north-east Brazil's most popular and important tourist destinations – the town's fame comes from its history as a prosperous cocoa port. While there are many traditional Portuguese buildings, the bright, early-20th-century architecture and oddly angled streets, make Ilhéus a joyous, vibrant city to explore.
Top Experiences
Cocoa
Nicknamed the Cocoa Coast, Ilhéus was the most important cocoa production centre in the 1930's. The still prosperous farming community evokes the days long ago when cocoa was king and was exported from this port. Still today, most of Brazil's cacao is grown in the region and Ilhéus holds a busy port where cocoa products are exported. While Ilhéus remains the traditional centre for Brazil's cocoa cultivation and bean, processing the planting of cocoa is no longer the main source of income.