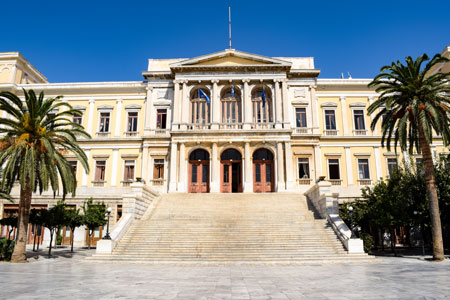 In contrast to many of Greece's most famous towns and cities, which are often overcrowded with visitors exploring ancient monuments and world-famous landmarks, Ermoupoli remains relatively undiscovered.
But this isn't to say that the capital of Syros doesn't have much to recommend it. Spread out across the slopes of two tall hills on the island's east coast, Ermoupoli is a maze of multi-coloured and typically Greek whitewashed houses which, when explored, reveal a number of attractions from galleries and museums to shops, bars, restaurants and Ouzeries.[ReadMoreMob]
Among the main highlights are Town Hall Square, found in the very heart of the town, where you can admire some of the Ermoupoli's finest architecture, including one of the largest town halls in Greece. Also worth visiting are the Apollo Theatre, the Industrial Museum and the pretty Agios Georgios Cathedral. This cathedral sits atop Ano Syros hill and offers fantastic views of the town, the neighbouring islands and the surrounding ocean.
The elegant Vaporia district harks back to days when Ermoupoli was a thriving shipbuilding centre, with its palm-lined squares and grand old shipmakers mansions.
Top Experiences
Gournia
This was a flourishing Minoan city and is now the most complete Minoan archaeological site on Crete, having been abandoned in approximately 1200BCE.
Cruises to Ermoupoli
Departs: Southampton • Fri 16 Apr 2021
25 nights • Braemar • M2109
An outstanding voyage specially crafted to show you some of Greece's most unique and authentic sights and experiences, this cruise is packed with the diverse highlights of an array of stunning destinations.
The archaeological wonders of ancient towns, cultural and historical gems, beautiful beaches, postcard-perfect scenery and much more – your smaller-sized ship will bring you closer to it all with visits to gorgeous islands such as Crete, Rhodes and Kefallonia.
The pièce de résistance is a simply unforgettable scenic cruise of the narrow Corinth Canal aboard Braemar, the longest ship to pass between this incredible waterway's imposing, carefully carved cliffs.
From £4,599pp
Fares Explained
|
What's Included
Departs: Southampton • Fri 23 Sep 2022
25 nights • Braemar • M22CC
Make unforgettable memories on a seemingly impossible navigation through the narrowing cliffs of Greece's remarkable Corinth Canal, made possible thanks to record-breaking Braemar's smaller size.
Uncover the captivating sights and sites of Greek islands, including the ancient wonders, beautiful beaches and palm-lined promenades of Crete, Rhodes, sleepy Syros and Kefallonia too.
Immerse yourself in the Mediterranean magic of stunning islands and cities in Spain, Italy, Malta and Portugal, and revel in the spectacular sight of the mighty Stromboli Volcano.
From £4,399pp
Fares Explained
|
What's Included