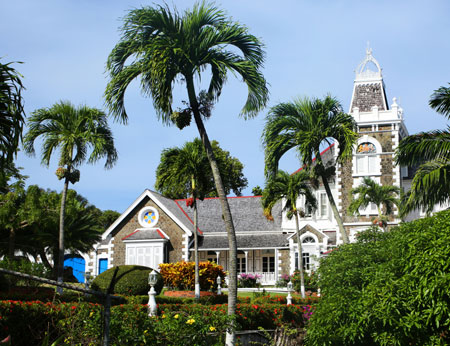 Castries, the capital of the island nation of St. Lucia, is known for its palm-lined, soft, white Vigie Beach. Like St. Lucia itself, the city combines heritage and culture with peace, relaxation and tranquillity, and Castries is a gateway to St. Lucia's wealth of national parks with vast forests, native plants and wildlife.
The city's streets are easy to navigate. Leafy Derek Walcott Square – named after a native noble laureate – is home to a 400-year-old Samaan tree and the Cathedral Basilica of the Immaculate Conception built in 1897.[ReadMoreMob] The nearby market in Jeremie Street, sells a wide range of items including fresh local fruit.
Overlooking the town is Morne Fortune, which provides some splendid views alongside Royal Navy history. Here the original French colonists built La Toc Battery, but was taken by the British in 1796, replacing it with a new fort built in 1888 to protect the harbour.
Top Experiences
Volcanoes
The majestic Pitons, twin volcanic peaks, rise more than 740 metres (2,427 feet) above sea level and dominate the St Lucian landscape. Visible from many points on the island, Gros Piton and Petit Piton, located near the town of Soufriere, are the most photographed landmarks of St Lucia, and were declared a UNESCO World Heritage Site in 2005.
Rainforest
The vast majority of life in rainforests resides in the canopy. St Lucia's Rainforest Aerial Tram lets visitors experience the beauty and excitement of the canopy. As you glide peacefully through the treetops on your open-air aerial gondola, you can admire the tropical rainforest canopy and keep your eyes peeled for local wildlife.
Botanical Gardens
Also known as the St Lucia Botanical Gardens, the Diamond Botanical Gardens are located on Soufriere Estate, one of the oldest estates on the island. Considered to be one of the island's top natural wonders, the six acre site is home to a range of tropical flowers and plant life. Nearby you will also find the Diamond Waterfall and mineral baths, which were originally built for the troops of King Louis XIV.