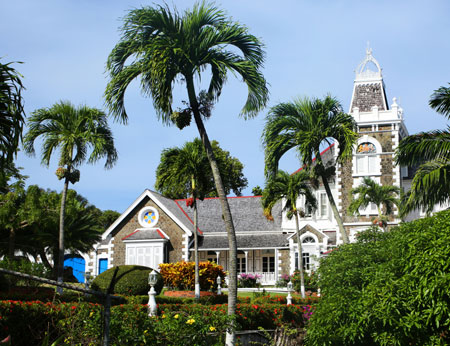 Castries, the capital of the island nation of St. Lucia, is known for its palm-lined, soft, white Vigie Beach. Like St. Lucia itself, the city combines heritage and culture with peace, relaxation and tranquillity, and Castries is a gateway to St. Lucia's wealth of national parks with vast forests, native plants and wildlife.
The city's streets are easy to navigate. Leafy Derek Walcott Square – named after a native noble laureate – is home to a 400-year-old Samaan tree and the Cathedral Basilica of the Immaculate Conception built in 1897.[ReadMoreMob] The nearby market in Jeremie Street, sells a wide range of items including fresh local fruit.
Overlooking the town is Morne Fortune, which provides some splendid views alongside Royal Navy history. Here the original French colonists built La Toc Battery, but was taken by the British in 1796, replacing it with a new fort built in 1888 to protect the harbour.
Top Experiences
Pitons
Towering over the St Lucian landscape, the majestic twin peaks of Gros and Petit Piton stand more than 740 metres above sea level. A protected UNESCO heritage site, the Pitons can be climbed and offer breath-taking views over the island from the top.
Sulphur Springs Park
Sulphur Springs Park, near Soufrière, sits on the site of a dormant volcano and covers around 45 hectares. Visitors can drive into the heart of the volcano and see the many bubbling pools and hot springs, as well as sulphuric pools for bathing in.
Derek Walcott Square
Named after St. Lucia's Nobel Laureate, this square in the centre of Castries pays homage to Sir Derek Walcott, as well as serving as a memorial to St. Lucians who lost their lives in battle. Visitors can admire the well-kept gardens and the bandstand.
Cruises to Castries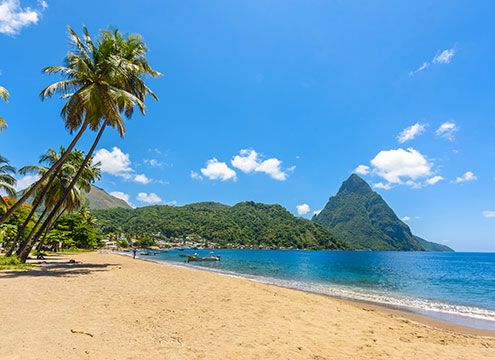 Departs: Havana • Thu 17 Feb 2022
14 nights • Braemar • M2204
This is the Caribbean at its very best, an immersive discovery of iconic islands and their cultural highlights, from authentic flavours to legendary dance, music and carnival.
Delve into the history of reggae and pirates in Jamaica; and in Havana, soak up the rich Cuban culture, see sights via classic car, sample traditional rum and much more.
Be inspired by the natural beauty of St Kitts, St Lucia and Grenada; then catch Trinidad Carnival, a colourful celebration of Caribbean life.
From £2,549pp
Fares Explained
|
What's Included