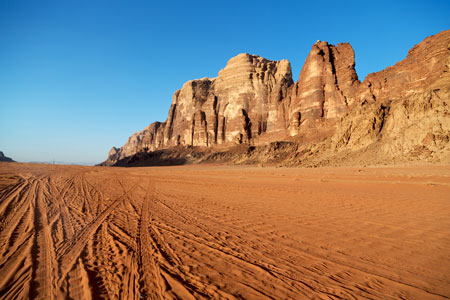 Inhabited since 4000BC, Aqaba is the Jordanian port city on the Red Sea's Gulf of Aqaba, and gateway to the world-famous stone-city of Petra. The Lost City of Petra is the impressive archaeological site carved from the sandstone hills more than 2,000 years ago, and is one of the Seven Wonders of the Modern World. Its breath-taking tombs and ruins remained hidden to the world until their rediscovery in 1812 by a Swiss explorer.

The seaport of Aqaba has been strategically important for traders for centuries. The Crusaders built a fortress here, which was rebuilt by the Mamlukes in the 16th century, and it remains one of the town's most important landmarks. The Aqaba Archaeological Museum houses Rashidun, Umayyad, Abbasid and Fatimid artefacts, an unearthed treasures from the ancient city of Aila, are also within its walls. [ReadMore]

The small town of Aqaba itself has a relaxed vibe, and is a regular stopover for visitors heading to the diving and snorkelling clubs of the Yamanieh coral reef. While sea breezes make the afternoon heat bearable, it's worth remembering the town follows the traditional siesta, and everything shuts down between 2pm and 6pm.
Destination Highlights
Petra
Aqaba is also the key to the fabled Petra – perhaps the finest archaeological site in the Middle East. No visit would be complete without discovering this fascinating ancient city. The great monuments of these ancient Nabataen ruins, described as a 'rose red city, half as old as time', were hewn from living sandstone some 2,000 years ago, and discovered again in 1812.
The Dead Sea
The lowest and saltiest spot on Earth, the Dead Sea is a salt lake which borders Jordan and Israel and the West Bank. Its unusually high salt concentration (it is almost nine times saltier than the ocean) means people are able to float in its waters.