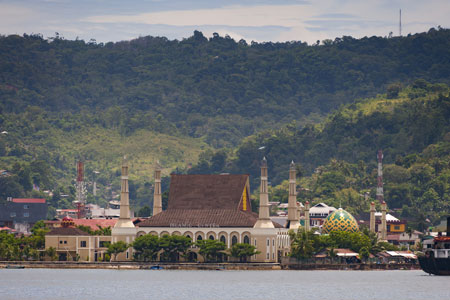 Situated very much off the beaten track and often overlooked in favour of Asia's better-known islands, Ambon – the capital of Maluku, Indonesia's 'spice islands' – has the feel of an undiscovered gem.
Though rarely visited on tours of the world's largest archipelagic country, there's much to reward those who take the time to stop and explore here. [ReadMoreMob] Ambon boasts lush, gently mountainous landscapes lined with beautiful beaches and unspoilt bays; crystal clear, coral rich waters that are perfect for snorkelling and scuba diving; pretty coastal villages; and a vibrant, culturally-diverse capital, Kota Ambon.
Also known as Ambon City, Kota Ambon – built on a hillside overlooking a picturesque bay on the east coast of the island – is rich in European heritage, having been ruled by the Portuguese, Dutch and the British before Indonesia officially declared its independence in 1945. The city's European influences are in full-view amongst the wide, well planted streets here; look out for imposing colonial churches and impressive forts such as Benteng Victoria. [ReadMoreDesk]
Kota Ambon's other highlights include the Commonwealth War Cemetery, commemorating brave Allied soldiers who died fighting the Japanese in World War II here; Francis Xavier Cathedral and Gong Perdamaian.
Top Experiences
Ambonese dance performance
The islands of Maluku have many forms of dance, including the cheerful, colourful saureka-reka dance and the 'crazy bamboo dance'. This mystical ritual involving a piece of bamboo that's apparently possessed is a fascinating performance to witness.
Visit the Christina Martha Tiahahu statue
A national heroine of Indonesia, Martha Christina Tiahahu was a Moluccan freedom fighter who joined in the war against the Dutch colonial government. An eight-metre-tall, spear-wielding statue of her stands on a hill overlooking Ambon and the Banda Sea.