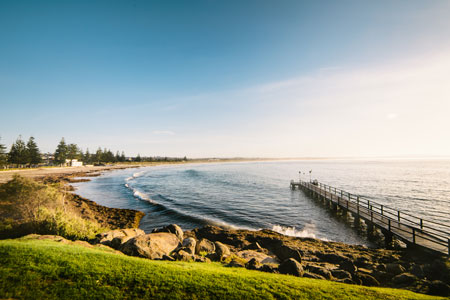 The breathtaking beauty of Albany's rugged coastline marks the spot where the first European settlers set foot in Western Australia. The Rainbow Coast creates a fitting backdrop to the town's dramatic history of pioneers, convicts and whaling. This charming city is a grand mixture of old and new, as the stately old quarter merges easily with the modern offerings of retail therapy and a vibrant art scene.[ReadMoreMob]
Albany's Historic Whaling Station, a former whale processing plant, now houses an intriguing museum. The southern coastline and the rural surrounds are bursting with nature, historic attractions and a rich diversity of wildlife. Migrating whales pass off the coast at Torndirrup National Park, where steep cliffs give way to dramatic rock formations.
Top Experiences
National Anzac Centre (NAC)
The National Anzac Centre (NAC) is a museum commemorating the Anzac's (Australian and New Zealand Army Corps) of World War I, and charts the personal stories of 32 relevant people, from soldiers to nurses, many of whom departed from the Port of Albany.
Whaling History
Albany's rich whaling history comes to life at the Albany Whale Museum, the only museum in the world built from the remains of a former whaling station. Whaling was one of the first industries established following the 1829 arrival of British settlers to Western Australia.
Torndirrup National Park
Torndirrup, just a short drive from Albany, is a rugged national park renowned for its spectacular rock formations, including the Gap, the Natural Bridge and the Blowholes. Lookouts and walkways link these natural wonders, which have been formed over millennia by the surging Southern Ocean.