Protecting whales and dolphins in the UK & European waters
Fred. Olsen are proud to be working with marine wildlife charity ORCA, who will be joining a selection of Fred. Olsen sailings.
The conservationist team's objective will be to locate whales and dolphins, observe their behaviours, and to provide guests with a unique experience, offering them the opportunity to take an active role in marine science and conservation. [ReadMoreMob]
Pop along to one of their guest lectures, or find them on deck to ask them any questions you may have. With the help of ORCA, you may be lucky enough to spot several mesmerising whale and dolphin species, all whilst learning more about ORCA's conservation efforts.
"ORCA are delighted to be working with Fred. Olsen - the wonderful ships in their fleet are the perfect platform for our research as their small size means our teams are closer to the water, giving them unparalleled views of the magnificent wildlife our Cruise Conservationists will be hoping to see."
Steve Jones, Head of Partnerships, ORCA
0800 035 5130
Reservations

0800 035 5130

Opening hours

Mon-Fri: 08:00 - 20:00

Saturday: 09:00 - 17:00

Sunday: 10:00 - 16:00

Call us free today
| Departs | Nights | Cruise | Offers | From |
| --- | --- | --- | --- | --- |
| | | | | |
| --- | --- | --- | --- | --- |
| Departs | Nights | Cruise | | Price |
Call us free on
0800 035 5130
Reservations

0800 035 5130

Opening hours

Mon-Fri: 08:00 - 20:00

Saturday: 09:00 - 17:00

Sunday: 10:00 - 16:00

Call us free today
There are no cruises that match your selection. Please clear the filters and try with different or fewer options.
Icelandic Wonders & Wildlife | Boudicca | 13-night | D1914

ORCA Team: Anna Bunney & Jenna Silk
| | |
| --- | --- |
| White-Beaked Dolphins | x 38 |
| Long-Finned Pilot Whale | x 58 |
| Humpback Whale | x 132 |
| Total sightings | x 444 (14 different species) |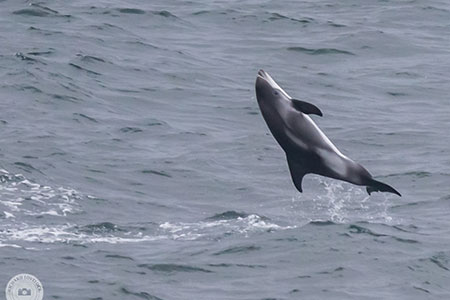 ORCA
Anna Bunney | Head of Education
Anna Bunney is the Head of Education for ORCA, and manages the outreach and education elements of the charity's programmes. A geographer by training and wildlife conservationist by trade, Anna is particularly fascinated with marine mammals and delivers presentations and lectures on a daily basis to a variety of audiences. [ReadMoreMob]Anna also manages the ORCA Wildlife Officer programme that, through raising awareness of the incredible wildlife in UK and European waters, inspires passengers on ferries and cruise ships.
Anna has a huge amount of experience at sea, having been a Wildlife Officer and Expedition Staff on various ships sailing the North-East Atlantic Ocean. Her love for marine wildlife has taken her around the world, from Borneo to Madagascar, Iceland to Thailand and Canada to Norway. Despite this rich travel, Anna still truly believes that the best marine wildlife in the world can be found in Europe and so has dedicated her work to protecting marine mammals in this area.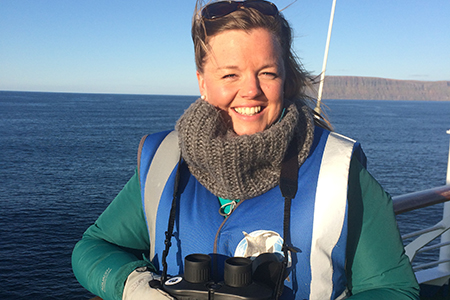 Jenna Silk | Cruise Conservationist
Jenna has been involved with ORCA since 2014 when she took part in a one-day ORCA Marine Mammal Surveyor training course at her university in Cambridge while studying for a degree in Zoology. Since then, Jenna's time at sea with ORCA has always been the highlight of her year, enabling her to share her knowledge and enthusiasm for whales, dolphins and porpoises, with hundreds of passengers on board cruise ships and ferries. [ReadMoreMob]
In 2019, Jenna began working for ORCA full-time as a Cruise Conservationist Coordinator. As much as she loved her previous role in the rescue and rehoming of domestic pets, nothing could quite compare to the joy she's found with ORCA; seeking the thrill of spotting the slightest splash, fin or blow of a distant whale or dolphin, and watching a deck full of passengers come alive as an animal approaches the ship.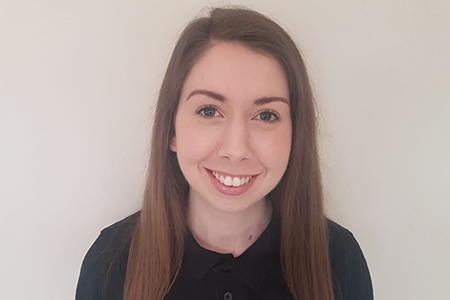 Steve Jones | Head of Partnerships
Steve Jones is the Head of Partnerships for ORCA, overseeing the relationships the charity maintains with the shipping industry and leading ORCA's unique Cruise Conservationist programme. Working with the rest of the team, this programme allows ORCA to collect scientific data in some of the richest parts of the ocean whilst showing guests the amazing life that can be found beneath the waves. [ReadMoreMob]
With his commercial background, Steve's experience has proved valuable in the charity sector, helping him to develop ORCA's broad ranging partnerships with shipping and cruise companies. Steve has been passionate about the marine environment since he was young, and his job at ORCA has allowed him realise his dream of making a contribution to keeping the ocean safe for future generations.