With a rich, deep history and a multitude of beautiful castles, churches and cobbled villages, cruises to Romania are one of the best ways to explore the gorgeous coast of the Black Sea. Bordered by Hungary, Moldova, Bulgaria, Serbia and the Ukraine, Romania is world-famous for its cultural heritage, history and stunning natural beauty.
Home to magical medieval castles, dense forests, tranquil mountains and picturesque villages, there's a whole lot to take in when on a cruise to Romania. Explore traditional vineyards, make your way through local markets and discover ancient remains of buildings from a time gone by. Of course, you can't visit Romania without having a look at the world-famous Bran Castle, the mythical home of Dracula nestled away in the silent hills.
Romania's largest and most famous seaport, Constanta is a popular tourist destination and is home to a number of beautiful seaside resorts and activities. The city's rich history and heritage can be experienced everywhere as you make you way along the streets surrounded by beautiful buildings that date back to the times of the Romans. Check out the markets, museums, concert halls and monasteries, immersing yourself in the culture of this unique destination.
If you want to experience all this, book yourself on a cruise to Romania on-board one of our small and intimate cruise ships for a holiday experience of a lifetime.
Cruises to Romania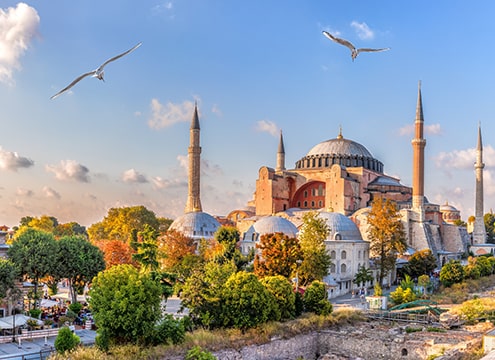 Departs: Dover • Tue 27 Sep 2022
28 nights • Balmoral • L2222
Visiting five stunning cities in five different countries, be immersed in the remarkable ancient history, authentic flavours and breathtaking beauty of the Black Sea.
Step back to the days of Ottoman rule in unmistakable Istanbul; and take the chance to visit wine valleys and tea plantations in Russia and Georgia.
You can explore Odessa's labyrinth-like Catacombs, and the Danube Delta – on boat tour from Constanta – too, while you'll also experience the best of the beautiful Mediterranean.
From £4,299pp
Fares Explained
|
What's Included