Cruises to China give you the opportunity to explore one of the oldest and richest cultures in the world. Whether you are looking to explore the bustling cities and ports, or experience tranquil and spiritual Buddhist temples, our China cruises cover vast amounts of land, bringing the very best from one of the world's most beautiful and exciting countries.
What makes China such a fascinating and diverse holiday destination is the great contrast between the ancient, fascinating history and its development into urban modernity and entrepreneurship. Experience amazing food, endless markets and the buzz of being in some of the busiest cities in the world and discover everything a cruise to china has to offer.
Cruises to China
Departs: Southampton • Thu 05 Nov 2020
140 nights • Boudicca • D20GV
A holiday beyond your wildest dreams, this 140-night voyage to some of the world's most iconic and intoxicating destinations offers authentic cultures and traditions, amazing wildlife, spectacular scenery and much more.
Experience an exhilarating Asian exploration, to learn of samurais and geishas in Japan; explore the war-torn history of Vietnam; sample India's engrossing hustle and bustle; and even celebrate New Year's Eve in stunning Singapore.
African adventures include chances to seek-out South Africa's 'Big Five' game and Madagascar's iconic flora and fauna; explore the colossal Namib Desert; marvel at the Great Pyramid of Giza; and sail the impressive Suez Canal.
From £13,999pp
Fares Explained
|
What's Included
Departs: Tokyo • Thu 14 Jan 2021
28 nights • Boudicca • D210102
This inspirational voyage presents an unmissable taste of the Far East's fascinating way of life, authentic cultures, time-honoured traditions and indomitable diversity and beauty.
An exploration of Japan includes opportunities to encounter Geishas in Tokyo; be part of a classical tea ceremony in Osaka; look beyond Hiroshima and Nagasaki's infamous war history; and much more.
Vietnamese highlights await in between visits to Hong Kong and Singapore, including chances to explore mesmerising Ha Long Bay on a boat tour and uncover Ho Chi Ming City's fascinating war tales.
From £5,049pp
Fares Explained
|
What's Included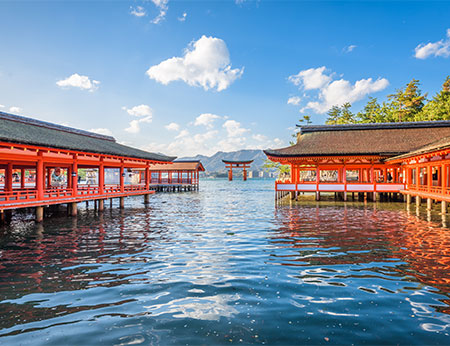 Departs: Tokyo • Thu 14 Jan 2021
70 nights • Boudicca • D210105
Experience a stunning 70-night voyage to some of the world's most fascinating and awe-inspring destinations, offering amazing wildlife, outstanding scenery and local cultures and traditions.
Learn of historic Japanese events which changed history, explore the hustle and bustle of Singapore, relax on the beaches of Thailand or marvel at more than one of the Seven Wonders of the World.
Explore the high-speed energy of Mumbai, or venture to Elephanta Island, set in lush green vegetation - a peaceful contrast to the commotion of inner Mumbai.
From £9,399pp
Fares Explained
|
What's Included