Our popular gifts and packages

Do you have a special occasion you'd like to celebrate? Let us help you create even more special cruise memories with our extra special treats.
Relax as delicious delights are delivered to your cabin, induge in luxurious spa treatments or savour our Traditional Afternoon Tea. Or, if you're a coffee or hot chocolate lover, our Bookmark Bestseller card is ready to use immediatley with 7 tempting hot drinks.
Our popular Speciality Dining options are also not to be missed; and with a modest cover charge, you can experience our delicious Goan or Asian Fusion cuisines. Or, send that special someone some flowers or chocolates from our on board florist and chocolate shop...just because.
Would you like to arrange a special gift for a family member or friend when they're on a Fred. Olsen cruise? We also offer gift vouchers, which you can buy for those loved ones on a cruise (minimum spend of £10). Take a look below at our various on board extras and packages which offer our guests that little something extra special.

To book, please contact our Finalisers team on email at finalisers@fredolsen.co.uk
Teatime Treats
Traditional Afternoon Tea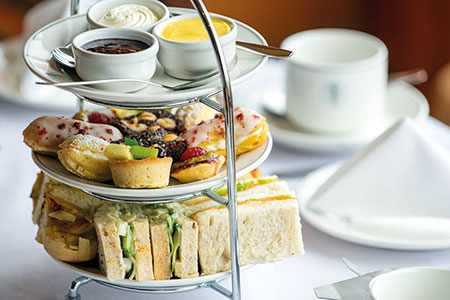 During sea days guests can book a very select experience: Traditional Premium Afternoon Tea*. Enjoy beautiful views from the stylish The Observatory Lounge, with musical accompaniment from our on board pianist and the careful attention of white-gloved waiters – all for only £13 per person*. *Chargeable to your on board account.
Bookmark Bestseller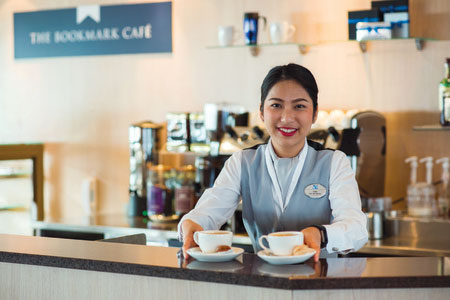 To make your coffee or tea selection for your cruise even easier, pre-book your Bookmark Bestseller card, and it will be added to your cabin account when you arrive on board, all ready for use immediately. With 7 hot drinks for you to enjoy, and a bag of milk or mixed truffles too priced at just £20, why not treat someone special and arrange a Bookmark Bestseller card for their cruise?
Pre-booking for our Traditional Afternoon Tea and The Bookmark Bestseller will be made available to guests 13 weeks before departure within My Cruises.
Indulge in our speciality dining
While the main restaurants are always popular, during your cruise you may be tempted to try something different for an evening or two. When you're in the mood for the truly special, each ship in our fleet features speciality dining.
Bolette
Colours & Tastes - £10pp
Vasco - £10pp
Borealis
Colours & Tastes - £10pp
Vasco - £10pp
Balmoral
Colours & Tastes - £10pp
Vasco - £10pp
Booking ahead is highly recommended at our speciality dining venues and this can be done using the pre-book button in your 'My Cruises' account from 13 weeks before and up to 1 day prior to departure. Please note, there is a £10 per person supplement for this dining option if pre booked before your cruise departs, Speciality Dining booked on board is chargeable at £15 per person.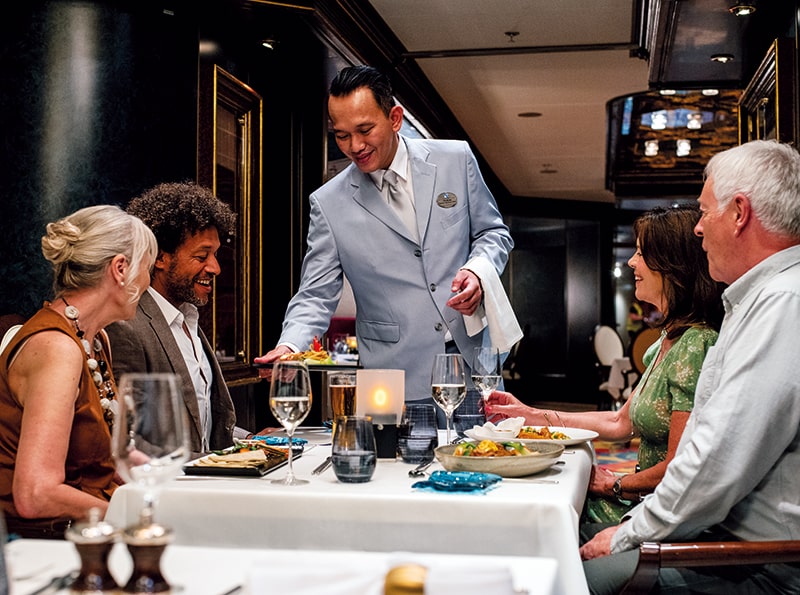 Champagne & Sparkling Wine Packages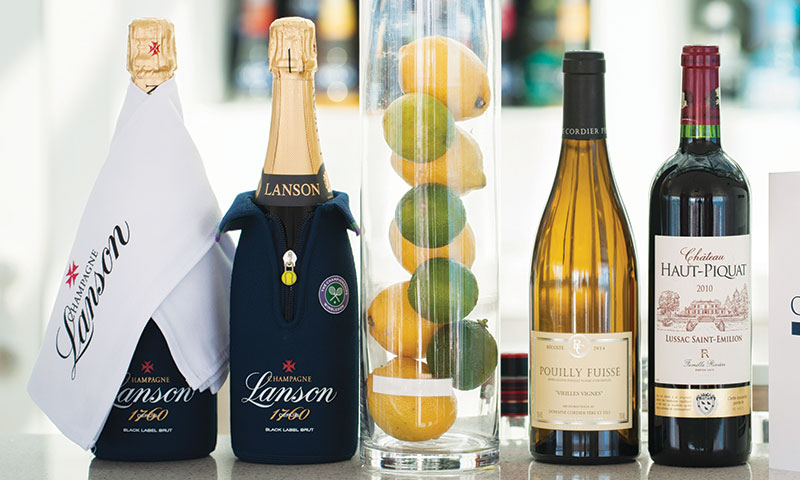 If you're celebrating a landmark occasion during your time on board, or simply wish to treat yourself or a loved one to something extra special, a Champagne or Sparkling Wine Package might be the perfect finishing touch to your time away.
Choose from our wine cellar's selection of the world's finest tipples and we'll deliver your bottles to your cabin or your dinner table on request. Everything will be arranged by our Sommelier at your convenience once on board.
Silver Champagne Package £79
1 x small bottle of Lanson Black Label (375ml)
1 x bottle of Moet Chandon
1 x bottle of Cava
Gold Champagne Package £91
1 x small bottle of Moet Chandon (375ml)
1 x bottle of Bollinger Special
1 x bottle of Cava
Platinum Champagne & Wine Package £144
(£130 for guests with an All Inclusive Package)
1 x bottle of Champagne
1 x bottle of Cava
1 x bottle of Premium White Wine
1 x bottle of Premium Red Wine
Diamond Champagne & Wine Package £288
(£259 for guests with an All Inclusive Package)
3 x bottles of Champagne (1 X 750ml & 2 x 375ml)
1 x bottle of Port Wine
1 x bottle of Premium White Wine
2 x bottles of Premium Red Wine
Relax at the Atlantis Spa
Atlantis Spa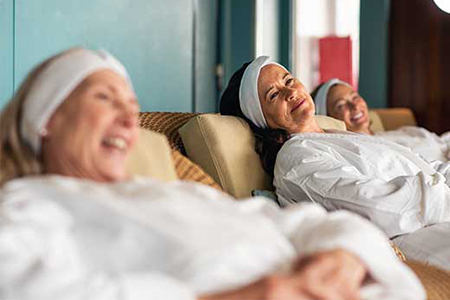 For the ultimate indulgence during your time on board, visit the Atlantis Spa to relax in its peaceful, calming ambience as our expert team pamper you with your choice of luxurious treatments. There are a wide range of treatments on offer, from relaxation treatments and massages that will leave you feeling energised and revitalised to those perfect for preparing for Formal Nights and special occasions, such as manicures, pedicures and hair dressing.
Pre-booking for The Atlantis Spa treatments will be made available to guests from 13 weeks before departure within My Cruises
Indulgence Package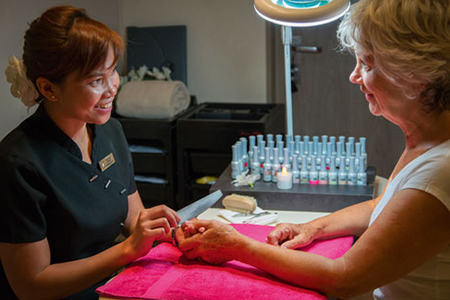 Treat yourself, or a loved one to an Indulgent Spa Package - designed to pamper the mind and body.
For her | £99* (extra £5 for long hair)
Wash and blow dry
Express manicure or pedicure
Discovery Facial
For him | £99*
Wash, cut & finish
Express manicure or pedicure
Swedish back, neck and shoulder massage
The Indulgence Spa packages must be booked and paid in advance of the cruise and treatments cannot be swapped.
Please call 0800 0355 145 or e-mail finalisers@fredolsen.co.uk to arrange.
Photography Packages
Cruise Slides Package
Bring memories of your cruise to life with a slideshow that showcases the highlights of your holiday. From breathtaking scenery and romantic sunsets witnessed at sea to architectural and historical gems in incredible cities, your journey will take in some of the world's great sights and our professional photographers will be there to capture them for you. We will then create a slideshow for you to take home and share with family and friends, as you reminisce about your cruise.

Cruises of up to and including 10 nights £36*
Cruises 11 nights and over £45*
Slide shows are delivered on USB stick.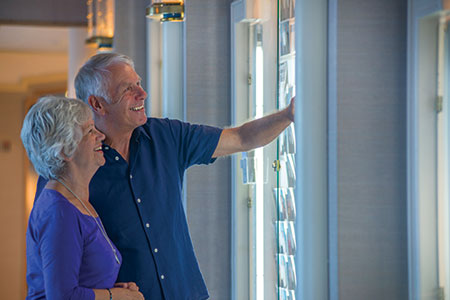 Cruise DVD Package
Take your most special cruise moments home with you, to reminisce and share your journey with your friends and family, with a cruise video of your time away. Our professional videographers will put together a film that showcases the beautiful destinations and scenic highlights of your cruise, as well the elegant Fred. Olsen ship you call 'home' during your holiday.

Cruises of up to and including 10 nights £27*
Cruises 11 nights and over £36*
Please note there is an additional charge of £9 for a USB stick.
For our guests joining our World Cruises voyages please purchase your Cruise DVD and Cruise Slides Packages once on board.
Photo Studio Package
Our personal portrait photoshoots offer you the opportunity to make those special cruises moments more than just a memory. At the on board photo studio, or at your favourite location on the ship, our professional photographers will capture portraits of you and your loved ones that you'll get to take home and cherish forever. Perhaps pose in your elegant evening wear, or something more casual if you prefer.
Package includes 10 prints (size 6x8") £80*
*All our photography packages shown include a 10% discount for those guests pre-booking before joining their cruise.

Flowers, chocolates & more...
We appreciate that, sometimes, a smaller gesture is more in keeping with what our guests might desire. With this in mind, we can organise a range of individual gifts as shown below:
Fruit basket £33


Handmade chocolates £14.50


Celebration Cake £15


Champagne from £57


Wine from £23


Bookmark Bestseller £20 includes 7 x Hot Beverages & 1 bag of Luxury Truffles for use throughout the cruise (excludes Liqueur Coffees)


Gift vouchers from £10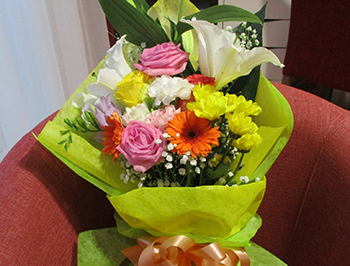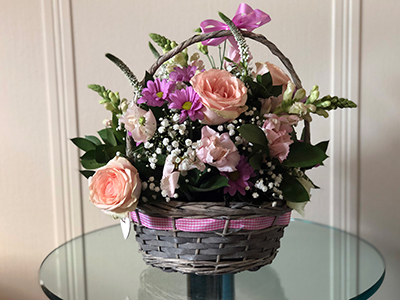 Small baskets (red, pink, orange, white, green or cerise) £35.00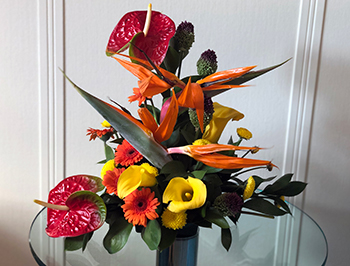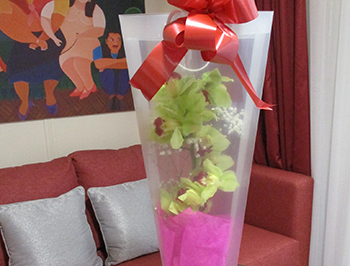 Cymbidium Orchid bag
(red, white, gold or green) £27.00
Why not treat yourself, and the people you care for, to one of our special celebration packages?
Celebrating a wedding anniversary, special birthday or a retirement is always a great occasion, and on a Fred. Olsen cruise we'll give you the chance to make it extra special. Our Captains would also be delighted to officiate as you renew your vows.
Whichever one of our ships you are sailing on, we'll do everything we can to help you celebrate in style. Our crew will ensure your cruise is unforgettable, because if it's special for you, it's special for us.
Welcome Aboard Package
Surprise the ones you love with our popular Welcome Aboard package. This includes a floral bouquet, Champagne*, canapés, a box of handmade chocolates and a fruit basket all placed in the room on arrival. A card will accompany the package and can be personalised with your own message.
£130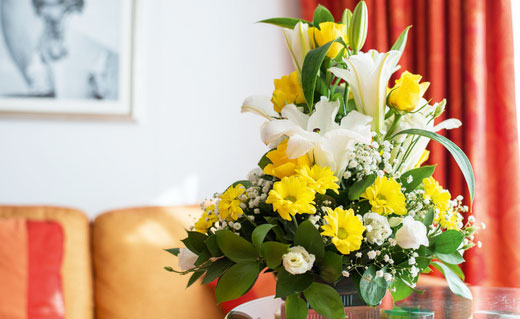 Birthday Celebration
Celebrating any birthday on a cruise always makes for a memorable occasion, and for birthdays other than the milestone ages, our Birthday Celebration package adds the touches that make it extra special. A champagne breakfast for two will be served in your room, and a celebration cake served with your dinner. Also included will be a birthday card, gift and a souvenir photograph.
Champagne breakfast includes:
1 bottle of champagne (or a berry smoothie for non-drinkers - £74 per package)
Glass of freshly squeezed orange juice per person
Fresh fruit platter for two
Eggs Benedict
Norwegian smoked salmon
Swiss style farmers muesli bound with fruits and yogurt
A basket of fresh house-baked croissants and danish pastries
Tea & coffee
£107 per package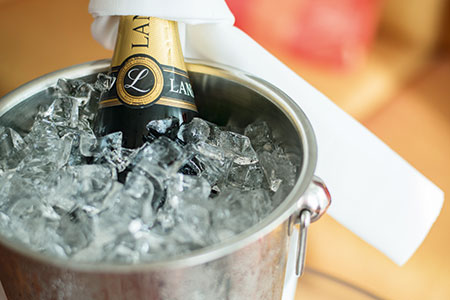 Milestone Birthday Celebration - complimentary
If you are celebrating a special birthday on board – 18th, 21st, 30th, 40th, 50th, 60th, 70th, 80th, 90th or even 100th birthday – during your cruise holiday, let us know and we will organise a special celebration just for you, with our compliments*.
Retirement Package
If your cruise is helping you mark a new chapter in your future following retirement, then our Retirement Package is just the ticket. The package includes Champagne, canapés, a special cake and a congratulatory card.
£73 per person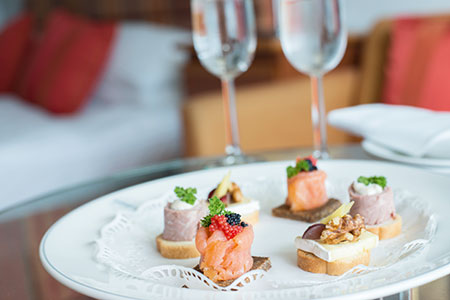 Anniversary Celebration
Let us know if you are celebrating a particular occasion such as a silver, pearl, ruby, golden, emerald or diamond anniversary within three months before or after your cruise holiday and we will organise a special celebration just for you – with our compliments*.
If your wedding anniversary is not one of those listed above, our Anniversary Celebration package offers a great way to make the occasion all the more special. From just £130 per couple, you'll find flowers or chocolates in your room when you arrive, and Champagne and canapés will be served on your special day. Also included is an anniversary gift, a celebration cake and a souvenir photograph taken by our on board photographer.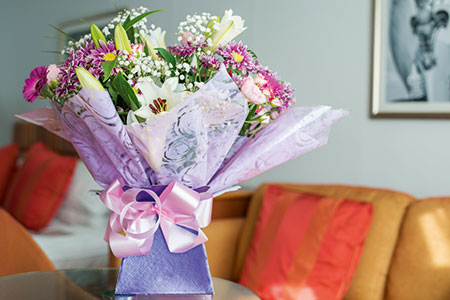 Renewal of Vows
Fred. Olsen smaller, more intimate ships provide the perfect romantic setting for the renewal of wedding vows. It would be our pleasure to mark your very special occasion with a memorable ceremony on board**, which – for only £395 per couple – includes the following as part of our premium renewal of vows celebration package:
Ceremony conducted by the ship's Captain in an attractive venue**
A bouquet and buttonhole for the couple
Professional photographer to capture the occasion, with a choice of one framed portrait photo included
A single-tiered celebration cake
A bottle of champagne
Commemorative certificates signed by the Captain**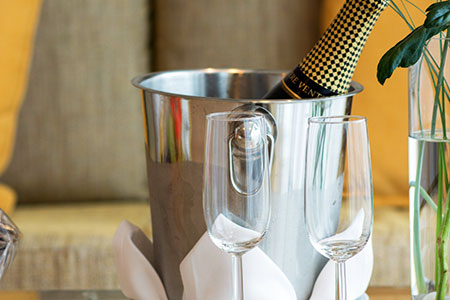 **Due to the Captain's duties, only a limited number of ceremonies are available and these can only be performed on sea days. If on the day, the Captain's duties restrict his availability, a Senior Officer will deputise. Renewal of vows are only available on cruises of seven nights or more.
To book any of our Celebration Packages or if you wish purchase any of our additional treats and extras as a gift please contact our
Guest Services Team on 0800 0355 145 or
e-mail finalisers@fredolsen.co.uk and they will be happy to
arrange this for you.
Please note that unfortunately, orders cannot be accepted within six working days of cruise departure.
Should an extra be cancelled six days or less before your cruise departs, a cancellation fee of 100% will be charged.
Terms and Conditions
*To receive a complimentary wedding anniversary package, you must be celebrating withing three months either side of your cruise departure date, and provide us a copy of your marriage certificate in advance. For relevant birthdays, please ask when you make the booking - your birthday must fall within the period of the cruise. Complimentary packages will not be provided if the relevant documentation is not received. Our complimentary celebration packages will not include Champagne, Cava will be used and canapés will also not be included in the complimentary Anniversary package.
**Due to the Captain's duties, only a limited number of ceremonies are available and these can only be performed on sea days. If on the day the Captain's duties restrict his availability, a senior officer will deputise. Renewal of vows are only available on cruises seven nights or more.
***Indulgence packages are available to purchase before your cruise departs; these offers are not available on board. Please present the voucher when booking your Indulgence Spa Package treatments. The Indulgence Spa Package Voucher cannot be exchanged for cash and no cash change shall be issued should only part of the voucher be used. Not for use in conjunction with any other offer. Vouchers can be transferable to other guests. Vouchers cannot be redeemed against retail purchases or exchanged for other treatments.