Celebrate on your cruise holiday
Looking for the perfect gift? Why not treat yourself, and the people you care for, to one of our special celebration packages or extra treats?
Celebrating a wedding anniversary or a special birthday should always be a great occasion – but a Fred. Olsen cruise gives you the chance to make it extra special. Whichever cruise ship you are on, we'll do everything we can to help you celebrate in style. Our crew will be delighted to make this an unforgettable cruise holiday, because if it's special for you, it's special for us.
Welcome Aboard Package
Surprise the ones you love with our popular Welcome Aboard package. This includes a floral bouquet, Champagne*, canapés, a box of handmade chocolates and a fruit basket all placed in the room on arrival. A card will accompany the package and can be personalised with your own message.
£95
*Please note: on fly cruises except those departing from Barbados and Mauritius, the floral bouquet is excluded and the Champagne is upgraded to Bollinger.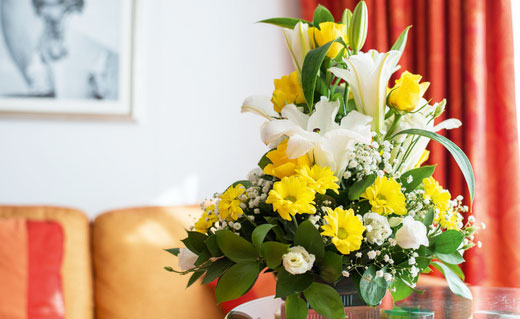 Birthday Celebration
Celebrating any birthday with a cruise is always popular, and for birthdays other than the milestone ages, our Birthday Celebration package adds the touches that make it extra special. A champagne breakfast for two† will be served in your room, ending with a celebration cake served with your dinner. Also included will be a birthday card, gift and a souvenir photograph. † Champagne breakfast includes:
1 bottle of champagne (or a berry smoothie for non-drinkers - £45 per package)
Glass of freshly squeezed orange juice per person
Fresh fruit platter for two
Eggs Benedict
Norwegian smoked salmon
Swiss style farmers muesli bound with fruits and yogurt
A basket of fresh house-baked croissants and danish pastries
Tea & coffee
£85
Milestone Birthday Celebration - complimentary
If you are celebrating a special birthday on board - 18th, 21st, 30th, 40th, 50th, 60th, 70th, 80th, 90th or even 100th birthday - during your cruise holiday, let us know and we will organize a special celebration just for you, with our compliments*.
Retirement Package
If you're celebrating the start of the rest of your life following retirement, then our retirement package is for you! Includes champagne, canapes, a congratulatory card and special cake.
£55
Anniversary Celebration
Let us know if you are celebrating a particular occasion such as a silver, pearl, ruby, golden, emerald or diamond anniversary during the year (that is, within three months either side) of your cruise holiday and we will organise a special celebration just for you - with our compliments*.
If your wedding anniversary is not one of those listed above, our Anniversary Celebration package offers a great way to make the occasion all the more special. From just £95 per couple, you'll find flowers or chocolates in your room when you arrive, and champagne and canapés will be served on your special day. Also included is an anniversary gift, a celebration cake and a souvenir photograph taken by our on board photographer.
Please note: On fly-cruises departing Barbados & Mauritius, the package costs £120 per couple. On all fly-cruises, chocolates will be provided instead of flowers.
Afternoon Tea
Each day complimentary afternoon tea is served, with sandwiches, scones and cakes, along with fresh tea and coffee, always a popular choice.
On some days guests can book a very select experience: Traditional Premium Afternoon Tea. Enjoy beautiful views from the stylish Observatory Lounge, with musical accompaniment from our on board pianist and the careful attention of white-gloved waiters.
Your choice from a selection of premium teas by Taylors of Harrogate is served in porcelain teapots, along with elegant finger sandwiches, pastries and warm scones with jam and clotted cream. Such civilised indulgence – and all for only £8.95 per person*.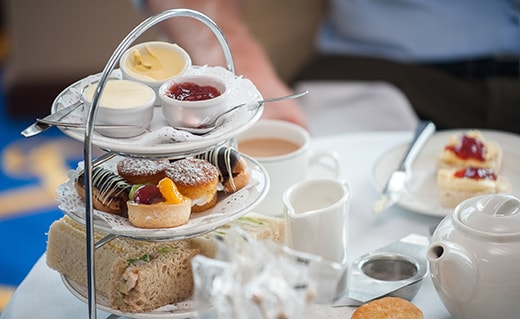 Extras
We appreciate that, sometimes, a smaller gesture is more in keeping with what our guests might desire. With this in mind, we can organise a range of individual gifts as shown below.
Bouquet of flowers £30 - for Fly-Cruises please call for price.
Bouquet of roses - 12 for £45 or 6 for £22.50
Fruit basket - small from £22.50 or large for £50
Handmade chocolates £12
Champagne from £39.95
Wine from £15.85
Onboard Spending Credit from £10 and Spa Vouchers in £25 & £50 denominations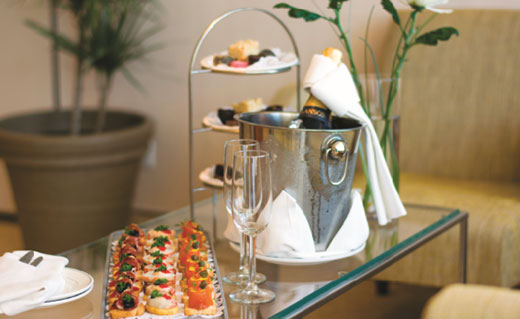 Indulgence Spa Package
Treat yourself, or a loved one to either an Indulgent Spa Package, there's one for women and one for men, both designed to pamper the mind and body. The Indulgence Spa packages must be booked and paid in advance of the cruise and treatments cannot be swapped.
For her - £65 save £24
1. Express manicure or pedicure 2. Shampoo & blow-dry/set 3. 30 minute express facial
For him - £65 save £19
1. Express manicure or pedicure 2. Shampoo & trim 3. 30 minute back, neck & shoulder massage
Both of these packages must be booked in advance of the cruise; however once on board guests can book the treatments at their own convenience, subject to appointment availability.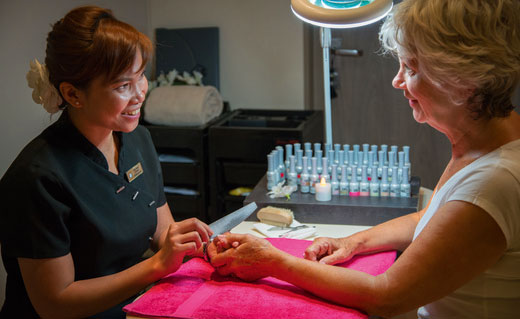 Renewal of Vows
A cruise always has an air of romance, so it's the ideal time to renew your wedding vows. To mark this very special occasion, we can offer you a romantic ceremony on board**. All the following will be included:
Ceremony conducted by the ships' Captain in an attractive venue**
A bouquet and buttonhole
Professional photographer to capture the special occasion, with a choice of framed portrait included
Single-tiered celebration cake & bottle of Champagne
Commemorative certificates signed by the Captain
To book any of the Celebration Packages, Spa Packages or Extra Treats please contact our Guest Services Department on 0800 0355 145.
Please note that unfortunately, orders cannot be accepted within six working days of cruise departure. Should a Payable Extra be cancelled six days or less before your cruise departs, a cancellation fee of 100% will be charged.
Terms and Conditions
*For appropriate wedding anniversaries, please send us a copy of your marriage certificate in advance. For relevant birthdays, please ask when you make the booking. Our complimentary celebration packages will not include Champagne, Cava will be used and canapés will also not be included in the complimentary Anniversary package.
**Due to the Captain's duties, only a limited number of ceremonies are available and these can only be performed on sea days. If on the day the Captain's duties restrict his availability, a senior officer will deputise. Renewal of vows are only available on cruises seven nights or more.
***Indulgence packages are available to purchase before your cruise departs; these offers are not available on board. Please present the voucher when booking your Indulgence Spa Package treatments. The Indulgence Spa Package Voucher cannot be exchanged for cash and no cash change shall be issued should only part of the voucher be used. Not for use in conjunction with any other offer. Vouchers can be transferable to other guests. Vouchers cannot be redeemed against retail purchases or exchanged for other treatments.