Among the veterans who joined Boudicca for the poignant D-Day75 sailing was 95-year-old Ted Cordery, who was a Leading Seaman Torpedoman aboard HMS Belfast on 6th June 1944. Speaking to Fred. Olsen, he reveals just how important the voyage was to those who were on board.
"Meeting my fellow veterans was both a good and sad experience, recalling old times, but also remembering those who are no longer with us," said Ted. "It was very important to me to be part of such a momentous occasion. The camaraderie I experienced reminded me of the comrades I served with on HMS Belfast.
"The most memorable moment of the voyage for me was the invitation to join Commodore Danielsen on the Bridge, where he explained to me in great detail the technology involved in the instruments. He also kindly shared the history of his journey as a naval officer".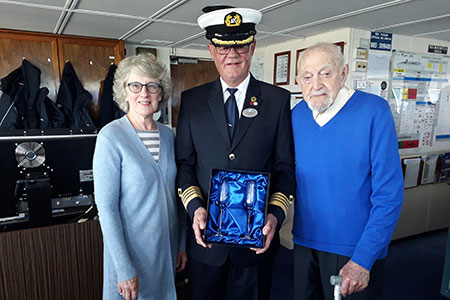 Ted was joined on board by his wife, Glynis, who said the voyage made her feel "immensely proud to be British".
"The most memorable event for me, as the proud wife of a veteran, was when Boudicca sailed away from Portsmouth harbour on the evening of the 5th June," she said. "A wonderful flotilla of vessels accompanied us as we headed for France. Imagine the scene as the excellent Central Band of the Royal British Legion played as we passed the Aircraft Carrier, HMS Queen Elizabeth, with her naval crew lining the rails in tribute to the veterans.
"What I enjoyed most was the privilege of being part of such a dynamic trip. A large number of people – veterans, carers, staff, crew, journalists and representatives of Fred. Olsen and The Royal British Legion – united in commemoration of such a historic event. Boudicca, her staff and crew, afforded us excellent service, respect and great fun.
"I intend to return to this beautiful vessel and savour the assured delights which await us on another voyage."
"What I enjoyed most was the wonderful atmosphere that prevailed and the staff's willingness to assist us in every way. We were treated like royalty. Everyone, whatever their position, was excellent. Thank you."
They shall not grow old, as we that are left grow old.
Age shall not weary them, nor the years condemn.
At the going down of the sun and in the morning.
We will remember them.