There is such a vast and diverse choice of cruises available today – from short city breaks to epic, almost-200-night-long explorations of the globe – that it can prove difficult for anyone, let alone first-time cruisers, to narrow down their options, find the perfect holiday and book themselves on a voyage to remember.
With this in mind, Fred. Olsen Cruise Lines strive to create holidays that not only appeal to the most seasoned of guests, but also make for an ideal first foray into the world of cruising, including a collection of short, yet highly rewarding five-night cruises to the spellbinding Norwegian Fjords.
These sailings capture the very essence of cruising with Fred. Olsen, offering guests the chance to enjoy unforgettable experiences on board their smaller, friendlier cruise ship and ashore in some of the world's most beautiful and inspirational destinations – all while spending less than a week away.
Here are four reasons why one of Fred. Olsen's five-night escape to Norway's awe-inspiring fjordland might be just the introduction to cruising you have been looking for…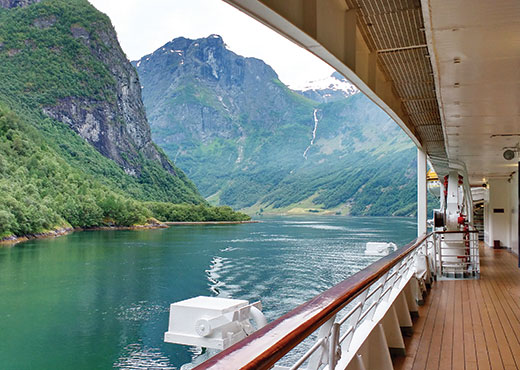 It is just the right amount of time...
...to get a feel for exploring the world on a Fred. Olsen ship and to experience what life on board is like. A five-night fjord adventure allows ample time to delight in the company of hundreds, not thousands, of friendly, like-minded fellow guests; sit back and relax in the comfort of spacious lounges and bars, with a glass or two of your favourite holiday drink perhaps; make use of all your ship's facilities and amenities; and enjoy a range of fantastic entertainment.
That's not to mention what many guests highlight as the best part of their on board experience: the food! Every dining occasion on a Fred. Olsen ship is one to remember, whether it's tucking into a delicious breakfast cooked just the way you like it, for a perfect start to the day, or devouring five sumptuous á la carte courses at dinner.
And of course, you'll get to experience what it's like being at sea, sailing the world's vast, deep waters en route to regions and destinations that will take your breath away, leaving all the potential stress, strains and worries of life at home back in the UK. A five-night cruise is your chance to escape it all for a little while!
...is still an immensely rewarding, incredibly immersive itinerary! A five-night cruise into Norway's wonderland of mystical fjords and waterways will always feature breathtaking scenic cruising passing through and by simply astonishing landscapes, as well as visits to attraction-packed ports in the region.
You could marvel at the eerie tranquillity and astounding beauty of Lysefjord or the narrow, twisting Nærøyfjord, sailing routes by magnificent mountains and dramatic cliff faces that larger ships can't access; see the 'Queen of the Fjords', Hardangerfjord, and its towering peaks and idyllic orchards; and witness Mother Nature at work, sailing by wonders such as the Maurangerfjord's tumbling Furebergfoss Waterfall.
As for ports of call, Fred. Olsen's five-night fjord adventures often visit the iconic, Hanseatic city of Bergen, which is packed with attractions including the colourful, UNESCO-listed Bryggen Wharf; the Troldhaugen Museum, dedicated to life and works of Edvard Grieg; and the fantastic funicular railway ride up Mount Fløyen. Elsewhere, Eidfjord – gateway to the vast mountain plateau of Hardangervidda National Park and Voringfossen Waterfall, and a popular place to experience the unique thrill of fjordland kayaking – is another often-visited destination.
Any time spent exploring the spectacular Norwegian Fjords is time you'll remember forever, and on a Fred. Olsen five-night fjord cruise you're sure to make memories that last a lifetime.
...can help you uncover the very best of each region and destination on your five-night fjord itinerary, and provide unique, exhilarating and unforgettable experiences.
From sightseeing excursions that can take you to feel the refreshing spray from cascading white-water waterfalls, gaze into the sky at towering mountain peaks and marvel at dramatic rock formations to hiking adventures seeking out hidden treasures and kayaking trips offering an unrivalled view of the fjordland from the water, you can do it all.
There is an extensive collection of Shore Tours available, expertly planned to make your time in the fjords as memorable as possible.
Whetting your cruise appetite...
…for more, a Fred. Olsen five-night fjord cruise will leave you wanting to cruise again and again. You might want to return to the fjords for a longer exploration, or even continue onwards to remote islands within the Arctic Circle; discover incredible cities in Europe or the Baltic; or perhaps escape to the warmer climes of the Canaries, Spain and Portugal, or even the Caribbean, South Pacific islands and Asia.
Fred. Olsen cruise from five convenient UK ports and fly-cruise to over 200 destinations far and wide, from the islands and lochs of Scotland to exotic locations on the other side of the globe, so you'll always find the perfect cruise holiday.