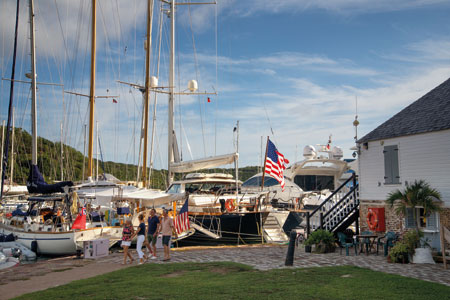 A sunbather's haven, St John's is the capital city of Antigua and Barbuda, an island often referred to as the crown jewels of the Caribbean. With its large selection of beaches, typically hot climate and an array of cool seaside bars, the city of St John's is a sun worshipper's paradise.
In the city itself, the Museum of Antigua and Barbuda has exhibits on island history and St. John's Cathedral, a 19th-century Anglican Church, sits sweetly on a hill near the 17th century Government House.[ReadMoreMob] The city's vibrant red and yellow colonial buildings reflect the personality and warm welcome from locals, while a monument to the nation's founder, V.C. Bird, is next to the colourful street market which sells flowers, fruit and handicrafts.
St. George's fascinating history is brought to life on the stunning English Harbour and celebrated Nelson's Dockyard. Also known as Britain's West Indies naval base, it has now been restored to its 18th century glory.
There is shopping and speciality restaurants to be found in Heritage Quay and, of course, no visit would be complete without a spell on one of the island's 365 stunning beaches – one for each day of the year say the Antiguans.
Top Experiences
Beaches
For anyone looking to relax and soak up the Caribbean sunshine, Antigua offers dreamy white sand and crystal clear blue waters in abundance. There are no fewer than 365 beaches on the island – one for each day of the year, if you ask the locals!
Nelson's Dockyard
Nelson's Dockyard is one of Antigua's most famous sites. The area, which was named after Admiral Horatio Nelson, who was based here in the 18th century, is the only working Georgian dockyard in the world today. The dockyard's operations date from 1745, and the buildings were used by the Royal Navy until 1889. During the Napoleonic Wars, it was the headquarters for Nelson and the British Navy. Today Nelson's Dockyard has been restored to its 18th century prime.
British Links
Antigua maintains many links with Britain including St John's Cathedral, built of British brick, Nelson's dockyard and, of course, Eric Clapton's house.
Cruises to St John's
Departs: Bridgetown • Thu 23 Dec 2021
14 nights • Braemar • M2131
On an incredible Caribbean exploration, experience a magical festive season that includes Christmas at sea, spectacular New Year's celebrations and paradise island discovery.
Uncover the delights of beautiful Bonaire and Curacao; indulge in the sunshine and beaches of Antigua; and ride St Kitts's scenic railway, all before seeing in 2022 in St Maarten.
Begin the new year in style, with one final dose of Caribbean delight in Grand Turk before enjoying an extended stay in the historic, culture-rich iconic Cuban city of Havana.
From £3,099pp
Fares Explained
|
What's Included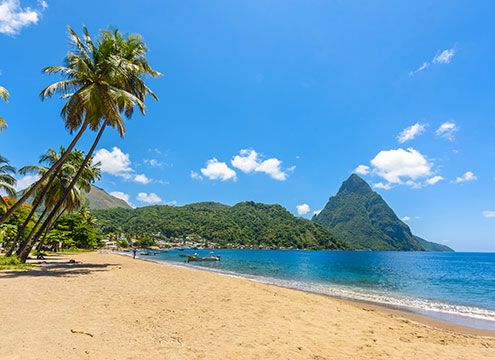 Departs: Havana • Thu 17 Feb 2022
14 nights • Braemar • M2204
This is the Caribbean at its very best, an immersive discovery of iconic islands and their cultural highlights, from authentic flavours to legendary dance, music and carnival.
Delve into the history of reggae and pirates in Jamaica; and in Havana, soak up the rich Cuban culture, see sights via classic car, sample traditional rum and much more.
Be inspired by the natural beauty of St Kitts, St Lucia and Grenada; then catch Trinidad Carnival, a colourful celebration of Caribbean life.
From £2,549pp
Fares Explained
|
What's Included
Departs: Southampton • Tue 07 Dec 2021
30 nights • Braemar • M213031
Escape the gloomy British winter, as well as the stress of the busy festive period, and cruise across the Atlantic to the Caribbean for a simply unforgettable holiday.
Spend almost three weeks hopping between islands such as St Kitts, Barbados, Antigua and St Lucia for spectacular scenery, beaches and an authentic taste of the Caribbean.
Enjoy a Christmas Day of fun, food and festivity on board Braemar, welcome 2022 in style, watching St Maarten's New Year's Eve fireworks, and spend three unforgettable days in Havana, Cuba.
From £3,849pp
Fares Explained
|
What's Included