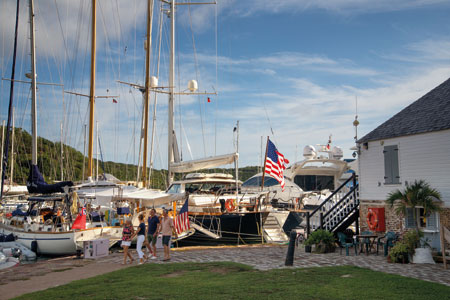 A sunbather's haven, St John's is the capital city of Antigua and Barbuda, an island often referred to as the crown jewels of the Caribbean. With its large selection of beaches, typically hot climate and an array of cool seaside bars, the city of St John's is a sun worshipper's paradise.
In the city itself, the Museum of Antigua and Barbuda has exhibits on island history and St. John's Cathedral, a 19th-century Anglican Church, sits sweetly on a hill near the 17th century Government House. The city's vibrant red and yellow colonial buildings reflect the personality and warm welcome from locals, while a monument to the nation's founder, V.C. Bird, is next to the colourful street market which sells flowers, fruit and handicrafts.
St. George's fascinating history is brought to life on the stunning English Harbour and celebrated Nelson's Dockyard. Also known as Britain's West Indies naval base, it has now been restored to its 18th century glory.
There is shopping and speciality restaurants to be found in Heritage Quay and, of course, no visit would be complete without a spell on one of the island's 365 stunning beaches – one for each day of the year say the Antiguans.