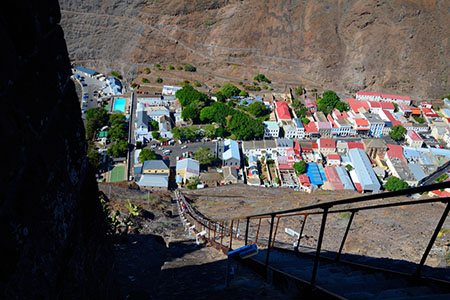 The beautiful isolation of Jamestown, the capital of St. Helena, lies in the middle of the Atlantic Ocean, It is the final resting place of Napoleon, who was exiled there, and his gravesite in a colourful, flower-laden glade can still be visited.
Still a British Overseas Territory, the town's main attractions include the Museum of Saint Helena, which showcases St. Helenian stamps, island communications, religious icons and geological specimens;[ReadMoreMob] The Cenotaph; and the view from Jacob's Ladder – its 699 steps rise from the capital to Half Tree Hollow above.
Jamestown's temperature is consistently warm and pleasant throughout the year, moderated by its proximity to the ocean. This historic village boasts the oldest Anglican church in the Southern Hemisphere – the 18th century St. James' – plus numerous handsome Georgian manses that line a very British Main Street.
Top Experiences
Napoleon
Saint Helena's most famous resident was Napoleon Bonaparte, who was exiled here by the British from 1815 until his death in 1821. You can still visit his flower-laden gravesite and residence there. Longwood House, in the town of the same name, was the home in which Napoleon spent the great majority of his time on Saint Helena and also where he died. It has several wings and contains the type of furniture it would have when he lived there, though most of the originals have been carried off elsewhere. The house is now run as a museum and maintained by the French government.