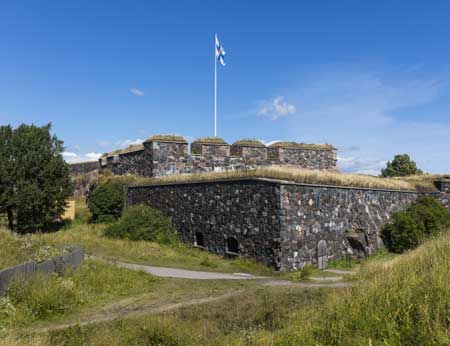 Finland's capital since 1812, built on a peninsula amid a cluster of islands, stately Helsinki is The Daughter of the Baltic.This striking seaside port is surrounded by uplifting natural landscapes that are easily accessible from each area of the city. The opportunities to get out and about includes boating around the archipelago islands, hiking Helsinki's forests or strolling its beaches, smart parks and gardens.
The port also boasts a UNESCO-listed sea fortress just a short distance from the shore, which is worth the short ferry journey to explore its historic walls and gates.[ReadMoreMob]
Senate Square, one of Finland's most photographed places, is home to fine examples of neoclassical architecture, including unique designs from renowned architect, Carl Ludvig Engel. Other architectural delights include the Kiasma Museum of Contemporary Art, the imposing concert hall, Musiikkitalo, and the Temppeliaukio, an astonishing rock-carved church. Helsinki's stunning train station built in 1919, also demands discovery.
Finnish cuisine can be found across the city, from the historic kauppahalli (covered market) to popular, creative bistros. Locally-sourced reindeer, elk, bear, Arctic char and snow grouse, often find their way onto the menu.
Top Experiences
Porvoo
The second oldest town in Finland, Porvoo is located approximately 50 kilometres (31 miles) from Helsinki, and is well worth a visit. Porvoo officially became a town in the 13th century and has a long history as an important trading post. Today the old town is renowned for its wooden buildings situated by the river, which were originally painted red in honour of a visit by Swedish King Gustav III.
Sibelius
One of Finland's most famous residents was Jean Sibelius, the country's best-known composer. Sibelius was born in Hämeenlinna and later moved to Helsinki to study. Later in life he moved to Ainola, located on the shores of Lake Tuusula. It was here where he composed many of his works and, following his death in 1957, he was buried in the grounds here. The composer is credited with helping Finland develop its national identity following independence, and as a result there are tributes to Sibelius across the country, including the Sibelius Monument, which was unveiled in 1967 and resembles organ pipes. In addition December 8th, the composer's birthday, is now celebrated as Finnish Music Day.
Temppeliaukio Church
No visit to Helsinki would be complete without admiring the unique Temppeliaukio Church, also known as the Rock Church, or Church in the Rock. As the name suggests, the church was built directly into granite rock, while its roof is made out of copper wire. Designed by architect brothers Timo and Tuomo Suomalainen, this impressive church opened to the public in 1969. The church often hosts classical concerts, thanks to its excellent acoustics.
Cruises to Helsinki
Departs: Rosyth (Edinburgh) • Thu 17 Jun 2021
14 nights • Balmoral • L2119
See, experience and fully immerse yourself in the grandeur of beautiful Baltic cities renowned for their remarkable architectural, cultural, historical and artistic delights.
Enjoy three days in spectacular St Petersburg, ample time to marvel at iconic landmarks such as Peterhof Palace and the Hermitage, and even feel the magic of the Russian ballet.
Uncover impressive palaces, castles and museums in the Scandinavian capitals of Copenhagen, Stockholm and Oslo; plus experience enchanting local life in Tallinn, Estonia and Helsinki, Finland.
From £1,999pp
Fares Explained
|
What's Included
Departs: Dover • Tue 05 Oct 2021
13 nights • Bolette • T2124
Visiting incredible cities when they are less crowded, you've opportunities to experience the best of the Baltic with fewer tourists around and more space to discover iconic attractions.
In St Petersburg, see spectacular sights by day; and enjoy a magical night at the Russian ballet, with a chance to meet the soloist performer too.
Meet bell ringers at one of Tallinn's historic churches; immerse yourself in Helsinki's Finnish culture; plus, visit the charming capital cities of Copenhagen, Oslo and Riga.
From £1,799pp
Fares Explained
|
What's Included