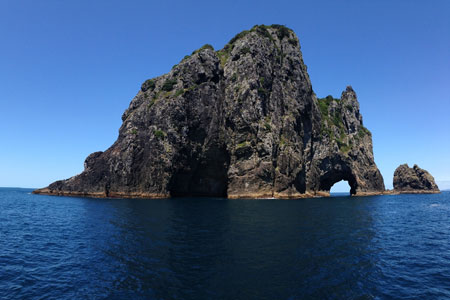 Captain Cook first visited the Bay of Islands in 1769, choosing the name because of the 144 islands dotted around its deep-blue waters. A sub-tropical micro-region known for its stunning beauty & history, this collection of islands is a paradise for those who love beaches and water activities. [ReadMoreMob]
The Islands' boutique town of Russell was the first permanent European settlement in New Zealand, and where that the Treaty of Waitangi was signed between the Maori and the British in 1840. The Russell Museum has displays about the history of the Bay area, including the story of the Girls' War in 1830 – a bloody conflict resulting from an argument between two Maori women over the affections of a local whaling captain.
The area is now a maritime adventure playground offering the chance to see an abundance of wildlife including penguins, dolphins, marlin and whales.
Cruises to Bay of Islands