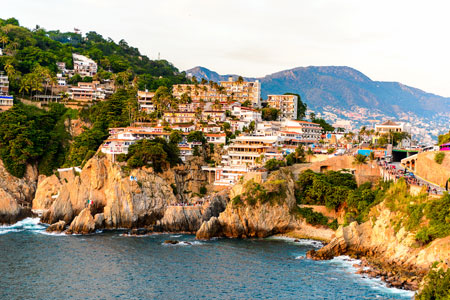 Mexico's Pacific coast town of Acapulco is a pulsating city that lies like a star-studded jewel on a sweeping bay backed by the Sierra Madre del Sur Mountains. [ReadMoreMob]
Once the playground of stars such as Judy Garland, Elvis Presley and Frank Sinatra, Acapulco has lost none of its vivacity: it's still alive 24-hours a day. Known as the Riviera of Mexico, tourists are attracted by Acapulco's climate, Mediterranean-style, excellent beaches and deep-sea fishing.
Originally, a port from which Spanish colonial fleets plied their trade between Mexico and Asia, the city still offers plenty of charm, with romantic cliff-side restaurants, classic golf courses and the world-class University Botanical Gardens. The old town's shady zócalo (Main Square), plus the well-preserved, star-shaped San Diego Fort – home to the fascinating Acapulco Historical Museum, are worth a visit.
Destination Highlights
La Quebrada
Cliff diving is as old as cliffs, but this particular dive is one of the most dramatic in the world not for its height but for its landing. Plunging into a pool barely 11ft deep, divers must calculate the right moment to catch the swell of an incoming wave in order to ensure a safe plunge. A truly dramatic spectacle, the La Quebrada divers are an inspiring sight to behold.
San Diego Fort
This impressive star fort was built during the Spanish Empire and served as one of the most important Spanish fortifications along the pacific coast. The original structure was demolished after an earthquake and rebuilt by 1783. Stone walls capped with bright white crenellations make for a dramatic sight and the shape of the fort from thehillside reveals the beauty of its construction; its walls forming a five-pointed snowflake-shaped star.