Dining in our elegant restaurants is the high point of every Fred. Olsen Cruise. This experience can be made even more special with an evening in one of our exclusive speciality dining restaurants.[ReadMoreMob]
Vasco offers an authentic taste of Goa and each menu has been created by our Goan chefs on board. For a taste of Asian Fusion, Colours & Tastes offers an eclectic mix of flavours in an intimate dining setting.
Whether you're celebrating a special evening on board, or are simply in the mood to try something new and exciting, our speciality dining experiences are the perfect way to mark the occasion.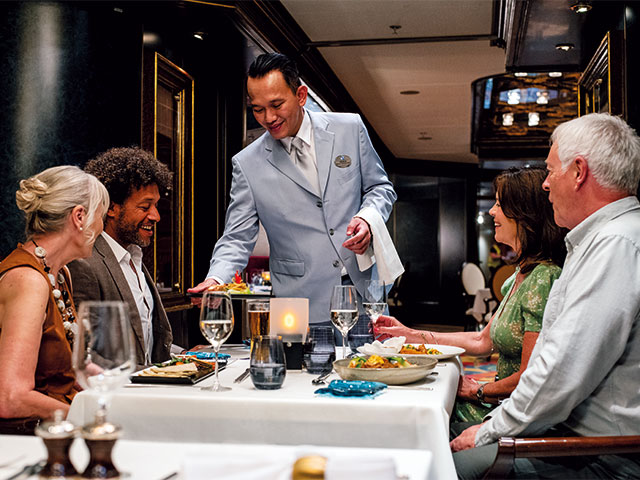 Colours & Tastes
Our Colours & Tastes restaurant features a tempting variety of Asian Fusion dishes, from spiced grilled meats and seafood to gyozas, dim sum and sushi.
In surroundings as vibrant as the food itself, each dish is lovingly created by our expert chefs and designed to give you an authentic taste of the Orient – with signature dishes from Japan, Thailand, China and the Philippines.
Vasco
Named after the famous explorer Vasco Da Gama, Vasco offers a fresh and modern take on Indian cuisine.
The menu is inspired by our chefs from Goa and focuses on the unique culinary traditions of this area – a place where the tastes of Europe first met the tropical warmth and spices of western India.
Our chefs create each dish by hand and are proud to share the unique tastes of their homeland with our guests so they get an authentic culinary experience. Choose from a selection of delicious seafood, curry and grilled meat dishes in a setting inspired by the warmth and richness of Goan tradition.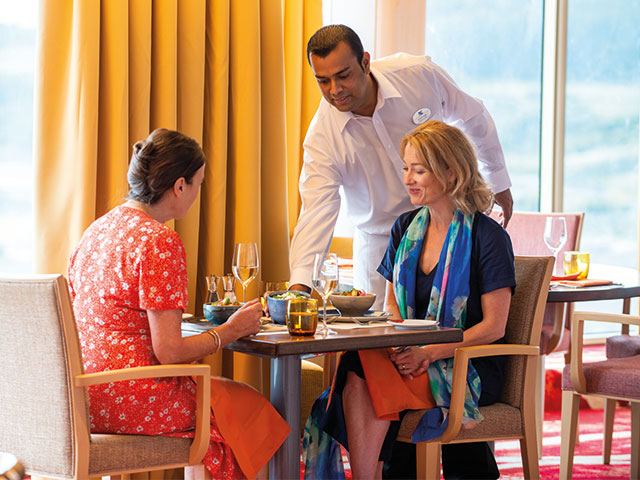 Booking ahead is highly recommended for both our speciality dining venues and can be booked within the My Cruises section of our website from 13 weeks prior and up to 24 hours before your cruise departs.
There is a small supplement for both Colours & Tastes and Vasco dining experience, which is charged at just £10 per person when making a reservation pre-cruise and £15 per person on board.