Taking Fred. Olsen's philosophy of bring the world closer and experiencing 'Life on the waters edge', our RIBs provide our guests an exclusive and immersive experience, an unmissable chance to stimulate the senses and see the world from a different perspective.
Designed to divert away from regular tourist trails, these exciting crafts offer guests the chance to see extraordinary sights, from venturing deep into a stunning fjord to discovering isolated stretches of coastline only accessible by boat.
Before setting off, a brief outline of each exploration is presented, allowing the finer details to be revealed as the adventure begins to unfold. The sense of anticipation and excitement can be felt throughout, from the moment of boarding to the end of what's sure to be a unique and memorable journey of discovery.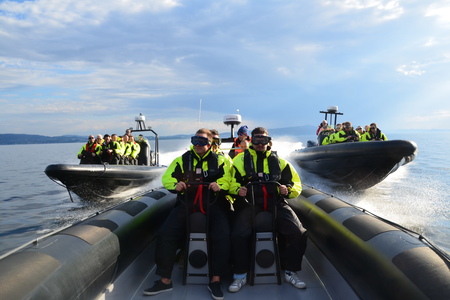 "An experience of a lifetime. Thrilling, exhilarating, memorable". Independent guest review.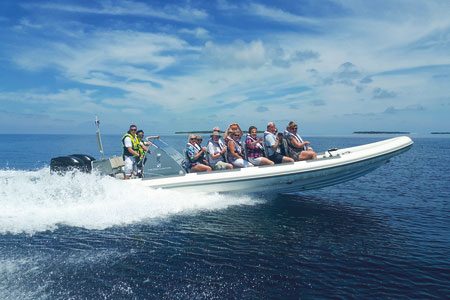 "The silence of the fjord, the cracking of the glacier, the wildlife – amazing". Independent guest review.
The RIBs can travel at a range of speeds during the 1 hour to 90-minute long tours, and the drivers will slow down when points of interest come into sight, while in some locations there may be an opportunity to pick up the pace for a thrilling ride. They are the perfect way to uncover the most secluded settings, as the drivers expertly negotiate narrow waterways only accessible by smaller craft. Each experience will vary depending on the location, but what is for certain is that the RIBs will take guests even closer to the heart of each destination, delivering a new adventure every time.
Simply enjoy seeing the world from nature's viewpoint, while the wind beats your face and the fresh sea air fills your lungs, is an exhilarating and inspirational experience – one where Fred. Olsen really can take you that much closer.
RIB FAQs
What is a RIB?
RIB stands for Rigid Inflatable Boat. A RIB is a lightweight, high-performance boat with an inflatable collar for extra buoyancy in adverse sea conditions. RIBs can travel at speed and turn sharply.
How many people can fit in a RIB?
Fred. Olsen's RIBs have capacity for 12 guests.
What is the size of a Fred. Olsen RIB?
9 metres long
2.43 metres wide
What should guests wear?
Naturally, clothing requirements depend on the climate of the region in which the RIB experience is operating. In colder climes it's necessary to wear a specially designed wind suit to keep warm. This, along with gloves, goggles and balaclavas are provided. Be mindful of wind temperatures, even in warmer climes. Flat, comfortable shoes must be worn in all weather conditions. As a safety precaution, guests are required to wear a life vest over the wind suit or clothing. Glasses and sunglasses must be secure at all times.
Are there any other requirements?
Guests are given a description of what it is like to travel on the RIBs so they are able to decide if the trip is suitable for them. They will need to sit astride a replica seat located close to Guest Services on board, to ensure they are able to take part.
How do I book a RIB tour when I'm on board?
To book a RIB experience, enquire at the Destination Desk on board.