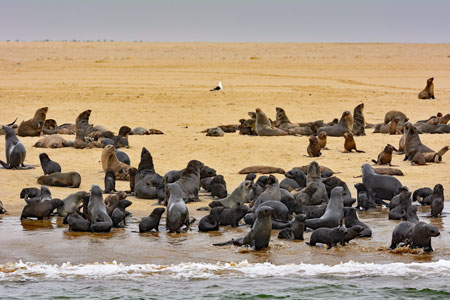 Walvis Bay is a pleasant port town on the coast of Namibia. Sheltered by the Pelican Point sand spit, its tidal lagoon is a magical destination for bird lovers as it is home to an array of birdlife including pelicans, Damara terns and the largest flock of flamingos in Southern Africa.

The town's harbour is busy with fishing boats and ships,[ReadMoreMob] and the slower pace of life here – plus a distinctly laidback vibe – can be witnessed around its recently renovated waterfront, which has a number of fine bars and restaurants.

With its calm, friendly atmosphere, the honey hued sand plains of Walvis Bay is perfect for those seeking peace and quiet away from the hustle and bustle of neighbouring cities. It's also the perfect gateway to the famous Cape Cross Seal Reserve, home to some 100,000 Cape fur seals, and the grandeur of the Namib-Naukluft Park. The park's sand dunes rise to over 1,000 feet and are the world's highest – Dune 7 is popular with locals as a slope for sandboarding and skiing.
Top Experiences
Namib Desert
One of the oldest and largest deserts, the Namib stretches inland from the Atlantic Ocean, covering large swathes of Namibia and parts of Angola and South Africa. This arid hotspot surprisingly supports a diverse number of plants and animals, some of which are found nowhere else in the world.
Skeleton Coast
The Skeleton Coast is located on the northern part of the coast of Namibia, south of the Kunene River to the Swakop River. The Skeleton Coast is associated with shipwrecks, and stories of sailors walking through the desert in search of food and water. The name is derived from the bones that lined the beaches as a result of whaling operations and seal hunts. A few of the skeletons found were human. The blinding fog typical of this coast results in ships running aground or wrecking on the off-shore rocks. The coast is littered with scores of shipwrecks, some are barely recognisable, and others are still in remarkably good condition.