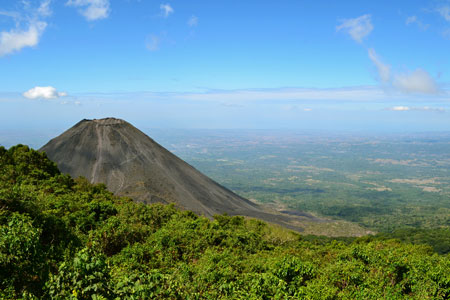 The Pacific city of Acajutla was claimed by Spanish conquistadores in the 16th century, and subsequently flourished into a major colonial seaport.
As El Salvador's principle exit route for the country's exports of coffee, sugar and balsam, Acajutla, was originally a Mayan village and its ruins near the present-date port represent a real insight into Mayan culture.[ReadMoreMob]
Los Cabanos beach, near to the port, is a long stretch of white sands, blue waves and abundant reefs – it is a mecca for diving. Izalco Volcano, which erupted almost continuously from its birth in 1770 to 1958 earning it the nickname of Lighthouse of the Pacific, is a local highlight. Its last eruption was in 1966 and visitors today climb to the summit to view the now-dormant caldera.
Top Experiences
Volcanic Landscapes
Formed in 1770, the Izalco volcano earned its name as the 'Lighthouse of the Pacific' through nearly two hundred years of almost continuous eruption. Visitors can look down on the now dormant caldera from the summit of the famous stratovolcano, considered one of the youngest in the world.
Coffee
The rapid growth of this highly profitable cash crop changed the economic shape of the region, with the economy of the entire nation coming to rely increasingly on the export of coffee.
Archaeological Sites
Tazumal is a complex of restored Mayan ruins within the ancient Mesoamerican city of Chalchuapa. A site with a long but largely elusive history, this was the site of the discovery of some of the earliest metal artefacts reported from Mesoamerica. The site is dominated by an impressive restored step pyramid which is a testament to the dedication and ability of its ancient builders.