Our Cruise Directors are a vitally important part of your holiday. Their role is to manage the entertainment teams on board our cruise ships as well as many other important aspects of your cruise. Often you will see them getting involved in daytime activites, and of course, at the evening shows.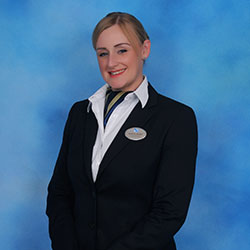 Michelle Jeffries
Nationality: British
Joined: 2008
Michelle Jeffries
Michelle was born in Hutton, Brentwood but moved across the Essex-Suffolk border to Ipswich at a young age. Growing up it was always her dream to work on board cruise ships and in 2008 this dream was realised when Michelle joined Fred. Olsen Cruise Lines as a Beauty Therapist aboard Braemar. Michelle then enjoyed a spell as a Hostess in 2010 before stepping up to Deputy Cruise Director – a role which suits her bubbly personality perfectly.
Michelle feels very lucky to have travelled the world on board our ships, discovering spectacular destinations and meeting thousands of guests along the way. The most memorable experience from her time with Fred. Olsen so far was being part of the massive '4 Ships in Bergen' event in 2015; and her favourite destination is the incredible Norwegian fjords. Michelle also enjoys taking in the sunshine, beaches and vibrant, happy atmosphere of the Caribbean too. New Zealand and Asia are destinations she would like to explore in the future with Fred. Olsen.
In her free time Michelle likes to keep fit at the gym and enjoy relaxing spa days with her family and friends.
Allan Tait
Nationality: British
Joined: 1997
Allan Tait
Formerly an Entertainments Manager for 10 years, Allan joined Fred. Olsen Cruises Lines in 1997 as a member of Cruise Staff aboard Black Watch. Moving up to the role of Cruise Director was an obvious progression for Allan, and during his long career with Fred. Olsen has worked on board all four of our ships, covering almost every corner of the globe along the way.
From the hustle and bustle and beautiful beaches of Vietnam, to the breathtaking Norwegian fjords and the pretty landscapes of Britain, Allan has experienced it all while working as a Cruise Director on board with us. He says he will always remember his very first world cruise on board Black Watch and the first time he discovered the wonders of Spitsbergen; while being a part of the fantastic '4 Ships in Bergen' event in 2015 will live long in his memory too. Interviewing Lord David Steele, The Duchess of Northumberland and Betty Boothroyd on board are also among his most memorable cruise moments.
While working Allan enjoys meeting new guests and working with first class cabaret performers; and during his time off he likes to spend as much time with his daughter as possible. When he isn't exploring the world's waterways on board our ships, Allan is often spotted on the terraces at his hometown football club, Alnwick Town FC. Allan also plays the guitar in his free time.
Allan has taken a few minutes to give us some answers to questions you'd like to know!
Elliot Taylor
Nationality: British
Joined: 2010
Elliot Taylor
From a young age Elliot has had a keen interest in travelling and in his college years achieved a diploma with merit in Travel & Tourism, which helped him realise his dreams of working in the travel industry.
Elliot became part of the Fred. Olsen Cruise Lines family in May 2010, joining Braemar as a member of the crew before moving on to the Boudicca – his favourite ship in the fleet – in March 2013. In his role of Cruise Director, Elliot currently moves from ship to ship across the fleet and enjoys the challenge of working on all of our vessels throughout the year.
Spending 9 months of the year on board his 'second home', Elliot enjoys the camaraderie of the crew, building a rapport with our guests and of course, discovering some of the greatest destinations and experiences on earth. His cruise highlights include glaring at the inspirational scenery of the Norwegian fjords for the first time, experiencing the thrill of the Monaco Grand Prix and being part of the unforgettable '4B's in Bergen' event. Elliot also loves visiting the Caribbean – his favourite cruise destination – and is hoping to tick the Dubai, Australia and New Zealand off his 'must-visit' list.
During his time off, Elliot returns to his home in Bournemouth to enjoy spending time with his friends and pursue a further passion for travelling and entertainment, as well as his beloved football team, Everton.
Tim Spicer
Nationality: British
Joined: 2019
Tim Spicer
Tim Spicer
Having spent many years working for Princess Cruises before joining the crew on board a private mega yacht that sailed to some of the most remote destinations on earth, Tim Spicer has been travelling the world for most of his professional life.
During his career, Tim has explored all seven continents, from Antarctica to the Soloman Islands and the Sea of Okhotsk, and feels privileged to have been able to indulge his love for discovering new and exciting destinations around the globe. In between his seafaring adventures, he enjoyed time as a Theatre Manager at the Edinburgh Fringe Festival, which allowed him to keep up with new and emerging talent.
Now, as a Fred. Olsen Cruise Director, Tim is able to combine his passions for travel and entertainment, and use his experiences to help create and provide unforgettable moments for guests to enjoy on board our smaller, friendly ships – something he finds extremely rewarding and is very proud of.
When not at sea, Tim enjoys spending time at home in Birmingham, England with his family and friends, catching shows at the theatre, and making the most of the opportunity to travel and experience genuine global cultures.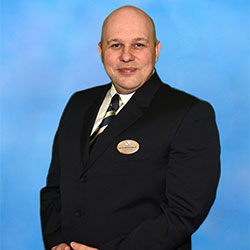 Simon Egerton
Nationality: British
Joined: 2019
Simon Egerton
Simon Egerton
Simon Egerton was in born in Birmingham, and raised in the beautiful city of Worcester. As a child, he discovered a love of horses and was a keen horse rider, whilst also developing a passion for entertainment and the arts. Simon became a member of the Worcester Cathedral Voluntary Choir, and later joined the London School of Dramatic Arts, which provided him with his first opportunity to work at sea.
Since then, Simon worked on board ships for various cruise lines and companies, including Princess Cruises, Saga and Silversea, for over ten years before moving to the gorgeous island of Tenerife. However, spending time on the oceans, working and exploring the world, is Simon's passion, so he was thrilled to be given the chance to return to the sea with Fred. Olsen, and be part of the 'family' of guests and crew on board our smaller, friendlier ships.
Simon's passion for discovering incredible destinations around the globe also lead him to creating a home in Pampanga in the Philippines, which is where he returns to when he isn't working on board. He adores the warmth and friendliness of the people there, and enjoys soaking up the local culture when he has time at home to unwind.
Tayler McCullough
Nationality: British
Joined:2019
Tayler McCullough
Tayler McCullouugh
Born in the seaside town of Whitley Bay, on the rugged coast of North Tyneside, Cruise Director Tayler McCullough is a Geordie born and bred. A natural entertainer with a passion for travel, Tayler longed to perform – and see the world – from a young age. So, after completing his studies at the Sage Academy of Performing Arts, he quickly found his sea legs and started his cruise career.
Having joined Thomson Cruises (now known as Marella Cruises) as a Host, Tayler soon worked his way up the ranks to Assistant Cruise Director and then Cruise Director. A short stint as Cruise Director with Holland America Lines followed, before he joined Fred. Olsen Cruise Lines. The best part about his job is being able to meet and spend time with guests, and visiting some of the world's most amazing destinations, from Amsterdam to Antigua, Valletta to Venice and everywhere in between!
When he isn't working, Tayler often makes the most of his time to travel and experience different cultures. He is also a big fan of music, with disco and Motown his favourites. One of his hobbies is collecting new additions to his extensive, and ever-growing, collection of vinyl records.