No one likes to be left in the shadows. Despite being dwarfed by its neighbour Russia, Ukraine is fast becoming the cruise holiday destination for lovers of culture, history and vodka.
As a relatively unknown European destination, Ukraine is a beautiful country with varied landscapes and a growing cultural diversity. The lively, artistic and cultural port of Odessa is home to three stunning palaces and is the perfect place to get your hands on some bargain-priced local vodka and caviar.
As you explore these beautiful cities, you'll be greeted by friendly locals, absorbed by the local markets and dine on filling, hearty dishes like borshch.
A cruise holiday to Ukraine will take you to an area of Europe that is full of surprises.
Cruises to Ukraine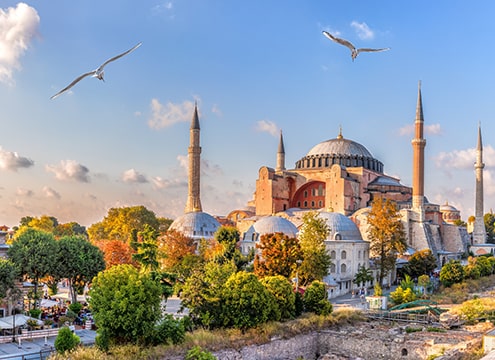 Departs: Dover • Tue 27 Sep 2022
28 nights • Balmoral • L2222
Visiting five stunning cities in five different countries, be immersed in the remarkable ancient history, authentic flavours and breathtaking beauty of the Black Sea.
Step back to the days of Ottoman rule in unmistakable Istanbul; and take the chance to visit wine valleys and tea plantations in Russia and Georgia.
You can explore Odessa's labyrinth-like Catacombs, and the Danube Delta – on boat tour from Constanta – too, while you'll also experience the best of the beautiful Mediterranean.
From £4,299pp
Fares Explained
|
What's Included