Shaun on the Tyne & Fred. Olsen Cruise Lines

Fred. Olsen Cruise Lines was proud to support St. Oswald's Hospice as part of Newcastle's giant Wild in Art sculpture trail – with Shaun on the Tyne.
Shaun on the Tyne is a glorious celebration of Newcastle, and a flock of individually painted giant Shaun the Sheep sculptures were hidden around the city's parks and open spaces. A number of smaller 'Little Shaun' sheep - designed by school children and community groups, were displayed across venues in Tyne & Wear to help raise vital funds and awareness for St Oswald's Hospice, allowing the charity to continue their vital work with north-east famlies with life-limiting conditions.
About our Shaun the Sheep
Our Shaun the Sheep was painted by Chloe Kacperski, who lives in Hartlepool but grew up in Redcar, so knows the area well, and was over the moon to be asked to paint 'Summer Stamps, which features a number of carefully placed elements of Fred. Olsen, along with sentimental memories of her own of the area.
We'd like to take this opportunity to say a huge thank you to everyone who has made a donation in support of  St. Oswald's Hospice so far. Every penny really does count for this amazing cause.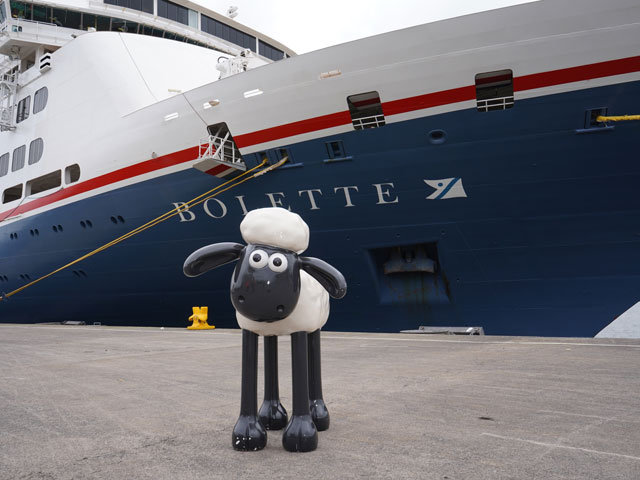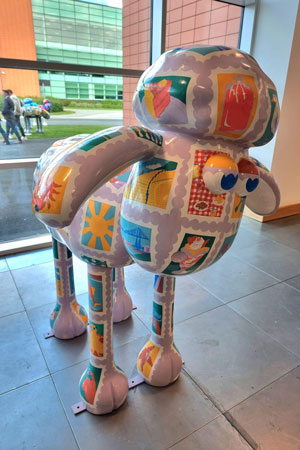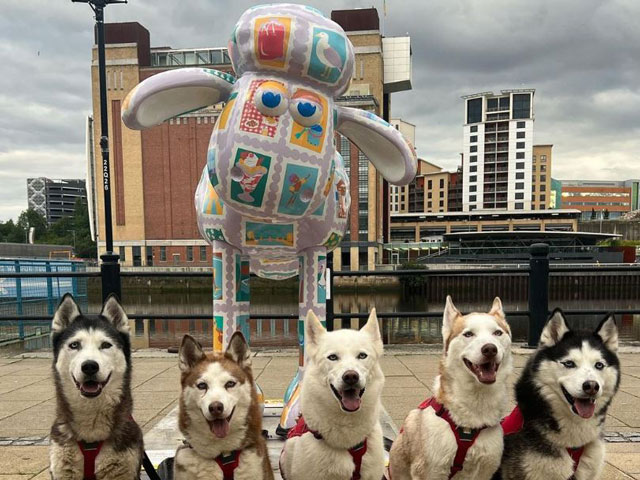 Meet the artist – Chloe Kacperski
Shaun the Sheep was painted by Chloe Kacperski, who lives in Hartlepool but grew up in Redcar. She has a varied range of work, covering traditional portraits, hand painted clay badges and even tattoo designs.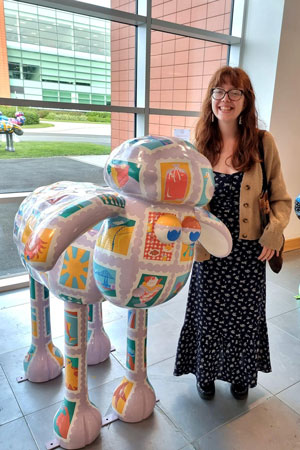 How did you enjoy creating Summer Stamps, and seeing the design come to life?
Creating Summer Stamps was an incredibly enjoyable experience for me. Witnessing Shaun's transformation from a blank canvas to a magnificent display of stamps felt amazing. Although the intricate design posed its challenges, given the scale of the sculpture, but in the end, all the pieces fell into place - and I'm really proud of my finished sculpture.
How long did it take you to paint Summer Stamps, and what was the most difficult part?
Completing the painting of the design took a little over two months of my time. Undoubtedly, the most challenging aspect entailed tackling the underside regions such as the tail, belly and inner sections of the legs. Painting these areas required me to contort my body into peculiar positions to reach those intricate spots.
What is your favourite part?
Selecting a single favourite element proved to be quite a challenge, but the stamps paying homage to my hometown of Redcar hold a special place in my heart. One particular stamp that stands out is the depiction of my parents' garden hedge. For as long as I can remember, my dad, who is a gardener, has sculpted one of our hedges into the form of a steam train, inspired by my brothers love for Thomas the Tank Engine during his childhood. Incorporating this family memory into the design holds a special significance for me!
Can you tell us a bit about your career as an artist?
The term "artist" holds a special place in my heart due to its expansive nature, encompassing a wide array of creative endeavours. Over the past few years, I've immersed myself in various artistic ventures, ranging from illustrating traditional commissions to crafting tattoo designs and capturing both pets and people in my portraits. It was quite surreal to witness my art being permanently etched onto someone's skin!
I also really enjoy the creation and hand-painting of clay badges - recently, my collection of mushroom pins gained recognition at Hartlepool Art Gallery, which was an exciting milestone for me. With a background in animation, my artistic pursuits have led me to work on several captivating stop-motion films, and I have had the privilege of crafting animations for BBC Wales documentary. During my leisure time, I enjoy making intricate stop-motion puppets.
Do you live and work locally to Newcastle?
I currently live in Hartlepool, just a 50 minute train journey away from Newcastle. Living so close to this vibrant city allows me to engage in the delightful task of painting Shaun. Working in Newcastle really proved to be a pleasurable experience - embracing the spirit of this lively city, I often found myself enjoying my work lunches at Greggs! However, this opportunity also gave me the chance to explore numerous local places that I'd not visited before.
Among the many places I discovered, a few quickly became personal favourites. One gem is Pet Lamb Patisserie nestled within Grainger Market, where I indulged in delicious brownies. Additionally, Thai House Café earned a special place in my heart for serving heavenly Pad Thai. Living in such close proximity to Newcastle has opened up a world of gastronomic delights, leaving me with fond memories of these exceptional restaurants.
What was your inspiration behind the Summer Stamp design?
The inspiration behind my design comes from cherished memories of my childhood summers spent in the North East. Drawing upon these, I have incorporated illustrations that pay homage to the places my family visited during those years. From strolling along Saltburn Pier and enjoying rounds of mini-golf in Whitby to marvelling at the majestic Angel of the North, and relishing the taste of lemon tops in my hometown of Redcar, each illustration holds a personal connection and a touch of nostalgia.
Having lived in Cardiff for the past four years, this project presented a great opportunity for me to reconnect with Northern culture and fully appreciate living in such a creatively vibrant part of the country once again. It served as a beautiful reminder of how fortunate I am to call this region home, reigniting my sense of awe for its beauty and rich artistic heritage.
How did you come to be involved in Shaun the Sheep on The Tyne?
I stumbled upon the captivating Wild in Art sculpture trails when looking at Instagram. Intrigued, I discovered on their website that a trail was planned so close to home, so I knew that I couldn't resist applying for this exciting opportunity, and what made it even more thrilling was the realisation that the Newcastle trail would be adorned with the beloved theme of Shaun the Sheep - a delightful prospect for someone like me, an ardent admirer of Aardman animations. It was the icing on the cake, further fueling my enthusiasm to be a part of this artistic endeavour.
How have you enjoyed working with Fred. Olsen Cruise Lines on this important campaign?
Working with the Fred. Olsen team has been an absolute delight from start to finish. The entire staff exude friendliness and professionalism, with special mentions to Ellis Orchard and Sarah Hayward-Jones, who have gone above and beyond to make this collaboration seamless. Ellis provided invaluable assistance by promptly supplying reference images for the design, while Sarah has been an exceptional point of contact, offering invaluable feedback and support.
Incorporating Fred. Olsen's majestic cruise ships into the design was a really enjoyable experience. Their inclusion seamlessly blended with the charming seaside theme, adding an extra layer of depth and authenticity. I am genuinely grateful to have such an incredible sponsor and could not have asked for a better partnership throughout this creative journey.