Elmer's Big Parade Suffolk - St Elizabeth Hospice

Fred. Olsen Cruise Lines is proudly supporting Elmer's Big Parade Suffolk as part of its charitable commitments for 2019, and we're very excited to announce that our very own Elmer sculpture – Travel Trunk – is now on display and ready for everyone to visit on Ipswich Waterfront.
Elmer's Big Parade Suffolk, run in association with Wild in Art, St Elizabeth Hospice and Andersen Press, is an art trail which sees over 50 large Elmer sculptures – as well as over 70 small sculptures designed by school children – displayed right across Ipswich town centre and along the waterfront. [ReadMoreMob]The art trail officially launched to the public on June 15th, and for 12 weeks families, local residents and tourists will be able to follow a route connecting all of the Elmer sculptures.
Like Fred. Olsen Cruise Lines' headquarters, St Elizabeth Hospice is based in Ipswich, serving as the main hospice for the east Suffolk area. [ReadMoreDesk]Each year, the hospice supports hundreds of local people who live with terminal, progressive or life-limiting conditions. They provide end-of-life, palliative care, but also respite for family, friends and carers.
It costs £10.5million to run St Elizabeth Hospice each year. £2million of these costs are covered by the NHS, with the remainder raised entirely from donations. A similar art trail in Ipswich in 2016 – Pigs Gone Wild – raised more than £200,000 for the hospice, with more than 250,000 people taking part in the trail.
Travel Trunk Elmer, designed and painted by Angela Ashford
St Elizabeth's Hospice
Selfie Competition
We want to see your selfies! Throughout Elmer's Big Parade 2019, Travel Trunk will be standing proudly close to Cult Café on the Waterfront, and we are tasking you all to take your most inventive and creative selfies. We have teamed up with Andersen Press to offer joint goody bags for the lucky winners in the following categories:
The best selfie
The selfie with the most people
The selfie with the most pets
The selfie with the most generations in one picture
All you need to do to be in with a chance of winning is to Tweet your pictures to @FredOlsenCruise or tag @fred.olsencruiselines on Instagram – in both cases using the hashtag #ElmerTravelTrunk and #tonsoffunforeveryone
Meet the artist – Angela Ashford
Travel Trunk Elmer was designed and painted by Suffolk artist Angela Ashford. Angela, who owns Ashford Studios, works from a custom-built studio in her garden in Trimley St Mary. Here, Angela reveals how she came up with the concept of Travel Trunk Elmer, and just how much she has enjoyed bringing him to life through art.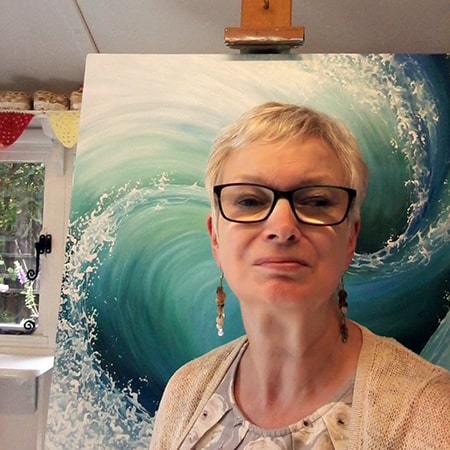 Can you tell us a bit about you career as an artist?
Over the years I have worked in many styles and mediums - you could call me an all-round artist. I have painted large murals in churches, portraits, cartoons, spiritual art (these are paintings that are based in biblical truths), and more recently have created 'peep boards' and hot off the press 'paint parties'.
Art has always been my passion. I especially love the attention to detail that it requires. I work in my studio. From here I take portraits and other commissions.
Do you live and work locally?
I have always been a Suffolk girl at heart and am so pleased to be living back here after many years living in various places around the world. I have been living in Trimley St Mary for the last 16 years and since I have settled back here I have started my own business called The Ashford Studio.
What was your inspiration behind the Travel Trunk design?
The idea for my Elmer came when I was thinking about word play on the word 'trunk'. I thought, if 'Nelly the Elephant' can pack her trunk so can Elmer! The only difference is that Elmer is wearing his trunk, so I made sure I gave him pockets and things to put all of his essentials in for his travels.
How did you enjoy creating Travel Trunk, and seeing the design come to life?
I had so much fun coming up with the design for Elmer's Travel Trunk. In the world of make believe anything is possible, and I was so delighted to have my design selected by Fred. Olsen Cruise Lines so that I could really bring it to life. I thoroughly enjoyed painting him and it was such a delight to bring him and his teddy to life.
How long did it take you to paint Travel Trunk, and what was the most difficult part?
From start to finish, it took me a very enjoyable eight weeks to paint. The most difficult part was getting to grips with air brushing, which was something I hadn't done before. But it was so worth it to get the leather of his travel trunk looking just right.
What is your favourite part?
My favourite part of Travel Trunk are the small details, such as where the stitching is coming undone at the top of his trunk, and the pocket with his teddy and puzzle book in.
How did you come to be involved in Elmer's Big Parade Suffolk?
It was my father who told me about Elmer's Big Parade Suffolk. He is 93 now, and attends St Elizabeth Hospice's day centre once a month. He and my mother often fundraise for the hospice, mum through her knitting and, when he was 90, dad abseiled down the maternity block at Ipswich Hospital!
My parents started fundraising just over 30 years ago when, in 1985, my sister died at the age of 33 of breast cancer. At the time Ipswich didn't have a hospice and Jenny died in an old Victorian hospital.
How have you enjoyed working with Fred. Olsen Cruise Lines on this important campaign?
I have thoroughly enjoyed working alongside Fred. Olsen on this exciting project, and bringing our Elmer to life. I can't wait to see Travel Trunk in pride of place on Ipswich Waterfront over the summer!
On Board Fundraising Efforts
We know that our guests always get behind our fundraising efforts, and our support of Elmer's Big Parade Suffolk has proven no different! We have run a number of fundraising events and initiatives for the cause right across our fleet, from selling Elmer cookies in the Bookmark Café to organising Elmer-themed events on board.
One guest aboard Black Watch's World Cruise earlier this year even undertook a personal challenge. [ReadMoreMob]World record-holding swimmer Jill Jones, from Lytham St Anne's, Lancashire, completed 200 lengths of Black Watch's deck six pool in just 30 minutes, raising £633 for Elmer's Big Parade Suffolk.
On completing the feat, Mrs Jones said: "It is such a good cause. I got the idea after seeing other fundraising activities on board and wanted to do something a bit different. I first became aware of Elmer's Big Parade Suffolk while on board Black Watch, while doing a bit of shopping at the Christmas Fayre, and from the lovely Elmer cookies in the Bookmark Café.
"I was quite nervous before the challenge as normally I swim in a large group of people in wetsuits. And there was a little pressure having set the goal of 200 lengths in 30 minutes! But the support from guests cheering me on was amazing."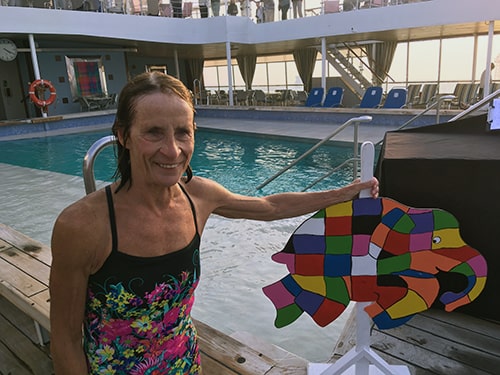 To date, the total raised from on board fundraising across our ocean fleet is over £7,700.

On April 1st, 2019, Fred. Olsen Cruise Lines 'unveiled' a bright new patchwork livery on the flagship Balmoral, in Elmer's patchwork colours. The livery was, of course, an April Fool, but managed to attract the attention of the local and trade press, helping to raise awareness of Elmer's Big Parade Suffolk and St Elizabeth Hospice.
Selfie Competition Terms & Conditions
One winner will be selected for each category – best selfie; the selfie with the most people; the selfie with the most pets; the selfie with the most generations in one picture - by a judging panel at Fred. Olsen Cruise Lines' headquarters and announced in the week commencing 9th September 2019 on our social media channels and this web page.
Entries must contain the hashtags #ElmerTravelTrunk and #tonsoffunforeveryone to qualify.
Entries posted 'privately' or on 'private' accounts are unable to be counted.
The winner in each category will be contacted by Fred. Olsen Cruise Lines to arrange for delivery of the prize. Each will receive a Fred. Olsen goody bag. The prize is non-transferable and non-refundable. By entering, you agree that your image/s may be published on the Fred. Olsen Cruise Lines website and across its social media channels. E&OE.