The Big Hoot & Fred. Olsen Cruise Lines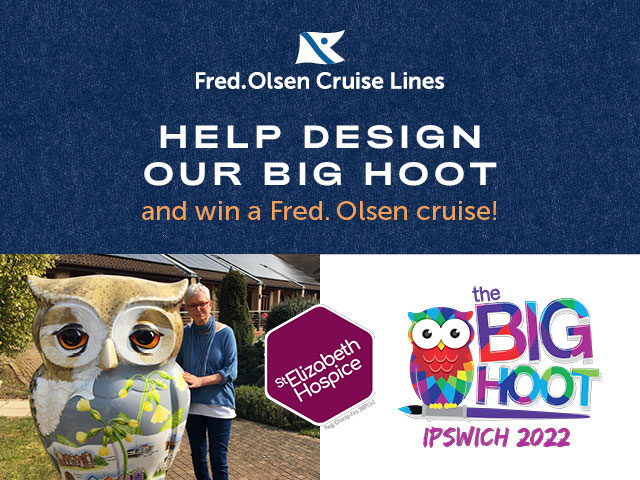 Fred. Olsen Cruise Lines is proud to be supporting St Elizabeth Hospice once again as Ipswich prepares to welcome The Big Hoot to the town!
The Big Hoot will see 40 giant owl sculptures, plus a number of smaller 'Little Hoot' owls designed by school children and community groups, displayed right across Ipswich town centre to help raise vital funds and awareness for St Elizabeth Hospice, the main hospice serving the East Suffolk area where our head office is based.
Help design our Big Hoot – and win a Fred. Olsen cruise!
What will our owl look like, we hear you ask? We would love our sculpture to reflect what makes a cruise holiday so special – and that's where we would like your help!
We would love you to submit a design that shares your memories of cruises gone by, that celebrates your favourite destinations or what you love about the cruise experience.
Don't worry, you won't need to paint the design yourself! We have teamed up with Suffolk artist Angela Ashford (who designed our wonderful Elmer's Travel Trunk for the previous trail) who will create the winning design for us.
If you work better with words, you can also describe your design idea in written form and, if chosen as the winner, we can work with Angela to bring the design to life.
Not only will you be in with a chance to WIN a cruise with us in 2022, but for each design we receive, we will donate £5 to St Elizabeth Hospice until we reach £5,000 to get our fundraising off to a great start. You can email your design to us at TheBigHoot@fredolsen.co.uk, or if you would prefer to post please address to:
Ellis Orchard,
Fred. Olsen Cruise Lines,
Fred. Olsen House,
42 White House Road,
Ipswich,
Suffolk,
IP1 5LL
Please make sure all designs reach us by 31st December 2021, so that we can announce our winner in January!
Find out more about the wining cruise
SPRINGTIME TULIPS & FLORIADE EXPO IN FIVE NIGHTS
Our chosen design will WIN a cruise for two aboard our new flagship Bolette's five-night 'Springtime Tulips & Floriade Expo in Five Nights' cruise, departing from Southampton on 29th April 2022.
The winner, and a guest, will have the change to visit the world-famous Floriade Expo – hosted by The Netherlands only once every 10 years – see the Keukenhof Gardens in seasonal bloom and explore the cultural city of Amsterdam.
Between explorations, there will be plenty of time to enjoy Bolette's many bars and lounges, indulge in a treatment in The Atlantis Spa or sample Goan or Asian Fusion cuisine in our new specialty dining restaurants, Vasco & Colours and Tastes.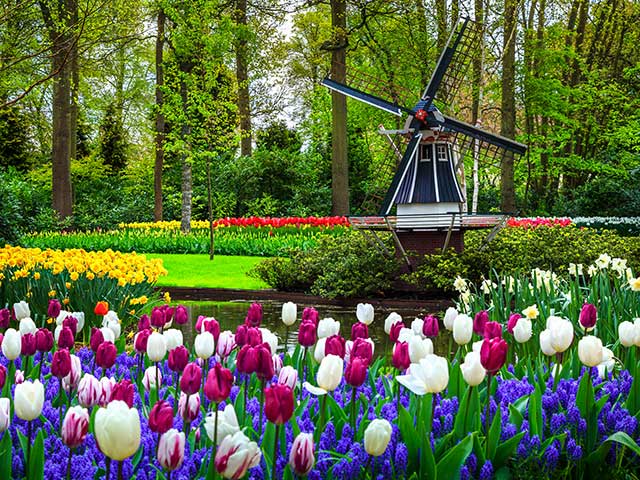 Elmer's Big Parade Suffolk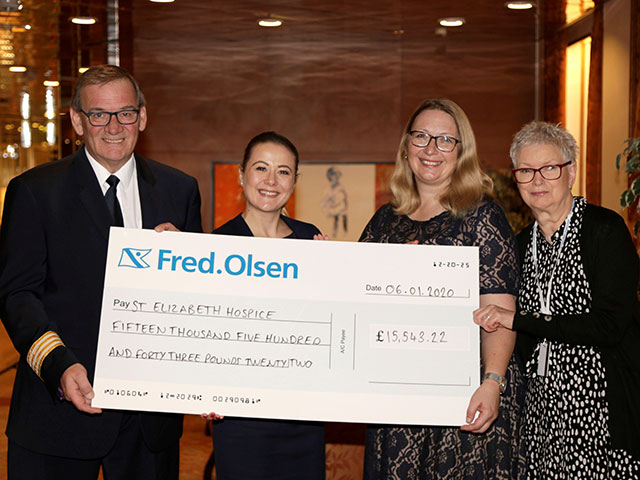 In 2019, we were the proud sponsors of Elmer's Travel Trunk. We had lots of fun, from taking part in the trail, to team days in the office to events on board our ships, and together our team and our guests raised more than £15,000 for the cause.
Travel Trunk sailed to South America aboard our ship Balmoral in January 2020, and is now spending time with our friends at Fred. Olsen Travel on a tour of their Suffolk branches.
Meet the artist – Angela Ashford
Travel Trunk Elmer was designed and painted by Suffolk artist Angela Ashford. Angela, who owns Ashford Studios, works from a custom-built studio in her garden in Trimley St Mary. Here, Angela reveals how she came up with the concept of Travel Trunk Elmer, and just how much she has enjoyed bringing him to life through art.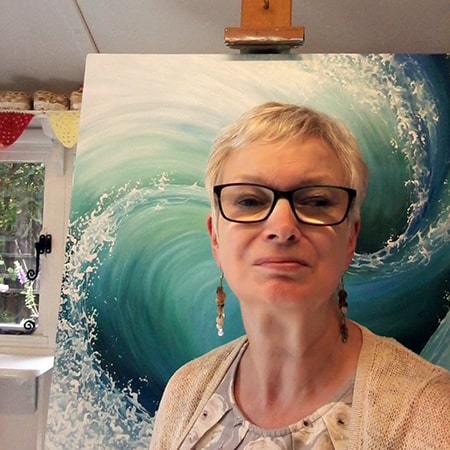 How did you enjoy creating Travel Trunk, and seeing the design come to life?
I had so much fun coming up with the design for Elmer's Travel Trunk. In the world of make believe anything is possible, and I was so delighted to have my design selected by Fred. Olsen Cruise Lines so that I could really bring it to life. I thoroughly enjoyed painting him and it was such a delight to bring him and his teddy to life.
How long did it take you to paint Travel Trunk, and what was the most difficult part?
From start to finish, it took me a very enjoyable eight weeks to paint. The most difficult part was getting to grips with air brushing, which was something I hadn't done before. But it was so worth it to get the leather of his travel trunk looking just right.
What is your favourite part?
My favourite part of Travel Trunk are the small details, such as where the stitching is coming undone at the top of his trunk, and the pocket with his teddy and puzzle book in.
Can you tell us a bit about you career as an artist?
Over the years I have worked in many styles and mediums - you could call me an all-round artist. I have painted large murals in churches, portraits, cartoons, spiritual art (these are paintings that are based in biblical truths), and more recently have created 'peep boards' and hot off the press 'paint parties'.
Art has always been my passion. I especially love the attention to detail that it requires. I work in my studio. From here I take portraits and other commissions.
Do you live and work locally?
I have always been a Suffolk girl at heart and am so pleased to be living back here after many years living in various places around the world. I have been living in Trimley St Mary for the last 16 years and since I have settled back here I have started my own business called The Ashford Studio.
What was your inspiration behind the Travel Trunk design?
The idea for my Elmer came when I was thinking about word play on the word 'trunk'. I thought, if 'Nelly the Elephant' can pack her trunk so can Elmer! The only difference is that Elmer is wearing his trunk, so I made sure I gave him pockets and things to put all of his essentials in for his travels.
How did you come to be involved in Elmer's Big Parade Suffolk?
It was my father who told me about Elmer's Big Parade Suffolk. He is 93 now, and attends St Elizabeth Hospice's day centre once a month. He and my mother often fundraise for the hospice, mum through her knitting and, when he was 90, dad abseiled down the maternity block at Ipswich Hospital!
My parents started fundraising just over 30 years ago when, in 1985, my sister died at the age of 33 of breast cancer. At the time Ipswich didn't have a hospice and Jenny died in an old Victorian hospital.
How have you enjoyed working with Fred. Olsen Cruise Lines on this important campaign?
I have thoroughly enjoyed working alongside Fred. Olsen on this exciting project, and bringing our Elmer to life. I can't wait to see Travel Trunk in pride of place on Ipswich Waterfront over the summer!
Big Hoot Terms & Conditions
This prize is for Bolette's five-night T2208 'Springtime Tulips & Floriade Expo in Five Nights' cruise, departing from Southampton on 29th April 2022. The prize is for two people. The prize is on a cruise only basis and does not include transport to the port. The prize does not include any additional expenses such as parking at port. A gratuity of £5 per person, per day, will be added to the onboard account and must be settled at the end of the cruise. This cannot be removed. The prize does not include travel insurance. The winner will be responsible for sourcing their own cruise specific travel insurance, including cancellation or curtailment cover for Covid-19, plus cover for any medical, repatriation and expenses costs as a result of a Covid diagnosis or illness during the cruise, without which they will be unable to board. The winner must have a full and valid passport, with at least six months' validity from the last day of the cruise. This promotional competition is not for resale, is non-refundable and non-transferable and will not be replaced if lost or stolen. No cash/credit refunds can be given under any circumstances and this prize cannot be used in conjunction with any other promotional offer. If Fred. Olsen is required to cancel this cruise for any reason, a suitable alternative cruise will be offered. The Winner will be solely responsible for any tax liability incurred as a result of this offer. This competition is not open to artists who have already submitted a design for inclusion in The Big Hoot Suffolk via St Elizabeth Hospice Closing date for entries is Friday 31st December 2021.