Best known for its landmark castle and medieval town centre, Wertheim is located at the confluence of the Main and Tauber rivers in Germany. Attractive half-timbered houses and small streets combined with modern shopping areas, kept in the form of traditional Franconian architecture, make for exciting exploration at almost every turn. [ReadMoreMob]
The quirky Gothic Stiftskirche, dating back to 1383, has two clocks on the clock tower – one with an hour hand only, for the residents of the castle. The town was fortunate not to be bombed during the Second World War, so has plenty of old world Bavarian charm, including the appealing historic Marktplatz, which offers quaint restaurants and traditional local shops to discover.
Learn how the town remembers the local Jewish people who were lost in the Holocaust, by the placement of a small brass plaque outside the houses where they lived, which are a typical sight in Germany's historic towns.
Just outside Wertheim along the A3 autobahn is the incredible Toppels café, where everything – including the café – is upside down. Designed to challenge visitors to experience the world from a different perspective, fruit bowls can be found hanging down from the ceiling, and coffee or beer are served in inverted mugs or glasses.
Cruises to Wertheim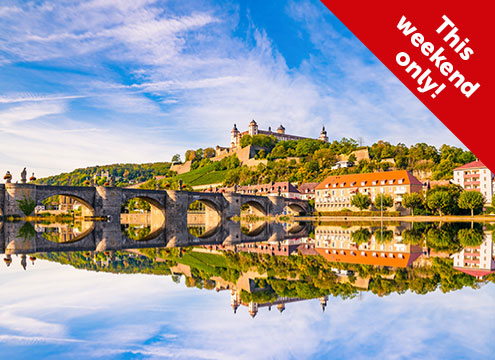 Departs: Amsterdam • Thu 16 Apr 2020
10 nights • Brabant • R2002
From magnificent, majestic fortresses to preserved medieval centres and landmarks from World War II, the highlights of this absorbing journey through Germany present fascinating history at every turn.
You can visit the site of the infamous Battle of Remagen, and the remains of the iconic Ludendorff Bridge; take a cable car to the Ehrenbreitstein Fortress in Koblenz; and stop by Rüdesheim's sobering Hindenburg Bridge.
There are chances to explore the beautifully preserved historic hearts of UNESCO-listed Bamburg and Regensburg – Germany's 'medieval miracle' – too, while you'll also experience stunning scenic cruising of narrow canals and beautiful valleys.
Fly-cruise from £1,499pp
Fares Explained | What's Included?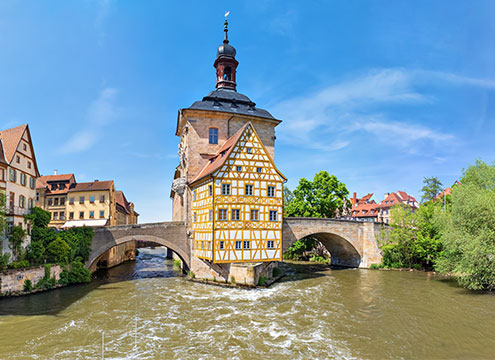 Departs: Cologne • Sun 27 Sep 2020
7 nights • Brabant • R2023
With time ashore exploring fairytale German towns, and scenic cruising of gorgeous valleys and canals, every moment of this journey along the Rhine and Main will make for a memorable experience.
You'll sail the Middle Rhine Valley en route to Rüdesheim, renowned for its shipping and winemaking heritage; stop at Miltenberg for a treasure trove of medieval delights; and visit Würzburg, home of the spectacular Palace of Würzburg.
Then there's Bamberg, with its UNESCO-listed Old Town, and a navigation of the Main-Danube Canal, before you're afforded time to explore the remarkable historic centre of Regensburg – Germany's 'Medieval Miracle'.
Fly-cruise from £1,599pp
Fares Explained | What's Included?