Although Würzburg's extensive history in fact stretches back over several centuries, very little here pre-dates the Second World War. In 1945 Würzburg was almost completely decimated by an Allied bombing raid which destroyed approximately 90% of the city and razed a number of historic churches, cathedrals and medieval monuments to the ground. Plans were made to leave Würzburg in its battle-scarred state after the war to serve as a reminder of the destruction caused, though thankfully these plans were cancelled and the city was painstakingly rebuilt into the Bavarian gem it is today.
Now restored to its resplendent former glory, this scenic city situated on the River Main is one of Germany's most rewarding and interesting destinations, world-renowned for its exceptional architecture, arts and culture. Wandering the city's renovated and rejuvenated streets and alleys is always memorable, with impressive sights and attractions to encounter at almost every turn. Among the very best are the imposing Festung Marienberg fortress, which offers fantastic views of the city and the Main; St Kilian Cathedral, the fourth largest Romanesque church in Germany; the extravagant Neumünster church; and multiple museums such as Röntgen Gedächtnisstätte and Museum am Dom. There are plenty of bars, pubs and restaurants serving delicious traditional cuisine and local Franconian wines too.
The most impressive of the city's sights though is without doubt Balthasar Neumann's architectural masterpiece, the Residenz Palace. Originally built in the 18th century, Würzburg's crowning glory is UNESCO-listed and recognised as one of Germany's finest and most important examples of Baroque architecture. As stunning internally as it is externally, the 'castle above all castles' boasts over 300 rooms spread across three wings, 40 of which are open to the public. Not to be missed is the palace's spectacular Treppenhaus staircase, which is adorned by the world's largest fresco.
Cruises to Würzburg
Departs: Amsterdam • Thu 16 Apr 2020
10 nights • Brabant • R2002
From magnificent, majestic fortresses to preserved medieval centres and landmarks from World War II, the highlights of this absorbing journey through Germany present fascinating history at every turn.
You can visit the site of the infamous Battle of Remagen, and the remains of the iconic Ludendorff Bridge; take a cable car to the Ehrenbreitstein Fortress in Koblenz; and stop by Rüdesheim's sobering Hindenburg Bridge.
There are chances to explore the beautifully preserved historic hearts of UNESCO-listed Bamburg and Regensburg – Germany's 'medieval miracle' – too, while you'll also experience stunning scenic cruising of narrow canals and beautiful valleys.
Fly-cruise from £1,899pp
Fares Explained | What's Included?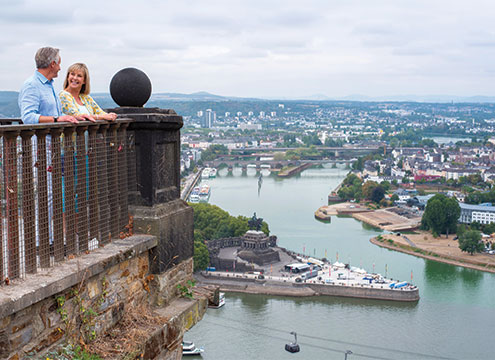 Departs: Regensburg • Sun 21 Jun 2020
7 nights • Brabant • R2009
Enjoy an authentic taste of Germany's famous beer heritage on this special voyage, with chances to try some of the finest brews, enjoy an insight into their history and learn of the processes involved in creating them.
You can visit the pubs and breweries of Bamberg, famed for their smoked Rauchbier; take a tour of Würzburg's Hofbräu brewery and the Brauhaus Faust in Miltenburg; and sample Cologne's unique Kölsch Beer.
There are plenty of other highlights to uncover on this enlightening voyage too, including the glorious Würzburg Residence Palace; Koblenz's mighty Ehrenbreitstein Fortress; and the stunning scenery of the Middle Rhine Valley.
Fly-cruise from £1,599pp
Fares Explained | What's Included?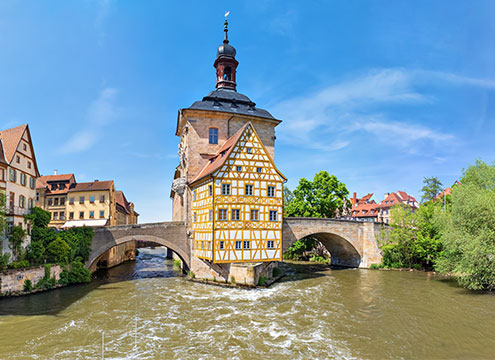 Departs: Cologne • Sun 27 Sep 2020
7 nights • Brabant • R2023
With time ashore exploring fairytale German towns, and scenic cruising of gorgeous valleys and canals, every moment of this journey along the Rhine and Main will make for a memorable experience.
You'll sail the Middle Rhine Valley en route to Rüdesheim, renowned for its shipping and winemaking heritage; stop at Miltenberg for a treasure trove of medieval delights; and visit Würzburg, home of the spectacular Palace of Würzburg.
Then there's Bamberg, with its UNESCO-listed Old Town, and a navigation of the Main-Danube Canal, before you're afforded time to explore the remarkable historic centre of Regensburg – Germany's 'Medieval Miracle'.
Fly-cruise from £1,599pp
Fares Explained | What's Included?