Located on the banks of the Saar River, upstream from the Saar's meeting point with the Moselle, this pretty town is surrounded by lush, green countryside. With a stunning waterfall cascading through it as the Leuk River creeps into the town, allowing for a 60 feet drop into the valley below. It was re-directed in the 13th century to allow for the river to flow through the cobbled streets either side.
The streets are flanked with brightly coloured houses and cafes, and at the top of the town sits the now ruined castle, looking down upon the valley. Situated at the bottom of the waterfall are the water mills, and a selection of interesting museums, including the Amüseum, which houses the municipal gallery for contemporary art and the oldest functioning turbine in the world, and is a particularly striking building.
Cruises to Saarburg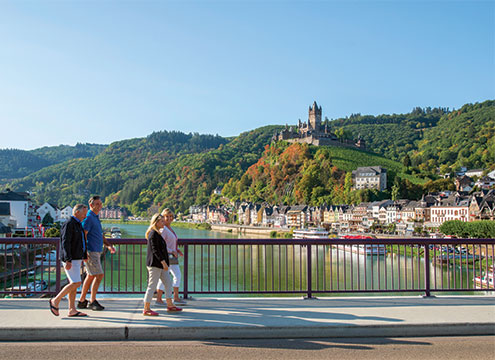 Departs: Cologne • Sun 28 Jun 2020
7 nights • Brabant • R2010
Taking a rarely-sailed route through Germany to Trier, Brabant will present you with scenic, architectural delights along three difference sections of the sublime Moselle River.
You'll revel in views of the enchanting Lower Moselle Valley, visit Cochem for the fairytale-esque Reichsburg Castle, and stop at Trier, before cruising the Saar River.
Your journey back includes scenic cruising of the breathtaking Middle Moselle Valley; time in medieval Bernkastel-Kues; a chance to take a cable car to Ehrenbreitstein Fortress in Koblenz; and marvel at Cologne's magnificent cathedral.
Fly-cruise from £1,699pp
Fares Explained | What's Included?