While Rotterdam's origins in fact date back to around 900CE, there is little to suggest that the Netherlands' stunning second city is actually centuries old. After the city was almost completely obliterated by German bombing raids in World War Two, Rotterdam was razed to the ground and redeveloped over many years into the futuristic metropolis and thriving economic centre that it is today.
From the moment Rotterdam appears on your horizon as you sail the winding Nieuwe Maas, the city's vast and dramatic post-war regeneration is clear to see. Magnificent towering skyscrapers line the riverbanks and impressive bridges – such as the iconic cable-stayed and bascule Erasmusbrug – span the waterway, hinting at the uber-cool modern districts awaiting your exploration ashore. In the vibrant heart of the city, you will discover an abundance of diverse sights and attractions, from the innovative 1970's Cube Houses to the ultra-modern Markthal, which hosts a bustling indoor market. Rotterdam also boasts a number of interesting galleries and museums, as well as a large zoo and beautiful botanical gardens that are ideal for escaping the hustle and bustle.
While the modern marvels dominate the experience here, there are a few surviving historic sites tucked away amongst the imposing post-war structures. These include Rotterdam's quintessentially Dutch 18th and 19th century windmills; the City Hall from 1914, one of only a few city centre buildings to survive the war; Het Schielandshuis, the last 17th century structure remaining in the downtown district; and a collection of fine old churches including the Grote of Sint Laurenskerk and the 15th century Pilgrimfather's Church. At the Port of Rotterdam – Europe's busiest port – you can admire the S.S Rotterdam in all her restored glory too.
Cruises to Rotterdam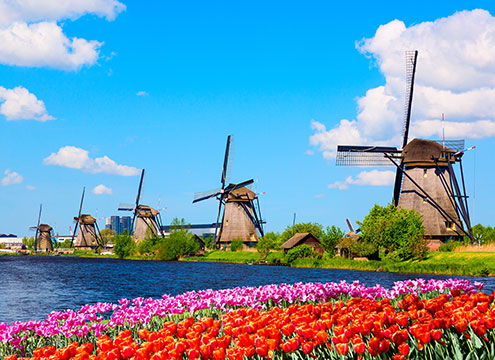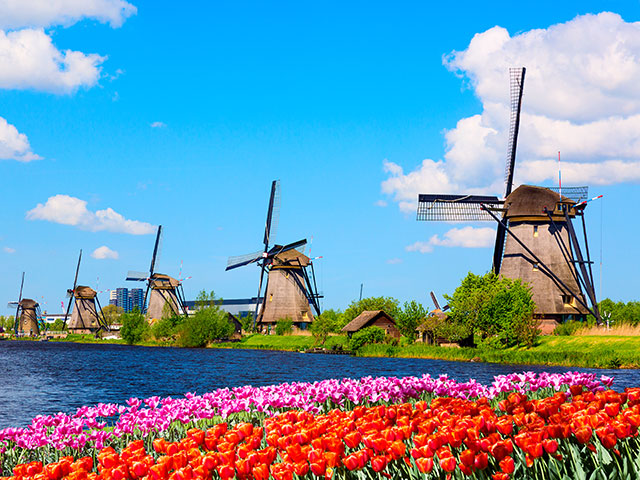 Floral Holland in the Spring
• R2101
Amsterdam
Brabant
Thu 08 Apr 2021
9 nights
Delight in the seasonal splendour of Dutch towns, cities and gardens – with iconic tulips the star of the show – on this enriching spring break.
Uncover tales of the Netherlands' Golden Age in Hoorn; learn of life in bygone eras at Arnhem's Open Air Museum; and tour to Maxfeldt Historical Gardens from Kampen.
Enjoy a taste of modern Holland in energetic Rotterdam and explore Dordrecht's historic centre, before returning to Amsterdam for a tour to the iconic Keukenhof Tulips Gardens.
Sorry, this cruise has been cancelled.