Visit charming Miltenberg on a German river cruise and you will quickly understand why this quaint Bavarian town is affectionately known as the 'Pearl of the River Main'. Revered for retaining its scenic beauty and romantic historical charm, Miltenberg is one of only a few German towns not to have been extensively rebuilt after the Second World War, so many of the wonderfully well-preserved streets and structures here are as they were several centuries ago.
Stretched along the banks of the Main and centred on the main street laid by the Romans during the town's inception, Miltenberg is easy, relaxing and rewarding to explore. While away a couple of hours here and you can encounter a plethora of highlights and delights, from the Old Town district's magnificent market square and medieval half-timbered houses to Gasthaus Zum Riesen – the oldest guesthouse in Germany – where Barbarossa, Emperor Frederick III, King Ludwig of Bavaria and even Elvis Presley have stayed over the years.
Don't miss Miltenberg Castle too. Originally built in the late 12th century and subsequently rebuilt after suffering extensive damage during the Margrave Wars and the Thirty Year War, the castle is now a museum exhibiting a collection of fantastic artwork. From the castle's 27 metre-high keep you can also enjoy incredible views of the beautiful Main Valley. Also well worth a visit are the Old Town Hall, the old cathedral and the town museum, all of which offer an insight into Miltenberg's interesting history and heritage.
Cruises to Miltenberg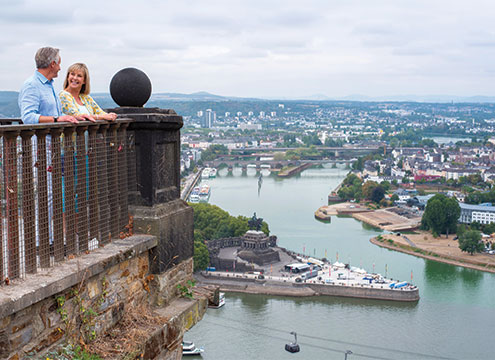 Departs: Regensburg • Sun 21 Jun 2020
7 nights • Brabant • R2009
Enjoy an authentic taste of Germany's famous beer heritage on this special voyage, with chances to try some of the finest brews, enjoy an insight into their history and learn of the processes involved in creating them.
You can visit the pubs and breweries of Bamberg, famed for their smoked Rauchbier; take a tour of Würzburg's Hofbräu brewery and the Brauhaus Faust in Miltenburg; and sample Cologne's unique Kölsch Beer.
There are plenty of other highlights to uncover on this enlightening voyage too, including the glorious Würzburg Residence Palace; Koblenz's mighty Ehrenbreitstein Fortress; and the stunning scenery of the Middle Rhine Valley.
Fly-cruise from £1,599pp
Fares Explained | What's Included?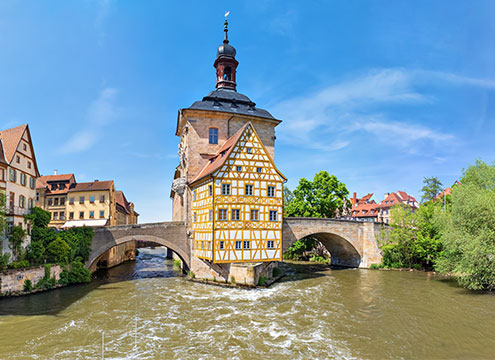 Departs: Cologne • Sun 27 Sep 2020
7 nights • Brabant • R2023
With time ashore exploring fairytale German towns, and scenic cruising of gorgeous valleys and canals, every moment of this journey along the Rhine and Main will make for a memorable experience.
You'll sail the Middle Rhine Valley en route to Rüdesheim, renowned for its shipping and winemaking heritage; stop at Miltenberg for a treasure trove of medieval delights; and visit Würzburg, home of the spectacular Palace of Würzburg.
Then there's Bamberg, with its UNESCO-listed Old Town, and a navigation of the Main-Danube Canal, before you're afforded time to explore the remarkable historic centre of Regensburg – Germany's 'Medieval Miracle'.
Fly-cruise from £1,599pp
Fares Explained | What's Included?