The beautiful, UNESCO-listed village of Kinderdijk is one of the most famous locations in the Netherlands. Situated in the heart of the Dutch polder lands at the confluence of the picturesque Lek and Noord Rivers, Kinderdijk is home to the largest collection of historic windmills in the world and attracts thousands of visitors from around the globe every year.
The windmills of Kinderdijk were built in the mid-18th century as part of a flood defence system designed to keep the surrounding villages and the low-lying lands of Alblasserwaard, which are approximately 7 metres below sea level, dry.
There are 19 of these iconic, quintessentially Dutch structures here in total, all linked by a network of dikes and roads. Taking a walk, bike ride or boat tour along these routes is the best way to capture this legendary landscape in all its splendour. For an in-depth look into the history of the windmills, the museum windmills of Blokweer and Nederwaard are must-visit sites. Don't miss the interesting Wisboomgemaal Visitors Centre too.
Cruises to Kinderdijk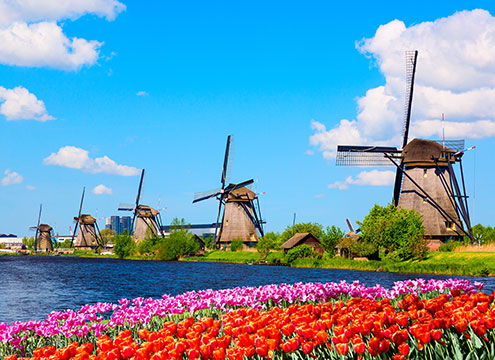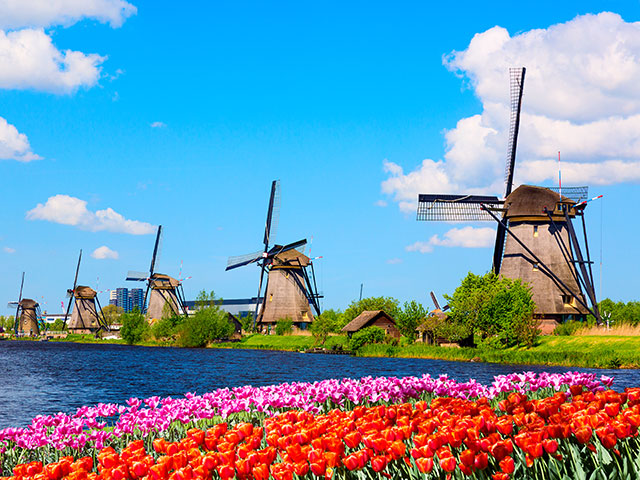 Floral Holland in the Spring
• R2101
Amsterdam
Brabant
Thu 08 Apr 2021
9 nights
Delight in the seasonal splendour of Dutch towns, cities and gardens – with iconic tulips the star of the show – on this enriching spring break.
Uncover tales of the Netherlands' Golden Age in Hoorn; learn of life in bygone eras at Arnhem's Open Air Museum; and tour to Maxfeldt Historical Gardens from Kampen.
Enjoy a taste of modern Holland in energetic Rotterdam and explore Dordrecht's historic centre, before returning to Amsterdam for a tour to the iconic Keukenhof Tulips Gardens.
Sorry, this cruise has been cancelled.