Situated on the banks of the lower River Ijssel in the pretty Overijssel province, Hanseatic Kampen is always a memorable stop on a river cruise along the Netherlands' winding waterways. Cruising to this charming city via the still waters of the Ijssel will present you with unspoilt views of gorgeous lush-green countryside, before the impressive sight of Kampen's imposing, gothic-style Bovenkerk hints at the type of centuries-old structures awaiting your discovery ashore.
Although small, the enchanting centre of Kampen – one of the Netherlands' best-preserved old town centres – still manages to pack in over 500 monuments, so you won't be disappointed by the sheer volume and choice of historic attractions to uncover as you explore. Highlights include the Koornmarktpoort, Broederpoort and Cellebroederspoort gates, which date back to the 14th and 15th centuries; the 17th century Nieuwe Toren tower and carillon; and a collection of fine churches such as the Broederkerk, Buitenkerk, neoclassical-style Burgwalkerk and of course, the Bovenkerk. Stedelijk Museum Kampen – found within the late 14th century old town hall – is well worth a visit for an in-depth look into the fascinating commerce and shipping history of Kampen.
Cruises to Kampen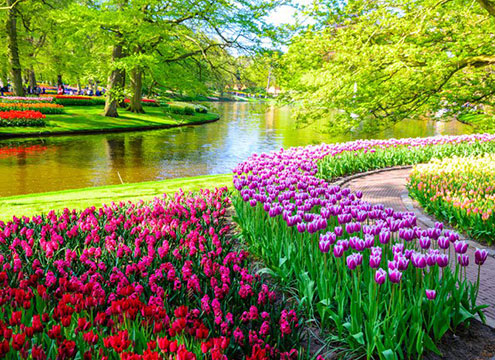 Departs: Amsterdam • Mon 06 Apr 2020
10 nights • Brabant • R2001
Revel in the Netherlands' springtime splendour on a rewarding 10-night break packing in the seasonal and cultural delights of charming towns and cities, beautiful waterways and countryside scenes.
You can delve into the 'Golden Age' heritage of Hoorn and Enkuizen; learn of life in bygone eras at a fantastic Open Air Museum in Arnhem; see Kinderdijk's iconic windmills; and tour to the Maxfeldt Historical Gardens from Kampen.
Rotterdam adds futuristic twist, while there's a visit to Antwerp for chocolates and diamonds too, all before a call at Amsterdam affords a chance to see the vibrant tulips of the Keukenhof Gardens in full bloom.
Fly-cruise from £1,899pp
Fares Explained | What's Included?