Although it is believed that the original settlement appeared here on the banks of the Oude Maas in around 1049, Dordrecht officially became a city in 1220, making it the oldest city in the Netherlands' historic Holland province. Situated on a vast island, and surrounded by various tributaries and channels, Dordrecht – like so many other Dutch riverside cities – was a vital trading centre for centuries, exporting and importing goods such as wine, wood and cereals.
Dordrecht's rich history is showcased in its picturesque centre, where charming inner-city harbours, a collection of beautiful buildings, monuments and fantastic museums offer a glimpse into the city's fascinating past. The network of narrow streets here are easily explored on foot, and those that take time to wander through the heart of the city are rewarded by the sight of well-preserved 17th century town houses, the Neoclassical Stadhuis and much more.
In total there are around 900 listed buildings and 700 municipal monuments in Dordrecht, so there's plenty to see. Absolute must-visit attractions include the Grote Kerk church, with its impressive 65-metre-high tower and 67-bell carillon; the Dordrecht Museum, which houses a fantastic collection of paintings and exhibits; the old mayor's house, Huis van Gijn; and the fantastic Het Hof museum. Also well worth a visit is Groothoofd, found just a short walk from the inner city, which presents you with great views of the Oude Maas, Beneden Merwede and Noord rivers where they meet at Europe's busiest river confluence.
Cruises to Dordrecht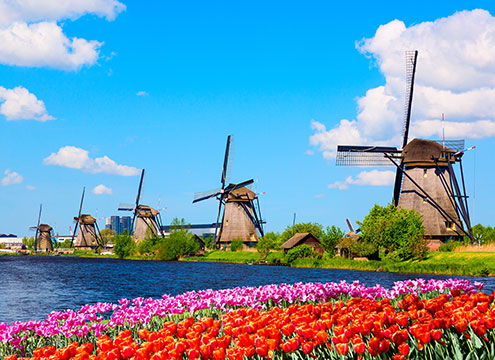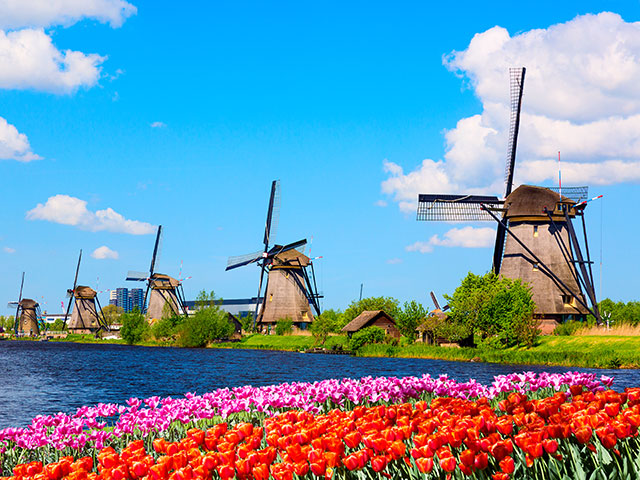 Floral Holland in the Spring
• R2101
Amsterdam
Brabant
Thu 08 Apr 2021
9 nights
Delight in the seasonal splendour of Dutch towns, cities and gardens – with iconic tulips the star of the show – on this enriching spring break.
Uncover tales of the Netherlands' Golden Age in Hoorn; learn of life in bygone eras at Arnhem's Open Air Museum; and tour to Maxfeldt Historical Gardens from Kampen.
Enjoy a taste of modern Holland in energetic Rotterdam and explore Dordrecht's historic centre, before returning to Amsterdam for a tour to the iconic Keukenhof Tulips Gardens.
Sorry, this cruise has been cancelled.