Marvel at simply breathtaking fjord-like landscapes and some of the most dramatic natural wonders seen anywhere in Europe on a momentous cruise through the incredible Iron Gates gorge.
This remarkable section of the Danube River forms part of the border between Serbia and Romania and divides the magnificent Carpathian and Balkan Mountains. The awe-inspiring scenery here has to be seen to be believed and, as your smaller-sized river boat can navigate the locks and dams of this often narrow waterway with ease, you'll experience the very best of the Iron Gates.
As well as stunning natural landmarks you'll also encounter a few man-made marvels as you glide along the Danube here, including the iconic Rock Sculpture of Decebalus at the Great Kazan gorge and a number of historic churches, castles and fortifications such as Severin Castle and Golubac Fortress.
Cruises to Cruising the Iron Gates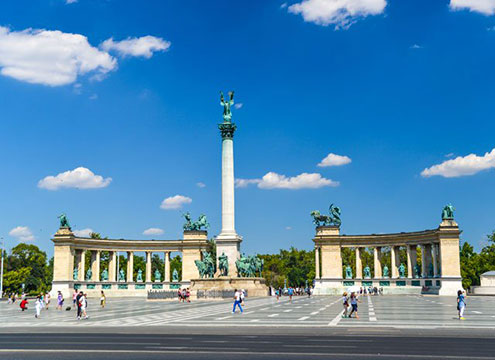 Departs: Budapest • Sun 11 Oct 2020
14 nights • Brabant • R2025
Embark on an epic voyage across Europe, sailing the mighty Danube all the way to the Danube Delta via incredible destinations and regions of spectacular beauty in four remarkably diverse countries.
Catch a traditional folklore show in Belgrade and sample Novi Sad's local cuisine in Serbia; cruise the awe-inspiring Iron Gates gorge; and uncover Bulgarian gems in Vidin, such as the Baba Vida Fortress, and Ruse.
Take a boat tour safari of the breathtaking Danube Delta; visit Vukovar, gateway to the glorious Croatian wetlands of Kopački Rit; and in Hungary, learn of the history of paprika in Kalocsa before revelling in the delights of Budapest.
Fly-cruise from £3,099pp
Fares Explained | What's Included?
Departs: Budapest • Sun 11 Oct 2020
21 nights • Brabant • R202526
Experience the ultimate Danube adventure, sailing through beautiful and historic countries to visit remarkable cities and savour unforgettable scenic cruising through breathtaking, ever-changing landscapes.
You'll visit Belgrade for a traditional Serbian folklore show, navigate the glorious Iron Gates gorge, uncover the Bulgarian delights of Ruse and much more en route to the blissful Danube Delta, Romania's natural wonderland.
On the return journey, highlights will include chances to revel in Budapest's abundant attractions; admire the postcard-perfect Wachau Valley; and take a walking tour of pretty Passau, with its soaring towers, spectacular palaces and iconic cathedral.
Fly-cruise from £4,299pp
Fares Explained | What's Included?