Cruising Main Danube Canal
Germany's magnificent Main-Danube Canal is one of the most important and impressive European waterways, serving as a vital link between the Main and Danube rivers and connecting south-eastern Europe to northern Europe, the North Sea and beyond.
A cruise along this incredible 106 mile-long canal is always a simply unforgettable experience. Sit back, relax and enjoy the ever-changing scenery as your river boat winds its way along the canal's kinks and corners, negotiates remarkable locks as the waterway rises and falls with the surrounding landscape, and passes by countless picturesque cities and towns.
Cruises to Cruising Main Danube Canal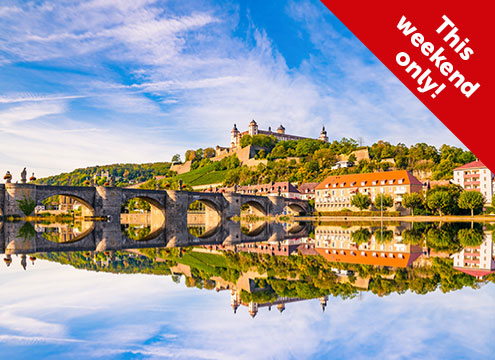 Departs: Amsterdam • Thu 16 Apr 2020
10 nights • Brabant • R2002
From magnificent, majestic fortresses to preserved medieval centres and landmarks from World War II, the highlights of this absorbing journey through Germany present fascinating history at every turn.
You can visit the site of the infamous Battle of Remagen, and the remains of the iconic Ludendorff Bridge; take a cable car to the Ehrenbreitstein Fortress in Koblenz; and stop by Rüdesheim's sobering Hindenburg Bridge.
There are chances to explore the beautifully preserved historic hearts of UNESCO-listed Bamburg and Regensburg – Germany's 'medieval miracle' – too, while you'll also experience stunning scenic cruising of narrow canals and beautiful valleys.
Fly-cruise from £1,499pp
Fares Explained | What's Included?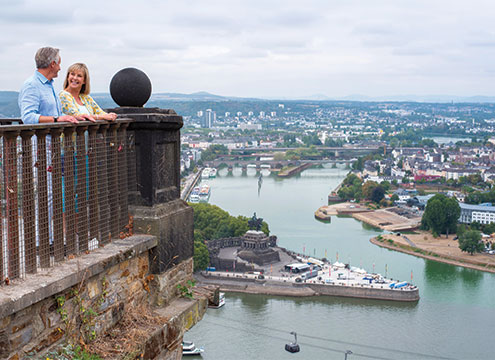 Departs: Regensburg • Sun 21 Jun 2020
7 nights • Brabant • R2009
Enjoy an authentic taste of Germany's famous beer heritage on this special voyage, with chances to try some of the finest brews, enjoy an insight into their history and learn of the processes involved in creating them.
You can visit the pubs and breweries of Bamberg, famed for their smoked Rauchbier; take a tour of Würzburg's Hofbräu brewery and the Brauhaus Faust in Miltenburg; and sample Cologne's unique Kölsch Beer.
There are plenty of other highlights to uncover on this enlightening voyage too, including the glorious Würzburg Residence Palace; Koblenz's mighty Ehrenbreitstein Fortress; and the stunning scenery of the Middle Rhine Valley.
Fly-cruise from £1,599pp
Fares Explained | What's Included?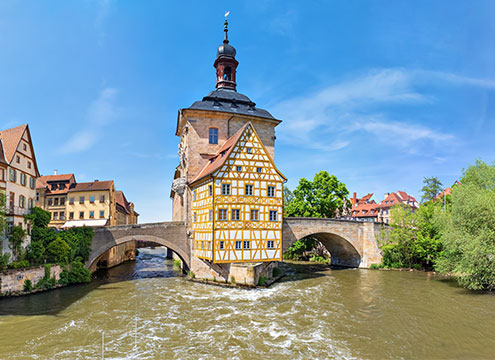 Departs: Cologne • Sun 27 Sep 2020
7 nights • Brabant • R2023
With time ashore exploring fairytale German towns, and scenic cruising of gorgeous valleys and canals, every moment of this journey along the Rhine and Main will make for a memorable experience.
You'll sail the Middle Rhine Valley en route to Rüdesheim, renowned for its shipping and winemaking heritage; stop at Miltenberg for a treasure trove of medieval delights; and visit Würzburg, home of the spectacular Palace of Würzburg.
Then there's Bamberg, with its UNESCO-listed Old Town, and a navigation of the Main-Danube Canal, before you're afforded time to explore the remarkable historic centre of Regensburg – Germany's 'Medieval Miracle'.
Fly-cruise from £1,599pp
Fares Explained | What's Included?