Arnhem is best known for its role in World War Two when, thanks to the city's prime strategic location on the banks of the Nederrijn river, it was the site of one of the war's most famous battles. The epic Battle of Arnhem in 1944 – later dramatised by iconic war-film A Bridge Too Far – was one of the key Allied losses in the war, and a number of attractions in and around Arnhem – such as the interesting War Museum and the Airborne Museum – offer a fascinating insight into the city's wartime heritage.
There's much more to Arnhem than its battle scars from the Second World War though. Believed to have been first settled in the Stone Age, the capital of the beautiful Gelderland province boasts a rich and eventful history stretching back way beyond 1944. This is reflected by a number of impressive structures, monuments and attractions dotted around the city's various districts, including the striking, gothic-style St Eusebius Church and it's imposing 93 metre-high tower; Bronbeek Museum; the 12th century Doorwerth Castle; and much more. [ReadMore]
Just outside of the city there's much to discover too. Within easy reach are the Netherlands Open Air Museum, which is beautifully situated within a wooded park and displays exhibits from various eras in the region's history; the National Heritage Museum; and the 17th century Paleis Het Loo, the Dutch Royal Family's spectacular summer residence. Lovers of fauna and flora won't want to miss the leafy landscapes of Sonsbeek Park and Burger's Zoo and Safari Park, located just north of the city centre.
Cruises to Arnhem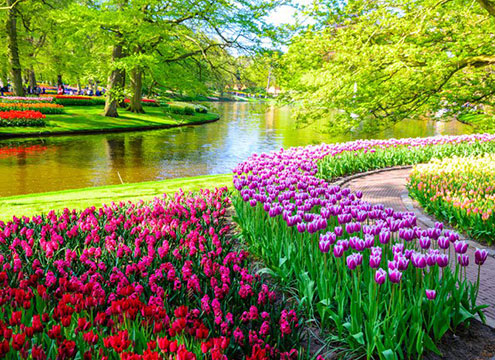 Departs: Amsterdam • Mon 06 Apr 2020
10 nights • Brabant • R2001
Revel in the Netherlands' springtime splendour on a rewarding 10-night break packing in the seasonal and cultural delights of charming towns and cities, beautiful waterways and countryside scenes.
You can delve into the 'Golden Age' heritage of Hoorn and Enkuizen; learn of life in bygone eras at a fantastic Open Air Museum in Arnhem; see Kinderdijk's iconic windmills; and tour to the Maxfeldt Historical Gardens from Kampen.
Rotterdam adds futuristic twist, while there's a visit to Antwerp for chocolates and diamonds too, all before a call at Amsterdam affords a chance to see the vibrant tulips of the Keukenhof Gardens in full bloom.
Fly-cruise from £1,899pp
Fares Explained | What's Included?