Amsterdam originally emerged as a fishing village in the late 12th century, following the construction of a dam on the Netherlands' Amstel River. Since those humble beginnings, Amsterdam's development has been rapid and vast. Through the 'Golden Age', when Amsterdam was the world's leading centre for finance and diamonds; the age of gold and silver; and periods of recession and recovery, the city grew to become the charming Dutch capital that's adored by so many.
Today Amsterdam boasts one of the largest and most beautiful historic centres in Europe. Spread across 90 islands – linked by 400 bridges spanning the city's iconic canals – the centre is packed with around 7,000 historic buildings, including many which date back to the 'Golden Age'. Among the most impressive are the Royal Palace, which dominates Dam Square; a number of churches including the 17th century Westerkerk, Amsterdam's tallest church; and the medieval houses of Begijnhof. Not to be missed is the UNESCO-listed Canal Ring district. Here you'll see some of the city's finest houses and grand mansions perched on along the canal sides; as well as traditional white drawbridges. [ReadMore]
Amsterdam is also home to a collection of incredible museums and galleries, many of which are world-renowned for their cultural, artistic and historical importance. There's Anne Frank House, where Anne Frank and her family famously hid from the German occupiers in World War Two; Rijksmuseum, exhibiting 'Golden Age' paintings by artists such as Rembrandt, Vermeer and Frans Hals; the Van Gogh Museum, celebrating the life and works of legendary Vincent Van Gogh; and much more. In the spring and summer months, trips to the Tulip Museum and the Keukenhof Gardens are a must.
For a little retail therapy Amsterdam's abundance of shopping streets and busy markets won't disappoint; while there are plenty of trendy cafés, bars and restaurants dotted around the city too. And of course, the iconic red light district brings a wealth of unique sights and experiences. Simply walking through the area is an experience in itself.
Cruises to Amsterdam
Save £200pp
Was from £1,699pp
Now from £1,499pp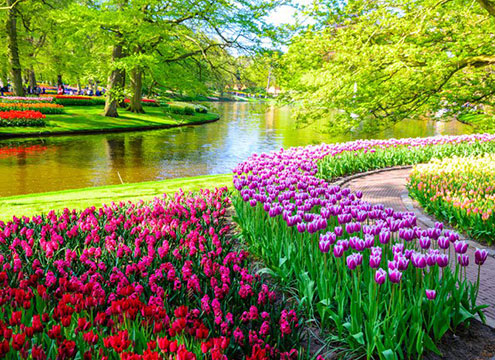 Departs: Amsterdam • Mon 06 Apr 2020
10 nights • Brabant • R2001
Revel in the Netherlands' springtime splendour on a rewarding 10-night break packing in the seasonal and cultural delights of charming towns and cities, beautiful waterways and countryside scenes.
You can delve into the 'Golden Age' heritage of Hoorn and Enkuizen; learn of life in bygone eras at a fantastic Open Air Museum in Arnhem; see Kinderdijk's iconic windmills; and tour to the Maxfeldt Historical Gardens from Kampen.
Rotterdam adds futuristic twist, while there's a visit to Antwerp for chocolates and diamonds too, all before a call at Amsterdam affords a chance to see the vibrant tulips of the Keukenhof Gardens in full bloom.
Fly-cruise from £1,499pp
Fares Explained | What's Included?
Save £200pp
Was from £1,899pp
Now from £1,699pp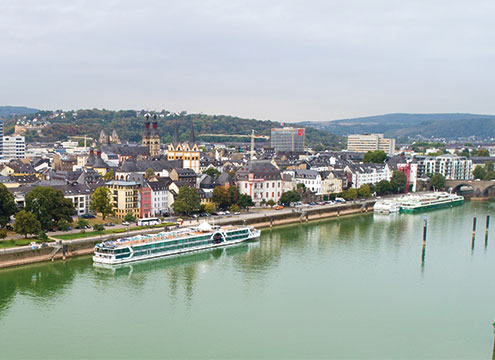 Departs: Amsterdam • Thu 16 Apr 2020
10 nights • Brabant • R2002
From magnificent, majestic fortresses to preserved medieval centres and landmarks from World War II, the highlights of this absorbing journey through Germany present fascinating history at every turn.
You can visit the site of the infamous Battle of Remagen, and the remains of the iconic Ludendorff Bridge; take a cable car to the Ehrenbreitstein Fortress in Koblenz; and stop by Rüdesheim's sobering Hindenburg Bridge.
There are chances to explore the beautifully preserved historic hearts of UNESCO-listed Bamburg and Regensburg – Germany's 'medieval miracle' – too, while you'll also experience stunning scenic cruising of narrow canals and beautiful valleys.
Fly-cruise from £1,699pp
Fares Explained | What's Included?