Activities & Entertainment

While our river cruises focus on unforgettable scenic cruising and time exploring inspirational destinations to provide the most rewarding experience possible, you're sure to find that Brabant has plenty to keep you entertained throughout your time on board our smaller, friendlier river cruising ship too.
During the day you might choose to relax at the Amadeus Club, a good spot for peaceful relaxation, with books, newspapers, playing cards, games and puzzles, plus self-service tea and coffee available around the clock. [ReadMoreMob]Alternatively, you might prefer to spend your time out on the Sun Deck, perhaps relaxing with a drink from the Lido Bar in hand, or even trying your hand at shuffleboard and giant chess.
As the sun sets, attention turns to the stylish Panorama Bar for gentle live entertainment, including classic and contemporary singers, pianists and other musicians, complemented by specially sourced regional acts (where available). You're sure of a pleasant evening, enjoyed in the warm company of like-minded guests.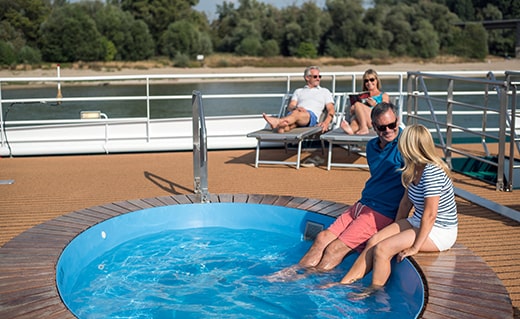 Guest Speakers
Fred. Olsen River Cruises are carefully constructed around a particular theme or region to help guests discover the very best that some of Europe's greatest waterways, towns and cities have to offer. On a selection of sailings, an expert will be on board Brabant to further enhance your holiday experience by sharing their knowledge and advice on their particular field of interest, which will relate to specific destinations and tours on your cruise. Find out more about our Guest Speakers and the topics they will cover on board below.
Hugh Ellwood | History & Architecture
Your journey along the Rhine will uncover a plethora of fabulous architectural and artistic wonders. And to enrich this experience further, you'll be joined by Hugh Ellwood, who will be imparting his knowledge on the architectural influences this region has seen over the years.
Across four fact-filled and engaging lectures, you'll gain a great understanding of:
The topography of the Rhine
Architecture within the destinations of the cruise
The history of Germany
The development of art in architecture – from Romanesque through to modern day
Hugh will also be joining tour groups and will be on hand to answer any questions guests may have whilst on tour, or around Brabant. He has worked across Europe, including Switzerland (where he had a solo art exhibition), as well as Germany, so is well versed to deliver insightful and enriching commentary as you sail the Rhine.
John Hughes | Horticultural Expert
John will be undertaking a number of insightful lectures during which he will impart his knowledge on:
Springtime bulbs – including rare and exotic species
Commercial plant production in the UK and Holland
New and rare bulbs found in the Keukenhof
John will also be found around Brabant, and will be happy to answer any questions you have on any horticultural related topics.
As well as judging at the prestigious RHS shows, including Hampton Court and Chelsea, John has spent time exploring plant species in South America, including Argentina, Chile, Venezuela and the Galapagos.
Sailings : R2001
Martin Ward | Wine Educator
The Rhine and Moselle rivers are synonymous with good wine – and you'll have the chance to learn all about the different wines of this beautiful region through four insightful lectures from our resident wine expert Martin Ward.
Martin has a passion for food and drink and has travelled the world learning and educating others on the great tastes of different wine regions. And one of Martin's first jobs was working as a UK wine presenter for the German Wine Information Service – so has an abundance of experience on the rivers and vineyards found on this cruise.
You'll have the opportunity to attend the following lectures:
The art of why and how to 'taste' wines
Tasting the outstanding wines of the region
Blind tasting quiz – a fun and interactive session
Etiquette of wine service
Martin will also be available to answer any wine-related questions you may have, and hopes to be escorting vineyard tours to impart further knowledge on the wines of this region.
Colin Schindler | History Lecturer
During his wide-ranging career as an author, journalist, writer and producer, Colin Shindler has written a number of award-winning books and novels, including Manchester United Ruined My Life; as well as screenplays and scripts for TV, radio and films, such as Buster starring Phil Collins and Julie Walters. He also produced Lovejoy, Wish Me Luck and A Little Princess, for which he won a BAFTA, and Emmy-nominated Young Charlie Chaplin.
Colin has also taught film and history at Cambridge University – where he was awarded his Ph.D – since 1998, and hosts a variety of courses focused on modern British and American social and culture history.
Sailings : R2012
Peter Williams | Espionage & Military Intelligence Historian

Major General Peter Williams OBE enjoyed a varied, over 30-year career in the British Army. Having started his career as an Infantry Commander, Peter qualified as an Intelligence Officer in 1974 and as a Russian Interpreter in 1981. From then he went on to serve in Germany, affectively working as a military spy, before commanding and overseeing peace missions and agreements in Bosnia and the former Republic of Yugoslavia, where he worked directly with the highest-ranking military leaders, in the 1990s.
At the end of his career, from 2002-2005, Peter served in Moscow as the first Head of the NATO Military Liaison Mission to the Russian Federation, working tirelessly with his team to deliver NATO-Russia defence cooperation. Now retired, he recites his fascinating experiences and shares his knowledge of the Cold War and many other historical events through insightful and thought-provoking talks and lectures.
Richard Morrice | Beer Specialist
A renowned expert in all things beer, Richard Morrice has over 40 years' experience of working in and around the beer brewing industry. Richard spends his time visiting new breweries, sampling a huge variety of beers and learning about the latest brews, and during his career has worked with a number of major companies. He helped to set up Tesco's 'Specialist Beer Department' as well as Fuller's 'Fine Ale Club', which gained over 36,000 members in its first two years.
In recent years, Richard has enjoyed discovering and building relationships with some of the biggest and most famous German breweries, and his talks and lectures often focus not just on the beers they produce, but beer cultures, the brewing processes and the history of their beer too. He also teaches his 'students' how to taste beer properly, and how to recognise and identify different types of beer.
Simon Rees | Opera Historian
After studying English at Cambridge University, Simon Rees has enjoyed a long, distinguished career as a freelance writer, reviewer and lecturer. He has published various novels, poems, librettos and translations, and taught for two years in Italy and three at Kyoto University in Japan. For 23 years, Simon was the renowned Dramaturg of the Welsh National Opera, responsible for librettos, programme notes and research, and gave pre-performance talks at the New Theatre, Cardiff and the Wales Millennium Centre.
Simon is now a teacher of Opera History at the Royal Welsh College of Music and Drama and at the Wales International Academy of Voice, and provides lectures for opera tours and cruises based on a wide range of topics relating to music, literature and the arts.
Sailings: R2023