Scenic Delights of the Moselle Valley
4th October 2018
7 nights
Sails from Basel to Düsseldorf
Brabant
R1827
Chances to marvel at two of Europe's most spectacular cathedrals make for a memorable beginning and end to your romantic journey, while in between there are a plethora of incredible sights and experiences to uncover. Enjoy time ashore discovering the historical and architectural delights of charming towns and cities; and relax on board Brabant as she sails the breathtaking Middle Rhine Valley and only the most scenic areas of the magnificent Moselle Valley.
The exquisite Cathédrale Notre-Dame is a sight to behold in your first stop, Strasbourg. This is just one of many delights on show though; don't miss the photogenic Kammerzell House and the half-timbered houses and pretty canals of the Petite France quarter too. Across the French-German border, the handsome German city of Speyer and its UNESCO-listed Romanesque Cathedral awaits you next, before a stop at Mannheim offers you the chance to tour to Heidelberg. This beautiful university town has inspired poets, artists and writers for centuries. A pause at Oberwesel, which is renowned for its remarkably well preserved medieval town wall, is then followed by a cruise through the enchanting Middle Rhine Valley. Look out for hillside fortresses, forests and vineyards, as well as a collection of spire-laden historic towns and villages dotted along the banks of the Rhine; then head ashore in Koblenz to perhaps visit the ancient Ehrenbreitstein Fortress, the Prussian Electoral Palace and the 13th century Alte Berg. [ReadMore]
Brabant will then divert down the Moselle to Bernkastel-Kues – a route only navigable by smaller river boats. Bernkastel-Kues' medley of half-timbered houses, welcoming wine taverns and stunning lush-green scenery beckons you ashore, before a very special daylight cruising experience follows. Spending the afternoon sailing by the fine vineyards and pretty towns of the Middle Moselle Valley will be simply unforgettable. The next day begins in Cochem, where the romantic squares and imposing Reichsburg Castle are among the highlights, and then another memorable afternoon will be spent taking in sensational river scenery. Your journey through the alluring Lower Moselle Valley will present views of yet more vineyards, castles and towns. As your cruise nears its conclusion, a call into Cologne will afford time to marvel at the remarkable exterior and interior of the city's iconic twin-spired cathedral and explore the charming Old Town. There's also an opportunity to uncover the artistic treasures of Düsseldorf before you head home.
Prices
* Prices are updated daily, based on the lowest Fly Cruise fare available for each grade based on two people sharing. | Updated: Prices correct as of 22:00 09/12/2018. Please call on 0800 035 5130 for live availability & prices.
Strauss
From £1,659 per person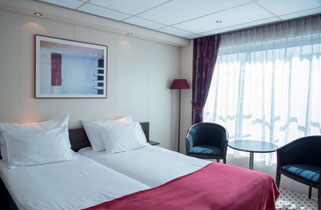 SJ - Juliette Balcony Room Strauss
The spacious Juliette Balcony Rooms on Strauss Deck 2 are approximately 161 sq ft. and offer a generous amount of room for an enjoyable river cruise experience. These rooms also include floor-to-ceiling sliding glass doors, plenty of wardrobe space, a choice of bed configuration (double or twin), an en suite bathroom with shower and toilet, a direct-dial telephone, a hairdryer, a flat-screen TV, individual climate control and a safe.
Fly-cruise from £1,659 per person (based on 2 people sharing)
For cruise only, deduct £300 per person
Tour Package
Detailed below is a package including some of our favourite tours, ensuring you see the highlights in each of the destinations visited. A tours package allows you to book with ease and at a competitive price. Please note tour packages can only be booked ahead of sailing. Individual tours are also available.
City tour of Strasbourg
Heidelberg Castle
Oberwesel walking tour
Scenic Moselle and wine tasting
Moselexpress train & wine tasting
City tour of Cologne & Cathedral
R1827/P1
£200 Per Person
Individual tours will be available to book via 'My Cruises' prior to your departure. You will be notified by email once they become available.
What's Included?
Rest assured, all of the following comes as standard on every Fred. Olsen river cruise:
Flights and transfers to and from the vessel when booking a Fly-cruise package
Comfortable en suite accommodation with TV, hairdryer, safe and individually controlled air conditioning
Tempting cuisine every day throughout your cruise – with 'early riser' breakfast, breakfast buffet, casual lunch, five-course à la carte dinner and late-night snacks
Complimentary tea & coffee station 24 hours a day
Complimentary afternoon tea & coffee with sandwiches and cakes
Welcome Cocktail, Welcome Dinner and Captain's Gala Dinner
Complimentary Wi-Fi
Complimentary bike hire
Use of leisure facilities including Fitness Room and Wellness Tub
Lounge music by pianist, or duo every day
All local taxes and port charges (where collectable in advance)
On Our Boat
Built in 2006, this elegant and comfortable vessel is in keeping with the fleet of our ocean-going cruise ships. Brabant's bright and spacious public areas and 79 well-equipped rooms and suites, spread across four decks, provide the intimate, home-from-home feel which Fred. Olsen's guests already know and love.
Cruise ship staples such as swimming pools, a number of lounges and on-going activities are not in evidence on board, making way for a comfortable ambience and ample space in which to relax and enjoy the river cruise experience with around 150 fellow guests.