Following on from the successful refurbishment of Black Watch in late 2016, which saw the 804-guest ship undergo four weeks of extensive engineering, maintenance and interior work, Braemar and Balmoral entered dry dock at Blohm+Voss shipyard in Hamburg, Germany, in preparation for the start of the 2018/19 cruise season.
As part of Fred. Olsen's multi-million pound investment and commitment to ensuring guests can enjoy a unique cruise experience across the fleet for many years to come, classically-designed Braemar and Balmoral – the line's flagship – have been refreshed and enhanced to keep them at their very best.
Balmoral's refurbishments
Both ships have benefited from various engineering works, general refurbishment, exterior painting, updates to interior décor and furnishings, and re-fits of selected cabins and public areas. Every carefully considered update has guest comfort and enjoyment in mind, so rest assured, Braemar and Balmoral retain their timeless elegance, home-from-home ambience and welcoming atmosphere.
See below for more information about the updates and refurbishments made on board Braemar and Balmoral.

Accommodation
Cabins on Lido Deck 6, Bridge Deck 7 and Marquee Deck 8 on Braemar, and mid-ship cabins on Balmoral's Lido Deck 8, Bridge Deck 9 and Highland Deck 10 are refreshed with new carpets and fabrics throughout, further enhancing the light, airiness and comfort of these rooms. Other cabin carpets have also been replaced throughout the ship, where necessary.
All rooms have a more contemporary look and feel, thanks to the addition of new soft furnishings and lamps. Some cabin bathrooms have new flooring fitted, and some baths have been removed to make way for shower cubicles.
Mini-fridges are a feature of every room too; while guests in Balcony Cabins will be able to relax and soak-up sea views from the comfort of brand new balcony furniture.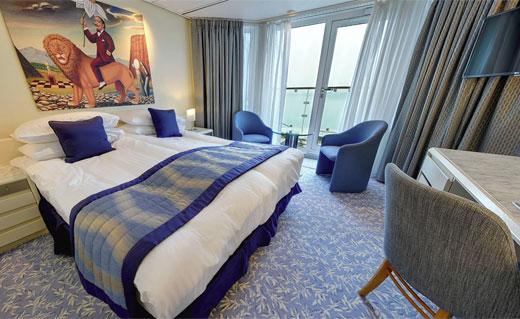 Restaurants
Considerable attention was paid to enhancing the restaurants on board Balmoral and Braemar, to ensure that the dining experience continues to be a highlight of every Fred. Olsen cruise holiday. Dining venues will benefit from new fixtures, furnishings and refreshed décor, creating inviting, comfortable spaces in which guests can enjoy a selection of indulgent dishes, all perfectly prepared by our expert chefs.
On Braemar, significant updates include a complete refurbishment of the ship's buffet dining venue, The Palms Café. This venue benefits from new, stylish upholstery and soft furnishings. The Palms Café continues to offer a more relaxed, slightly less formal style of dining. Elsewhere, the Thistle and Grampian Restaurants – Braemar's formal dining venues – are both fitted with new, comfortable seating.
Guests on board Balmoral benefit from extensive changes to two of the ship's most popular dining venues. The Grill Restaurant, which serves very special dinner menus featuring perfectly-cooked steaks, seafood and much more, has moved to the Lido Lounge portside, to take advantage of the extensive Galley and large windows already in place here.
Moving The Grill also provides space for an additional casual dining area at the Palms Café. This space, situated aft of the Palms Café, offers guests the option to enjoy a selection of sumptuous á la carte cuisine, which differs from the menu offered at the ship's main dining venues, in a less formal setting. Balmoral's elegant, intimately sized Avon and Spey restaurants feature new seating and carpets, complementing their tasteful décor and timeless style.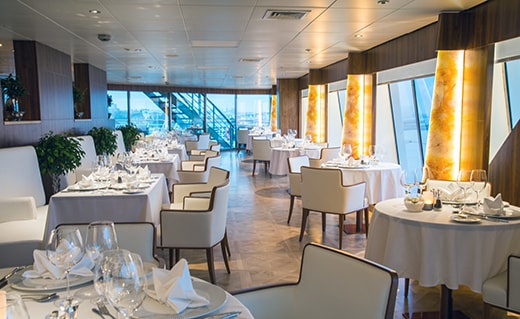 The new Grill on Balmoral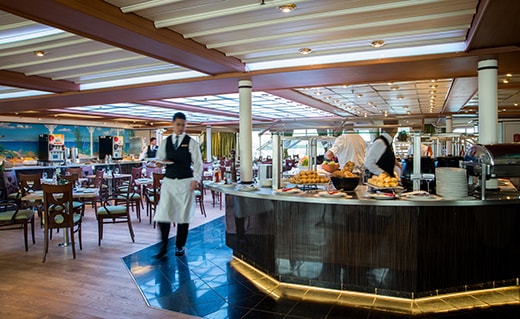 The new Palms Café on Braemar
Bars & Lounges
Updates to the bars and lounges further enhance the relaxing, endlessly rewarding experience Fred. Olsen guests know and love to enjoy on board with friends and like-minded fellow travellers. Several lounge areas on board Braemar have been brought up-to-date with a range of improvements; all designed with guest comfort in mind, of course.
The intimate, 170-seat Coral Club and the Observatory Lounge, where guests can enjoy stunning scenic views over a glass of their favourite tipple or traditional afternoon tea, benefit from new carpets and new lighting. The Neptune Lounge, the venue for port talks, lectures and much more throughout the day, and fantastic post-dinner live entertainment every evening, has been fitted with new carpet and extra seating too.
New chairs and carpets are a feature in the Observatory Lounge on board Balmoral also, while the Marquee Bar looks resplendent with brand new furniture throughout. Major changes have taken place in the Neptune Lounge, the ship's main entertainment venue, thanks to a complete overhaul and thorough refurbishment. Balmoral also features a new Gelato Bar on Lounge Deck 7, where a selection of delicious gelato will be available for guests to enjoy – perfect on cruises to warmer climes.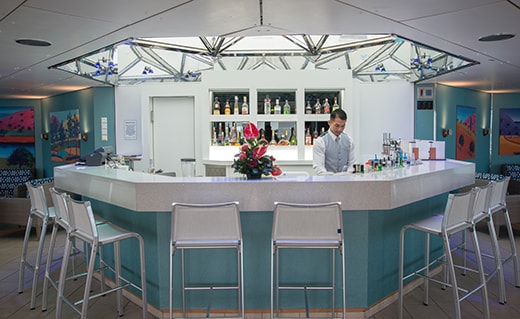 The refreshed Marquee Bar on Balmoral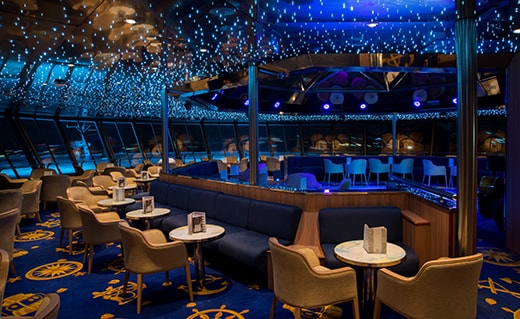 The refurbished Observatory on Balmoral
Coming soon…
​In March 2018 the refurbishment of Fred. Olsen's fleet of ocean-going ships will be completed, when Boudicca enters her dry dock. Similar to the work carried out on Black Watch – her sister ship – in 2016, Boudicca will be upgraded extensively during a 13-day refurbishment. Further details will be published in early 2018, so watch this space…

Black Watch 2016 dry dock